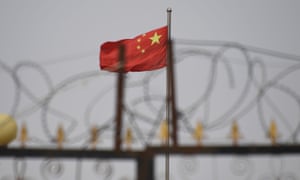 China is reportedly holding one million people, mostly ethnic Uighurs, in internment camps in Xinjiang Photograph: Greg Baker/AFP/Getty Images
UN ambassadors  – including Australia, Britain, Canada, France, Germany and Japan – co-signed the letter released Wednesday and sent to the Human Rights Council president, Coly Seck, and the High Commissioner for Human Rights, Michelle Bachelet.
Rights groups and former inmates describe them as "concentration camps" where mainly Muslim Uighurs and other minorities are being forcefully assimilated into China's majority ethnic Han society. The letter expresses concern "about credible reports of arbitrary detention… as well as widespread surveillance and restrictions, particularly targeting Uighurs and other minorities in Xinjiang." It calls on China to stop arbitrary detention and allow "freedom of movement of Uighurs and other Muslim and minority communities in Xinjiang." The authors, who include ambassadors from across the EU as well as Switzerland, requested that the letter become an official document of the Human Rights Council, which ends its 41st session in Geneva on Friday. Chinese officials describe the camps as voluntary "vocational education centres" where Turkic-speaking Uighurs receive job training.
The letter may have been the only available option with China having enough support in the UN Council to vote down a formal resolution. See also: ttps://www.reuters.com/article/us-china-xinjiang-rights-idUSKCN1U721X?utm_campaign=trueAnthem:+Trending+Content&utm_content=5d28c3e00ca7240001cb2eef&utm_medium=trueAnthem&utm_source=twitter
On the same day Human Rights Watch commented: Most importantly, the joint letter sends a strong message that we are moving beyond the era of selectivity, and that no country, large or small, is exempt from the scrutiny of this Council. We understand that the joint letter remains open for additional signatures, and we encourage those delegations that have not yet signed to do so. We are particularly disappointed that OIC member states have not yet engaged meaningfully or credibly with the human rights situation affecting Muslims in Xinjiang, while they have spoken out on other situations. This risks fueling perceptions of double standards and politicization; supporting the constructive joint statement would be a useful step towards addressing such perceptions.
We also welcome China's acceptance of a UPR recommendation to respond positively to a country visit request by the UN Special Rapporteur on freedom of religion or belief.
We would suggest that China could benefit from technical assistance by drawing on the expertise of other UN Special Rapporteurs, such as the Special Rapporteur on the promotion of human rights while countering terrorism. Given that China has advanced the need to counter terrorism as its rationale for mass programs directed at Uyghurs and others in Xinjiang, the Special Rapporteur could offer useful guidance on whether there are more rights-respecting ways to counter terrorism than mass surveillance, detaining over a million Muslims, and stripping an entire population of its rights to freedom of religion, privacy, culture and expression.
See also: https://humanrightsdefenders.blog/2016/10/11/hot-news-ilham-tohti-chinas-mandela-wins-2016-martin-ennals-awad/
https://www.theguardian.com/world/2019/jul/11/more-than-20-ambassadors-condemn-chinas-treatment-of-uighurs-in-xinjiang
https://www.hrw.org/news/2019/07/11/independent-reporting-xinjiang-abuses-requires-unfettered-access-not-stage-managed