Despite President Rodrigo Duterte's threat to sever diplomatic ties, Iceland expressed hope the Philippines will cooperate with the United Nations Human Rights Council's investigation into the human rights situation in the country, including the drug war. "Icelandic authorities sincerely hope that the Philippine authorities will engage the UN on this and the resolution," Icelandic Ministry for Foreign Affairs said in a press statement. The resolution was backed by 18 out of 47 member-countries. [https://humanrightsdefenders.blog/2019/07/11/un-council-agrees-action-on-philippines-in-spite-of-vehement-objection/]
When Iceland led the resolution at the UN Human Rights Council, it did so as a country that puts a high priority on human rights. As one of the most peaceful countries in the world, Iceland also leads by example when it comes to observing human rights. Iceland carried that responsibility when it became a member of the UN rights council last year, taking the place of the United States which left the rights body it called a "cesspool of political bias." "For a small and peaceful country like Iceland, international law and the multilateral system is our sword, shield and shelter," Iceland's Ministry for Foreign Affairs said in statement to Rappler.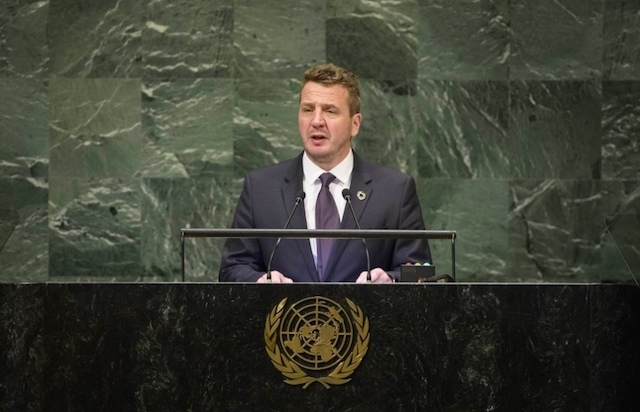 ICELAND'S FOREIGN MINISTER. Iceland's Foreign Minister Gudlaugur Thór Thórdarson at the United Nations. Photo from the Government of Iceland website
In an interview with the Iceland Monitor, Iceland Foreign Minister Gudlaugur Thór Thórdarson said, "We are fortunate enough to enjoy human rights in Iceland, which we take for granted….It is our duty to contribute to the fight for improving the state of human rights affairs in the world."
According to the Fund for Peace's 2019 Fragile States Index, Iceland was considered among the most stable countries in the world, enjoying stable observance of human rights and the rule of law among other factors. The Philippines, meanwhile, was described as a state with "high warning" over eroding human rights and higher levels of crime and violence. Aside from this, the 2019 Global Peace Index ranked Iceland as the most peaceful country in the world, while the Philippines was 134th out of a total of 163 countries.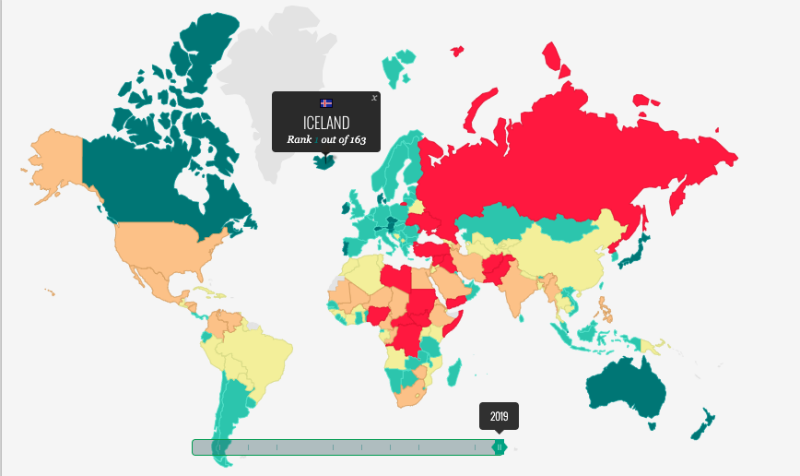 Iceland is ranked as the most peaceful country in the world according to the 2019 Global Peace Index. Screenshot from Visions of Humanity.org
For Human Rights Watch deputy director of Geneva Laila Matar, Iceland's actions as a new member of the powerful rights body live up to its reputation as a country that champions human rights. "Iceland is a country that takes the Human Rights Council seriously and that takes their membership in the Human Rights Council seriously. The Human Rights Council is meant to ensure that gross violations of human rights are addressed," Matar said in an interview with Rappler.
https://www.rappler.com/newsbreak/iq/235775-why-iceland-led-un-resolution-drug-war-killings-philippines
https://www.gmanetwork.com/news/news/nation/701688/iceland-hopes-phl-will-cooperate-with-un-probe-on-ejks-drug-war/story/