Amnesty International's Secretary General Kumi Naidoo said: "This award recognizes the critical work Prime Minister Abiy Ahmed's government has done to initiate human rights reforms in Ethiopia after decades of widespread repression." Since assuming office in April 2018, it has reformed the security forces, replaced the severely restricting charities and society law, and agreed a peace deal with neighbouring Eritrea to end two decades of hostile relations. He also helped broker an agreement between Sudan's military leaders and the civilian opposition, bringing an end to months of protests.
"However, Prime Minister Abiy Ahmed's work is far from done. This award should push and motivate him to tackle the outstanding human rights challenges that threaten to reverse the gains made so far. He must urgently ensure that his government addresses the ongoing ethnic tensions that threaten instability and further human rights abuses. He should also ensure that his government revises the Anti-Terrorism Proclamation which continues to be used as a tool of repression, and holds suspected perpetrators of past human rights violations to account. .."ow more than ever Prime Minister Abiy must fully espouse the principles and values of the Nobel Peace Prize to leave a lasting human rights legacy for his country, the wider region, and the world."
Interestingly enough on the same day Ethiopian human rights blogger Befeqadu Hailu received the International Writer of Courage award. The Ethiopian human rights blogger who has been jailed four times over his activism has been awarded a literary prize set up in memory of playwright Harold Pinter. The Zone 9 blogging collective, which Hailu founded in 2012 alongside other Ethiopian activists, aims to hold politicians to account and protect the country's constitution against corruption. He is also the deputy executive editor of Addis Maleda newspaper, a columnist for Deutsche Welle Amharic Service and a part-time programme co-ordinator for the Ethiopian Human Rights Project. Zone 9 bloggers were finalists of the 2016 MEA.
In the meantime the Swedish Nobel Prize Committee for Literature came in for widespread and harsh criticism for its 'troubling choice': of Peter Handke. Writers including Salman Rushdie, Hari Kunzru and Slavoj Žižek say the 2019 Nobel laureate 'combines great insight with shocking ethical blindness'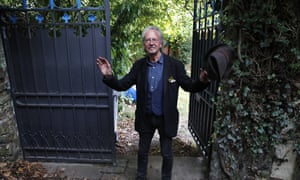 Austrian author Peter Handke greets the press outside his house in Chaville near Paris, on Thursday after his win. Photograph: François Mori/AP
The Guardian of 10 October writes: "Twenty years before Peter Handke would become a Nobel laureate, he won another title. In 1999, Salman Rushdie named him the runner-up for "International moron of the year" for his "series of impassioned apologias for the genocidal regime of Slobodan Milošević"….The Austrian playwright, whose Slovenian heritage had inspired in him a fervent nationalism during the Balkans war, had publicly suggested that Sarajevo's Muslims had massacred themselves and blamed the Serbs, and denied the Srebrenica genocide. Seven years after Rushdie's scorching condemnation, in 2006, he would also attend war criminal Milošević's funeral….
"Handke is a troubling choice for a Nobel committee that is trying to put the prize on track after recent scandals," said author Hari Kunzru, who has taught the laureate's work to his students. "He is a fine writer, who combines great insight with shocking ethical blindness." Kunzru said he believed that Handke would have won the Nobel earlier, "had he not decided to act as a propagandist for the genocidal Milošević regime". He added: "More than ever we need public intellectuals who are able to make a robust defence of human rights in the face of the indifference and cynicism of our political leaders. Handke is not such a person."
Slavoj Žižek, Slovenian philosopher and longtime critic of Handke, told the Guardian: "In 2014, Handke called for the Nobel to be abolished, saying it was a 'false canonisation' of literature. The fact that he got it now proves that he was right. This is Sweden today: an apologist of war crimes gets a Nobel prize while the country fully participated in the character assassination of the true hero of our times, Julian Assange. Our reaction should be: not the literature Nobel prize for Handke but the Nobel peace prize for Assange."
And in a statement issued on Thursday, novelist Jennifer Egan, president of literature and human rights organisation Pen America, said:  "We are dumbfounded by the selection of a writer who has used his public voice to undercut historical truth and offer public succor to perpetrators of genocide, like former Serbian President Slobodan Milosevic and Bosnian Serb leader Radovan Karadzic," .. "We reject the decision that a writer who has persistently called into question thoroughly documented war crimes deserves to be celebrated for his 'linguistic ingenuity.' At a moment of rising nationalism, autocratic leadership, and widespread disinformation around the world, the literary community deserves better than this. We deeply regret the Nobel Committee on Literature's choice."..
——