Finbarr Bermingham in the South China Morning Post of 19 August 2021 tells the harrowing story of Liu Bing who narrowly escaped imminent deportation, for now.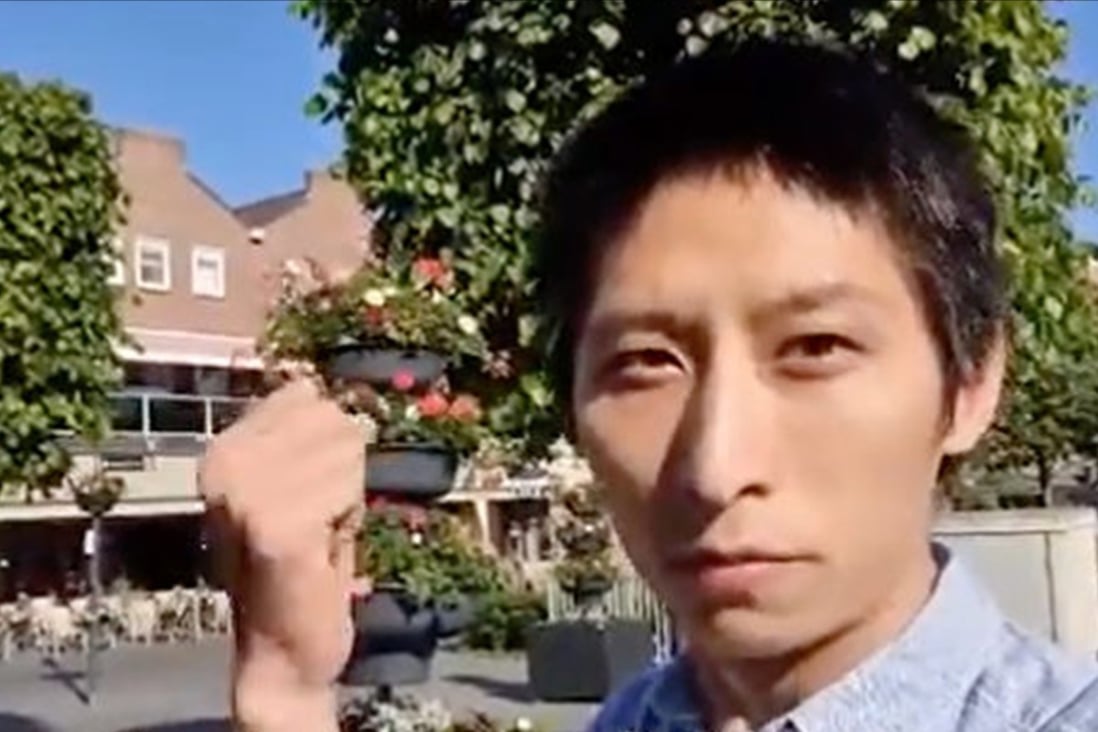 Liu Bing was active in dissident groups in China for almost a decade until he fled the country in May 2019. He was set to be deported next week. Photo: Twitter
A Chinese human rights activist facing imminent deportation from Germany to China has won a stay, after authorities granted him an appeal against a rejected application for political asylum. Liu Bing was set to be deported to China next Thursday, where he claimed that he would "definitely face long-term detention without trial" for taking part in political protests before he fled the country.
But lawyers who recently began working on his behalf secured an adjournment in his exit on Wednesday, meaning Liu will be free to leave the detention centre where he is being held in the North Rhine-Westphalia region on Tuesday, while his appeal is heard.
Reached by phone in his single room at the detention centre, where he is equipped with a refrigerator, television and cooker, Liu confirmed he took part in protests in China, including those commemorating the Tiananmen Square crackdown in 1989.
"If I am sent back to China, I will definitely face long-term detention without trial, because this kind of thing is very common in China. They don't need the police, and I don't need any court decision, they can treat a person at will. I will be detained," he said.
Liu said he is in a "terrified state", and that his "family members [in China] may not understand or support my participation in political activities".
Liu was active in dissident groups in China for almost a decade, including the Open Constitution Institute, a protest movement calling for the rule of law in China. He fled China after being pictured taking part in a meeting with other political activists in Xiamen in May 2019.
It has been reported that other dissidents involved in the Xiamen meeting – including Ding Jiaxi, Xu Zhiyong and Dai Zhenya – were arrested in the subsequent months.
After leaving China, Liu first went to Thailand, then Serbia, before finally arriving in Germany, where he was initially held in a refugee camp in Frankfurt, before being released to begin an application for political asylum. After his application was rejected, he fled once more to the Netherlands, where he again tried to gain political asylum. However, he was arrested in June for breaching the EU's Dublin Regulation, which states that if a person's asylum application is rejected in one EU country, they cannot apply in another, and was sent back to Germany where he has remained in detention since.
Campaigners working with Liu have said that his lack of understanding of the German legal system and language meant he did not initially realise that an appeal was possible – nor was he aware of a process by which an asylum seeker could request the process be restarted. Both clauses have now been triggered.
"For the first case, he didn't have a lawyer, he didn't ask for one. He's from China, where many people don't have a strong concept of the legal system or the rule of law," said a spokesperson for the International Society for Human Rights, which is working with Liu.
His case has been promoted by a number of high-profile German politicians, including MEP Reinhard Buetikofer, who took to Twitter to say: "Germany must stop deportation of Chinese activist Liu Bing."
William Nee, research and advocacy coordinator for the Chinese Human Rights Defenders, an NGO, said it would be a "tragedy" for Liu to be deported.
"He faces an almost certain fate of immediate detention, followed by torturous interrogations and a sham trial. The German authorities must put a stop to this right now," Nee said. A spokeswoman for the German Federal Office for Migration and Refugees said that "for privacy and data protection reasons, we do not comment on individual cases within the asylum procedure in general".
Data from the UN High Commissioner for Refugees showed that between 2012 – when Xi Jinping became the general secretary of the Communist Party – and 2020, the number of asylum seekers from China rose by 602 per cent, from 15,362 to 107,864.
https://www.scmp.com/news/china/diplomacy/article/3145685/chinese-human-rights-activist-avoids-imminent-deportation