For Malaysians, the figure pictured (below) is instantly recognizable as Rosmah Mansor, wife of disgraced former Prime Minister Najib Razak and — according to prosecutors in the US and Malaysia — a modern day Imelda Marcos who accrued luxury goods worth millions of dollars using money embezzled from the state investment fund, 1MDB.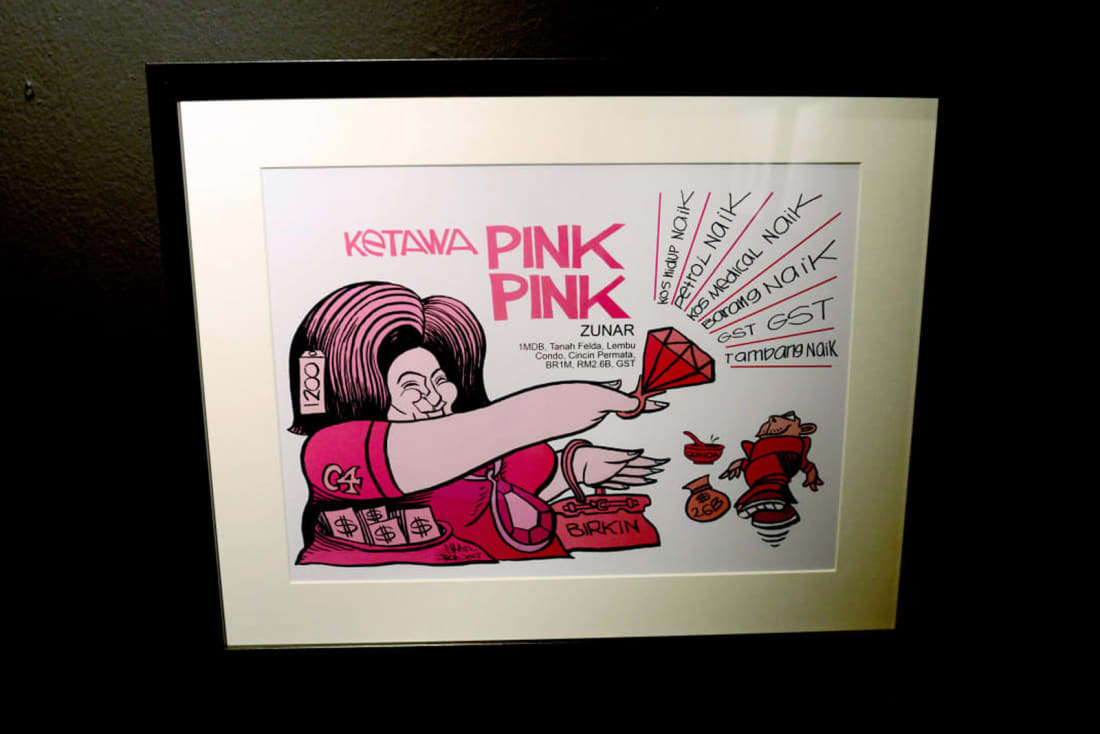 A cartoon of former Malaysian first lady Rosmah Mansor by Zunar is seen in a gallery in Kuala Lumpur.
Credit: James Griffiths/CNN
Zunar's work welcomes visitors to "Democracy in Action," a recent exhibition that would have been impossible to stage only a year ago.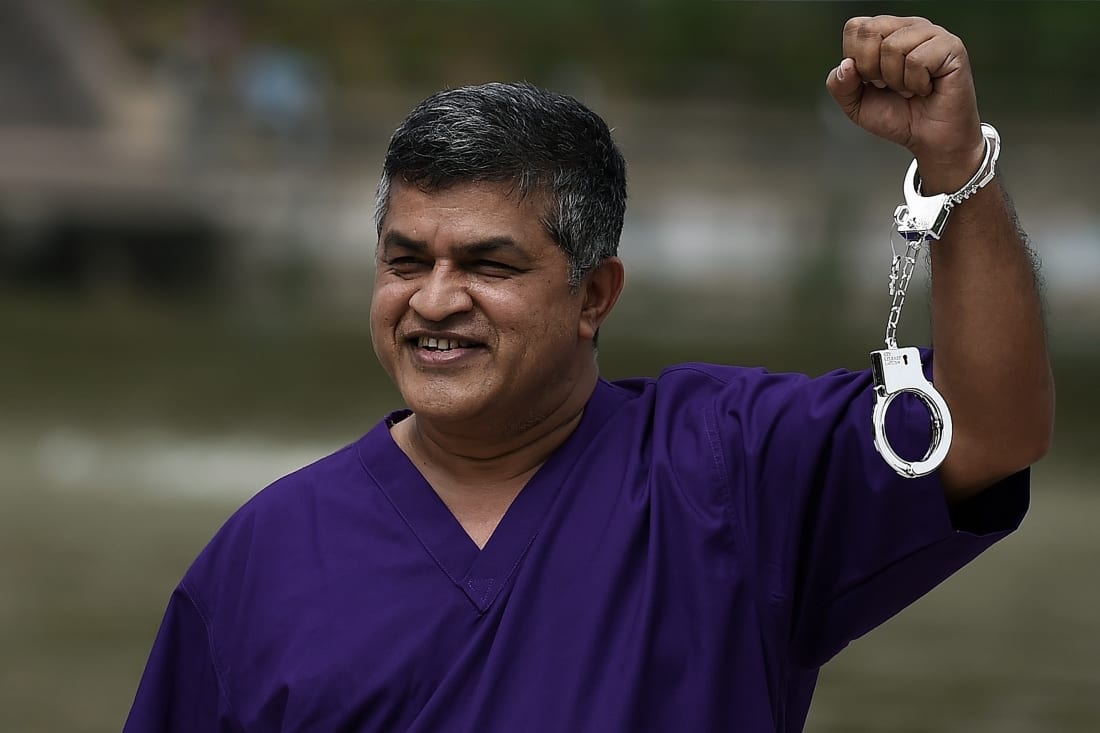 Malaysian cartoonist Zunar, poses with handcuffs prior to a book-launch event in Kuala Lumpur on February 14, 2015.
Credit: MANAN VATSYAYANA/AFP/AFP/Getty Images
..Just last year, it seemed almost certain that Zunar would end up in prison. A number of his books had been banned, and while his work was still widely shared online, the artist faced multiple charges of sedition and committing acts deemed "detrimental to parliamentary democracy." Unknown assailants attacked him at a gallery show, police seized his works and he was banned from leaving the country. Then, in a shock election result, a coalition of opposition parties turfed Najib out of office, promising to clamp down on corruption and reverse the country's turn toward authoritarianism. Now Zunar is watching as his the political figures who were once his nemeses and muses face decades behind bars themselves — in part because artists like him helped bring attention to their alleged corruption and disdain for the rule of law. "The medium of cartooning is (a) very powerful medium," Zunar told CNN at his small studio in a Kuala Lumpur suburb. "Everywhere, in any country you go, (cartoonists) get killed. Cartoonists, get arrested, put in jail everywhere because of the medium."
Fellow artist Fahmi Reza, who also faced prosecution under Najib, said this is partly because of cartoons' unique ability to poke fun at those in power. "Using satire and humor is effective because it breaks the fear barrier," he said in a phone interview. "People had always been afraid to speak out. The culture of fear is always there; the culture of self-censorship is always there. That's where satire and humor can be the most effective tool, it makes people less afraid."
A caricature of Malaysian Prime Minister by artist Fahmi Reza. The artwork almost landed Fahmi in prison.
Credit: MOHD RASFAN/AFP/AFP/Getty Images
Like Zunar, Fahmi had a record of trouble with the authorities. ….. "One sign that whatever you're doing is effective is when the authorities and people in power react," he added. "If they ignore it, then there's no impact. That's how the whole clown thing became a symbol of protest — because of the overreaction by the authorities."
Both cartoonists' arrests made international headlines, helping to highlight Najib's growing authoritarianism to the outside world. Protesters also delighted in using the caricatures of Najib and Rosmah on posters and placards after it was revealed how much the artists had irritated them. As Malaysia's opposition grew ever more determined to oust Najib — with many observers warning that 2016's general election might be their last chance to do so — the government passed new legislation to control what people could say about it.
Activists hold up caricatures of Najib Razak and Rosmah Mansor (center). Political art became a key tool of protest in Malaysia during Najib's rule.
Credit: MOHD RASFAN/AFP/AFP/Getty Images
In early 2018, it introduced a new law to crack down on "fake news" that critics said was so broadly defined that it could easily be used to shut down and criminalize criticism of Najib.
Eventually however, the wave of dissent was too great for Najib to overcome. ….
Since Najib's downfall, charges against Zunar and Fahmi have been dropped, though the latter is still fighting to have an earlier conviction overturned. 
Both men said that, while they felt considerably freer under the new government, true reform has yet to be delivered.