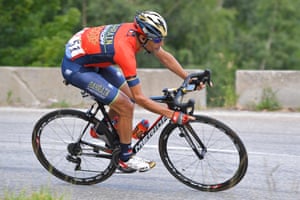 Vincenzo Nibali riding for Bahrain-Merida in 2018. Ten campaign groups say the team are helping to draw attention from the country's 'appalling human rights record'. Photograph: Tim de Waele/Getty Images
David Conn in the Guardian of 3 July 2019 reports on the efforts by a group of NGOs to have the UCI, cycling's governing body, look again at the license of the Bahrain-Merida cycling team.
In the letter, under the umbrella of the Sport and Rights Alliance and led by the Bahrain Institute for Rights and Democracy (Bird), the signatories claim that the team, led by the 2014 Tour winner Vincenzo Nibali, is a vehicle for the Bahrain government to "sportswash" its appalling human rights abuses. "The Bahraini government has a reputation for using high-profile sporting events to divert international attention from the country's appalling human rights record," the letter states, "and we are concerned that Bahrain-Merida's participation in UCI competitions is consistent with these aims." The letter alleges that the Bahrain-Merida team may be in violation of the UCI's code of ethics, which requires participants to "show commitment to an ethical attitude".
However, the signatories draw attention in their letter to the fact that the Bahrain-Merida team was launched in 2017 by a son of the ruling king of Bahrain, Sheikh Nasser bin Hamad al-Khalifa, who is still described as the team's leader on its website. ..Sheikh Nasser is a senior figure in the country's sports institutions, chairing the Olympic committee until March this year. In 2011 he called publicly, on television, for the punishment of sportspeople who had taken part in demonstrations, saying: "To everyone that demands the fall of the regime, may a wall fall on their heads … whether he is an athlete, an activist or a politician … Today is the judgment day."  Also, several of the sponsors – which include the Bahrain sovereign wealth fund Mumtalakat and the oil company Bapco which itself says that it is wholly owned by the government – are described as "semi-government companies".
For more on "Sportswashing" see: https://humanrightsdefenders.blog/2019/05/22/andrew-anderson-the-dangerous-game-of-sportswashing/
A UCI spokesperson told the Guardian that it had been aware of the "allegations of human rights violations by the Bahrain regime … prior to the initial registration of Bahrain-Merida as a UCI WorldTeam late 2016." The spokesperson did not explain what approach the UCI took to the human rights concerns, or why they were not a barrier to the team's registration. He added: "For the upcoming season, the independent licence commission will review the applicable criteria, including ethical, based on all available information pertaining to the team. The assessment … concentrates on the team and its members."
Sayed Alwadaei, the director of advocacy at Bird, described that as a "very disappointing" response. "We raised similar concerns in 2016 and despite the severity of our concerns the UCI awarded Bahrain-Merida team the WorldTeam licence," he said. "We are asking the UCI now to be transparent about their due diligence and to disclose their assessment, as a rational assessment must account for a history of severe rights abuses."
https://www.theguardian.com/sport/2019/jul/03/bahrain-merida-cycling-team-being-used-to-sportswash-campaigners-say