Appropriately on  Labour Day, 1 May 2019, Ana Zbona and Sanyu Awori (at the Business & Human Rights Resource Centre). wrote in Open Global Rights "When space closes for labour rights defenders, the situation is far worse for those at the margins. Labour rights are human rights and must be protected".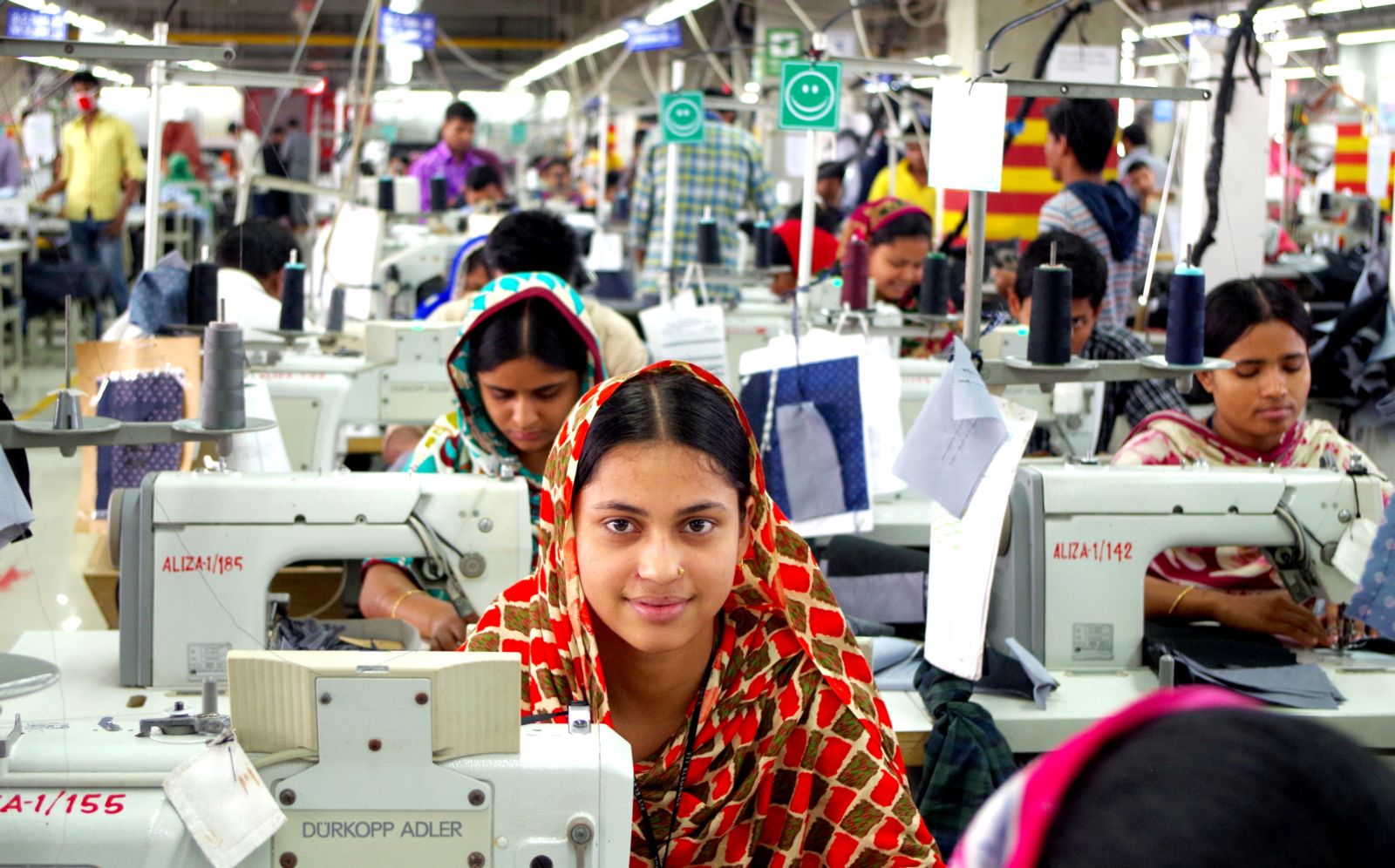 Photo: SolidarityCentre/Flickr
---
…..Several recent examples of human rights movements that have been led and supported by labour rights groups include: coalitions to rebuild democracy in Honduras after a coup; the mobilizing of workers in Tunisia, Egypt and Bahrain during the Arab uprisings; and the pro-democracy movement in Zimbabwe, led by the country's labour federation…
Distinctions are often made between labour rights defenders and human rights defenders, but as former UN Special Rapporteur on Freedom of Assembly and Association Maina Kiai expressed: these distinctions are artificial. Labour rights are human rights, and any person or organisation defending them is a human rights defender.. As Sharan Burrow, the Secretary General of the ITUC, put it: "Workers and their unions are the defenders of rights and freedoms." We must be vigilant to any distinctions that try to separate our struggles".
Labour rights defenders regularly experience violence and restrictions on their rights in various ways, including clamp downs on unions where governments and employers obstruct them from functioning freely and independently, laws that limit collective bargaining, and dismissals. In the past year, the International Trade Union Confederation reported an increase in violence, especially to prevent unionizing, and the safety of trade union leaders remains precarious. In Colombia, 19 trade unionists were killed in 2017; in Cambodia, trade union leaders are criminalized; and in Zimbabwe trade union leaders are regularly harassed by government authorities. With respect to laws that limit labour rights, 81% of countries deny some or all workers the right to collective bargaining and 65% of countries exclude some groups of workers from labour law, such as domestic, agricultural and contract workers, up 5% from 2017. Peaceful protests by workers are often met with heavy handed policy or army responses. In addition, the most common reprisal workers face for speaking up about violations are dismissals, a tactic used by employers to stifle civic action. As one example, over 12,000 garment factory workers in Bangladesh were fired for their protests in December 2018 and January 2019 over wages.
The Business & Human Rights Resource documents attacks against defenders working on corporate accountability, and our database shows that agriculture, food and beverage, and apparel are the most dangerous sectors for labour rights defenders. The most common forms of violence against individual union leaders and workers are arbitrary detentions and lawsuits, followed by intimidation and threats, and killings.
A particularly concerning trend is the use of defamation lawsuits to silence labour rights defenders. As one example, since 2016, Thammakaset Company Limited, a Thai-owned poultry company, filed more than 13 civil and criminal lawsuits against former workers who denounced labour rights violations, as well as against the activists and journalists supporting them. Governments and companies, including international brands, need to ensure such judicial attacks do not happen. As Sutharee Wanasiri, a labour rights defender from Thailand, and one of the people sued by Thammakaset, said: "It is also the responsibility of international brands that buy from Thailand to make sure the companies they are sourcing from are not engaged in judicial harassment that creates a chilling effect on whistle blowers and other defenders. They should establish mechanisms that allow workers and defenders to communicate with the brands directly and ensure that they are protected from any retaliation from suppliers during the investigation. The results should be made public and bring accountability for the abuses."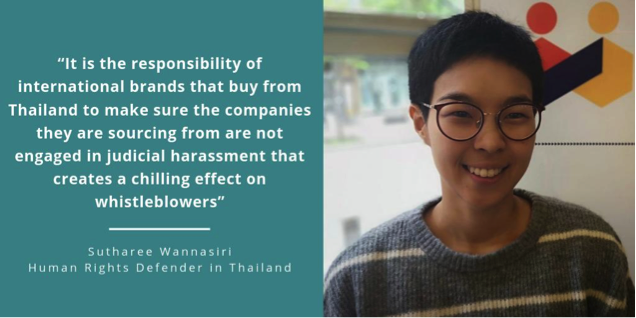 …
With long and fragmented supply chains, it is particularly important to ensure that we hear workers' voices, especially those of the most marginalized at the bottom of economic hierarchies, and guarantee dignified and decent work. This includes people working in the informal economy. Workers and civil society organizations are currently focusing on redefining legal employment terms, and reconsidering union strategy in light of changing labour relations, especially in the gig economy, in which non-conventional workers are not afforded adequate legal protection—either because they do not fall within the definition of a "regular employee" under national laws, or because of gaps in legislation when it comes to regulating new forms of employment. The lack of an applicable legal protection and collectively agreed terms of employment hinders the ability to exercise work-related rights, including the right to organise and collectively bargain.
……..
Labour rights defenders should be seen as critical allies in building equitable and sustainable societies. Several businesses are also beginning to recognise that the protection of human rights defenders and the ability for them to do their work is in their interest, and that an attack on defenders is an attack on responsible business. This is encouraging, as now more than ever we need to be brokering connections and building solidarities across movements and sectors to counter threats to the shared space we all depend upon.
https://www.openglobalrights.org/rising-restrictions-on-labour-rights-threaten-the-heart-of-social-justice/