Posts Tagged 'Malawi'
April 27, 2018
Africa remains a continent of contrasts, also with regard to human rights defenders. Just to illustrate:
(1)
Bikes for human rights defenders
: Girls Empowerment Network (GENET) in
Malawi
has donated 30 bicycles to child protection groups in Dowa district to assist in its ongoing girl child protection programs. Speaking in an interview with the Malawi News Agency Mana after giving out the support at Kayembe Primary school, GENET Programs Officer,
Twambilile Kayuni
said their organization thought of providing the support as one way of easing transportation challenges among girl child protection groups in the area. "
As GENET, we thought it critical to ease the challenge of transport among our village child protection groups so that when any violence has happened to a child they should be able to rush to the scene and take action
". She added that the bicycles have been given to all schools in the area,
human rights defenders
, mother groups, Area Development Committees (ADCs) and chiefs in order to assist in their child protection duties in a more coordinated manner…Group Village Headwoman
Siwinda
 said:"In my area many girls were being forced to marry but now with the coming of GENET through COMIC relief and OXFAM Malawi things have changed and as of now many girls have gone back to school," said GVH Siwinda.
September 26, 2016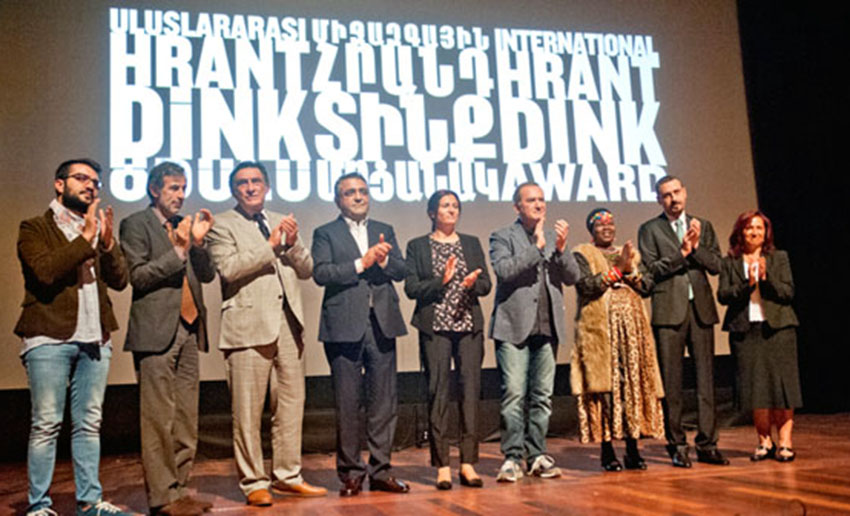 On 22 September 2016 a ceremony took place for the 8th annual ceremony of the Hrant Dink Award Granted. The laureates of the International Hrant Dink Award are the Diyarbakir Bar Association and Malawian human rights defender Theresa Kachindamoto, who works for children's right.
Diyarbakir Bar Association Chair Tahir Elçi was murdered on 28 November 2015 in Diyarbakir, while he was making a press statement. Deputy Chair Ahmet Özmen received the award on behalf of the association. Ahmet Özmen said inter alia: "I gratefully commemorate our dear chair Tahir Elçi, who devoted his life to the struggle for peace and freedom and sacrificed his life for this struggle….Tahir Elçi and Hrant Dink are two heroes, two human rights defenders who made history. People will remember them as intellectuals who made efforts for establishing a democratic order for the peoples of Turkey. Their only measure was rightfulness and justice. The ones who ordered their murder thought that their strong legacy will vanish and we won't be able to follow their lead, but they are wrong."…"Today, our most important duty and historical responsibility is to preserve and improve the legacies of Tahir Elçi and Hrant Dink. Demanding peace and speaking up for building peace is the only way." During the ceremony, a video titled "Inspirations" was shown. People and institutions from Turkey and all around the world, who gave people hope about the future with their actions, were featured in the video. There were also people who objected to the coup and defended democracy on July 15.
Theresa Kachindamoto is the paramount chief, or Inkosi, of the Dedza District in the central region of Malawi, one of the poorest counties of Africa. For years, she has been working for preventing child marriages and defending their right to education. Becoming the chief of a tribe with 900,000 people, Kachindamoto started to struggle against child marriages, when she saw that half of the girls in the tribe are forced to marry at the ages of 12 or 13. She banned "marriage camps", where children are abused under the name of sexual education. She managed to convince 50 tribe chiefs to abandon the traditions encouraging child marriage and to annul 850 marriages. Receiving the award from Yildiz Tar on behalf of last year's laureate KAOS GL and Michèle Marian, Kachindamoto told the story of her struggle: "It wasn't easy to fight against this problem. For majority of people, this practice was one of the most fundamental traditions of Malawi and encouraged by the society. We had to inform all people about the dangers and consequences of child marriage and abolish the accepted opinion which deems this practice as normal. There is no doubt that I need to push against more of the old ways of thinking to achieve my ultimate goal of removing child marriage from Malawi, and giving all girls and boys the opportunity to complete their education. I am proud of what we have achieved so far, but I am aware that there is still a long way ahead of us. I am grateful to every one who walked this way with me. I hope more people will join us and fight for the rights of Malawian girls. God bless you all."
Source: Hrant Dink Annual Award Granted to Diyarbakir Bar Association and Malawian Activist Theresa Kachindamoto | Armenian News By MassisPost
see also: https://thoolen.wordpress.com/2015/12/17/turkish-human-rights-defender-ragip-zarakolu-receives-pl-foundation-peace-prize/