DatNav, a guide designed to help human rights defenders navigate and integrate digital data into your human rights research, was launched today.
DatNav is the result of a collaboration between Amnesty International, Benetech, and The Engine Room which began in late 2015 culminating in an intense four-day writing sprint facilitated by Chris Michael and Collaborations for Change in May 2016. Based on interviews, community consultations, and surveys the researchers found that in the vast majority of cases, human rights defenders were not using the tools. Why? Mainly, human rights researchers appeared to be overwhelmed by the possibilities.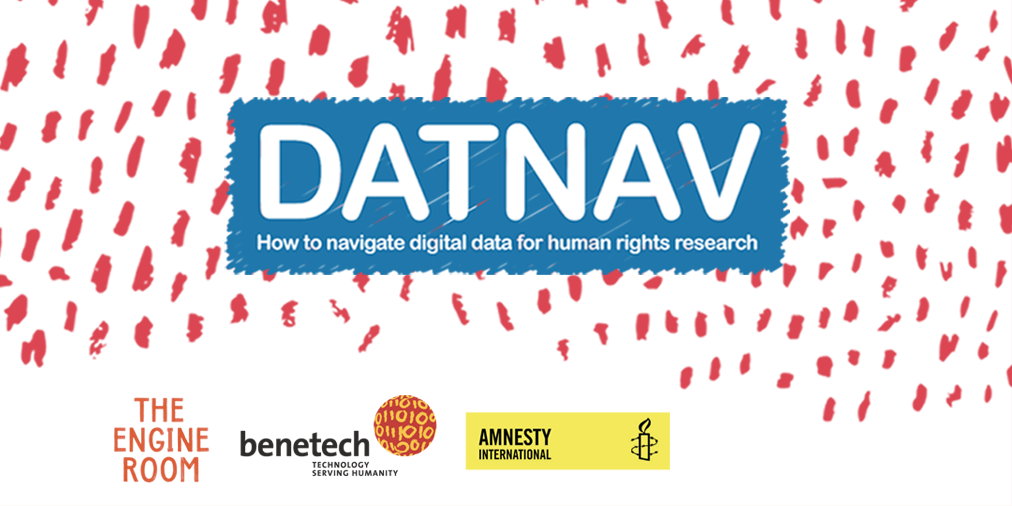 Still, integrating and using digital data in a responsible way can make a huge and important difference to human rights research. Acquiring, disseminating and storing digital data is also more in reach. DatNav is about navigating these new possibilities.
In May 2016, the 3 NGOs gathered a group of experts to create a guide to help address this problem, and created the foundations of DatNav. Nearly 70 key members of the human rights tech and data community, representing nearly 40 different organisations from around the world, played key roles in the creation of DatNav.
This is just the beginning. If you're interested in taking the guide forward, whether to inform strategy in your work, to train others, or through translations, or adaptations of the content, the organizers would like to hear from you. The content is all CC-BY-SA licensed and remixes of the content are more than welcome. We're in initial talks to release an Arabic translation of DatNav, and we'd like to carry out others, too.

You can sign up for The Engine Room's newsletter to be notified of new updates and releases.
To find out more about the project or give feedback, you can send an email. You can also reach out on Twitter @zararah and The Engine Room @EngnRoom.
Source: DatNav: New Guide to Navigate and Integrate Digital Data in Human Rights Research | The Engine Room