On 28 September the High Commissioner had already urged the "authorities to radically change their approach to any future protests'.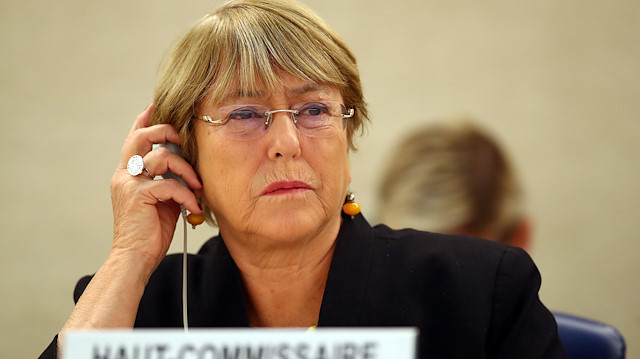 More than 2,000 people were detained, including lawyers, human rights defenders, political activists, university professors and journalists on 20-21 September, she said. The Egyptian Foreign Ministry spokesperson stressed that there no citizen in Egypt is arrested or prosecuted for carrying out legitimate activities or criticizing the Egyptian government, but for violating the law. He added that the right to peaceful demonstration is guaranteed in accordance with the Constitution and the law. Hafez stressed that the OHCHR report was based on undocumented information, which only leads to falsehoods as the allegations contained in it are based on wrong ideas, and this hasty judgment reflects a lack of professionalism. He added that any actions taken against any person is done in accordance with the law and through sound legal procedures, all carried out with transparency and clarity.
In addition on 3 October 2019 it was reported in the New York Times that a series of sophisticated cyberattacks targeting Egyptian journalists, academics, lawyers, opposition politicians and human rights activists has been traced to Egyptian government offices, a cybersecurity firm has found. The attackers installed software on the targets' phones that enabled them to read the victims' files and emails, track their locations, identify who they contacted and when, according to a report to be published Thursday by Check Point Software Technologies, one of the biggest cybersecurity companies in the world, with headquarters just south of San Francisco and in Tel Aviv.
The cyberattack began in 2016, according to the Check Point report. The number of victims is unknown but Check Point identified 33 people, mostly well-known civil society and opposition figures, who had been targeted in one part of the operation. "We discovered a list of victims that included handpicked political and social activists, high-profile journalists and members of nonprofit organizations in Egypt," said Aseel Kayal, a Check Point analyst.