Why this MP feels so reluctant to use her influence and to speak out on this and other cases is a mystery. The details of the case of Mir Ahmad bin Quasem, or Arman as he is known to friends and family, a British-trained Bangladeshi lawyer who was abducted in August 2016 by state security forces, follows below.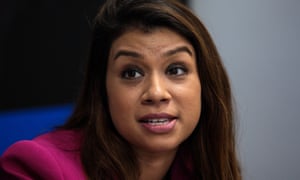 Tulip Siddiq. Photograph: Jack Taylor/Getty
Last year the family of one such victim approached me to press their case. Mir Ahmad bin Quasem, or Arman as he is known to friends and family, is a British-trained Bangladeshi lawyer who was abducted in August 2016 by state security forces. They knocked on his door and, in front of his wife and young children, dragged him away. This abduction followed the exact modus operandi of other abductions by the security forces in Bangladesh. Since this incident there has been no confirmation of his whereabouts, but we believe that he is still alive.
Mir Ahmad was on the defence team for his father, Quasem Ali, who was prosecuted by Bangladesh's self-styled "international crimes tribunal", set up by the ruling party in Bangladesh to try crimes committed during the country's war of liberation against Pakistan.
The tribunal has been widely criticised internationally, including by groups such as Amnesty International and Human Rights Watch, as well as the United Nations high commissioner for human rights and eminent British lawyers. Along these lines, Mir Ahmad decided to join his father's defence team but was abducted a month before his father's execution, while the appeal procedure was still under way.
Mir Ahmad has not been charged with any offence and his abduction and continued detention by the Bangladeshi government is contrary to the Bangladeshi constitution and the country's obligations under international law. Forced disappearances are common in Bangladesh under the current government: more than 320 people have been disappeared since 2009.
Mir Ahmad is one of three sons of former politicians who were abducted at around the same time, one of whom has been released. In a secret recordingobtained by Swedish radio, it is claimed by a high-ranking government security officer that the fate of those seized is decided by those "high up". Astonishingly, as reported in these pages, Sheikh Hasina recently claimed that such forced disappearances also occur in Britain and the US, saying "275,000 British citizens disappeared" in the UK each year.
Last week Channel 4 News raised the issue and put the matter to Siddiq. The interaction now has become a matter of public record. Siddiq complained that Mir Ahmad was not her constituent, that she had no sway over Bangladeshi politics and that in any case she was a British MP focusing on Britain…..Even if we are to take Siddiq at her word that she has no sway over Bangladeshi politics, what is preventing her from at least speaking out? My client may not be Siddiq's constituent, but nor is he the constituent of Shabana Mahmood MP, who raised an official parliamentary question on the matter earlier this year.
Before and since the Channel 4 News report was aired, the family of Mir Ahmad bin Quasem have been visited by state security forces who have reportedly warned them that "if there is any such news, come next time we will not be good like this time and you will not get to see our face like today".
Since it has come to this, I earnestly hope that Siddiq can speak out to try to help ensure that Mir Ahmad's mother, sister, wife and two young daughters are not intimidated by the Bangladeshi security services or face enforced disappearance themselves. This is an urgent matter and I ask Tulip Siddiq, as I have done many times before, to speak to me so it can be resolved.
https://www.theguardian.com/commentisfree/2017/dec/04/tulip-siddiq-bangladesh-disappeared-abducted-prime-minister