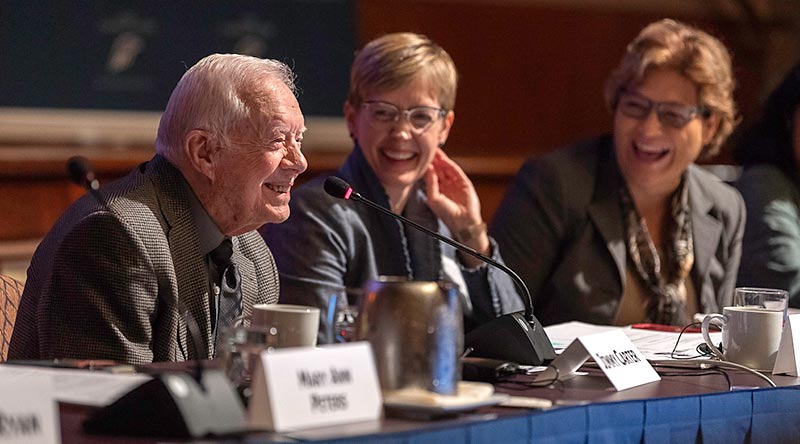 "Building Solidarity toward Equality for All" Dozens of activists, peacemakers, and community leaders from 28 countries will come together from 12-15 October for the Carter Center's 12th Human Rights Defenders Forum. Three sessions, including a 15-minute Q&A with former U.S. President Jimmy Carter, will be livestreamed on Tuesday, 15 October. Session topics include global protection for human rights defenders, challenges for women defenders and peacemakers, and the importance of mutually supporting civil, economic, political, and social rights.
The forum this year include:
Hafida Benchehida, an Algerian senator since 2013 and a founding member of both the Algerian and Arab women parliamentarian networks. She is also a member of Mediterranean Women Mediators and a specialist in women's roles in peace.
Mohna Ansari, a journalist-turned-attorney and a member of Nepal's Human Rights Commission. Much of her work involves women's rights, representation, and protection.

Ijam Alaz Augustine

, minister for human rights and minorities affairs in Pakistan's Lahore province, whose political career has been devoted to protecting the rights of religious minorities.
Fernando Carrillo Flórez, a former ambassador, minister of justice, and minister of the interior from Colombia who has published more than 14 books and 80 articles on democracy, governance, and reform of justice.
Maati Munjib, a journalist, professor, and president of Freedom Now, an organization devoted to protecting journalists and freedom of expression in Morocco. Because of his activism and writings, he faces a possible five years in prison. Amnesty International and other human rights groups have called for charges against him to be dropped.
Tuesday, October 15 webcast:
11:30 a.m. – 12:45 p.m.  Remarks by President Carter  Summary of the previous days' workshops
Testimonies by human rights defenders and moderated discussion
2:15 ̶ 3:15 p.m. Discussion: "How Do We Build True Solidarity in the Struggle for Equality?"
3:50 ̶ 5 p.m.  Continued: Moderated discussion  Livestream Q&A with President Carter (4:35 to 4:50 p.m.)
During the webcast: Twitter @CarterCenter with hashtag #BuildingSolidarity.