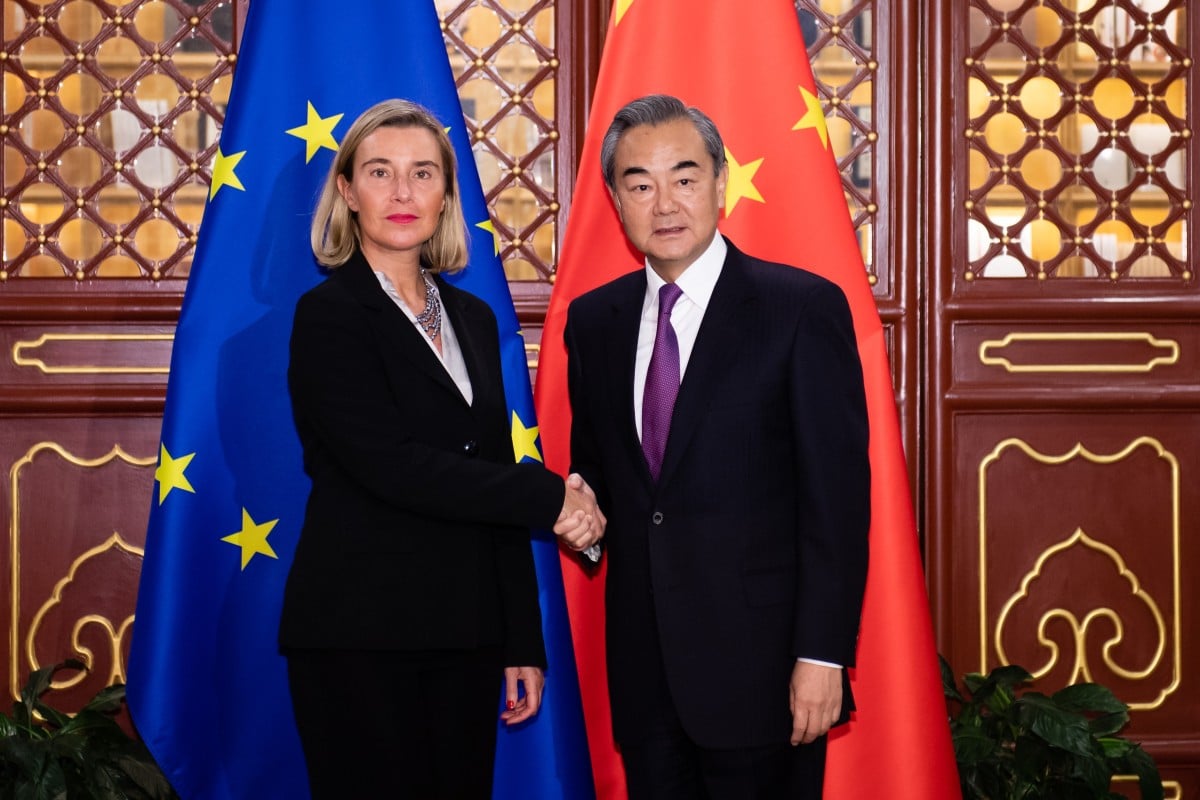 Chinese Foreign Minister Wang Yi met his EU counterpart Federica Mogherini in Beijing on Tuesday. Photo: Xinhua
Keegan Elmer  in the South China Morning Post of 25/26 October 2019 reports that Chinese officials have told their European counterparts that human rights should be measured by the people's well-being and rejected the EU's support for the "universal" values enshrined in the United Nations Charter. The statements issued by both sides after a meeting between the EU's foreign affairs chief and Chinese foreign minister Wang Yi underlined their disagreements on human rights by recording their discussions on the topic in markedly different ways. While the Europeans focused on Mogherini's support for "universality", the Chinese statement emphasised her call for mutual respect and comments that there were "different approaches" to the issue.
According China, Mogherini had acknowledged that there are "different approaches to safeguarding and promoting human rights" and accepted that there were "problems with the human rights situation in European countries". It continued that she had agreed to continue cooperation and exchanges with China "on the basis of mutual respect", adding: "The EU does not intend to act as the 'teacher' of other countries on human rights issues."
But the EU's account of the meeting did not refer to Wang's comments and said Mogherini had "underlined to the Chinese leadership that the EU will continue to stand up for the universality, interdependence and indivisibility of human rights based on the UN Charter and standards".
China extraordinary sensitivity to 'interference' of any level into what it considers its domestic affairs is well-known. I touched upon this 'hot' topic' in my own 2011 article "The international human rights movement: not perfect, but a lot better than many governments think" in the book 'NGOs in China and Europe' (exceptionally also published in Chinese!): Yuwen Li (ed), Ashgate, 2011, pp 287-304 (ISBN: 978-1-4094-1959-4).
On the same day that the pair met in Beijing, the European Parliament awarded its 2019 Sakharov Human Rights Prize to human rights defender Ilham Tohti, who is serving a life sentence. The statement announcing the award called for his immediate release and said "for over two decades, he has worked tirelessly to foster dialogue and understanding between Uygurs and other Chinese people". [see: https://humanrightsdefenders.blog/2019/10/24/lham-tohti-now-also-awarded-the-2019-sakharov-prize/]. Predictably, during a press conference on Friday, Chinese foreign ministry spokesman Hua Chunying said the parliament had "given a prize to a criminal". "I don't know how much meaning, value or influence [the prize] has," said Hua. "I only know Tohti is a criminal that has been sentenced by a Chinese court."
Neither the Chinese nor the EU have said whether Tohti's case or the situation in Xinjiang – where Beijing is accused of detaining a million mainly Uygur Muslims in re-education camps – had been discussed.