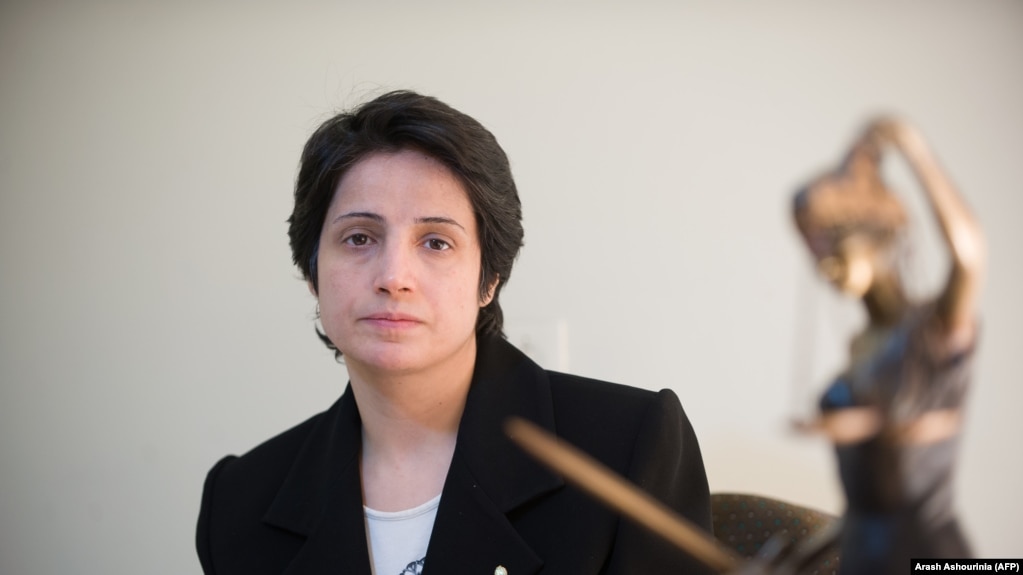 Iranian lawyer Nasrin Sotoudeh is seen in Tehran on 1 November 2008.
The Council of Bars and Law Societies of Europe (CCBE) has bestowed its annual Human Rights Award to four lawyers from Iran: Nasrin Sotoudeh, Addolfattah Soltani, Mohammad Najafi and Amir Salar Davodi. Shirin Ebadi will receive the award on behalf of the jailed lawyers from CCBE President José De Freitas.
The CCBE is a professional organization that represents Law Societies from 45 different countries and over one million lawyers. Previous recipients of the award include Avocats Sans Frontières (ASF) and Azerbaijani human rights lawyer Intigam Aliyev. For more on this and other awards for lawyers see: http://www.trueheroesfilms.org/thedigest/awards/ccbe-human-rights-award
Nasrin Sotoudeh is a human rights defender who has been in prison since summer of 2018 for her peaceful activities defending women's rights to choose their dress style. Although there is no written law in Iran for compulsory hijab, the police and courts spend considerable resources to force women to use the veil. [see also: https://humanrightsdefenders.blog/2019/06/13/1-million-people-demand-that-iranian-government-release-nasrin-sotoudeh/]
Abdolfattah Soltani who co-founded the Defenders Of Human Rights Center along with his colleagues, Nobel Peace Prize laureate Shirin Ebadi and others served as the attorney defending the family of Iranian-Canadian photo journalist Zahra Kazemi. [see also: https://humanrightsdefenders.blog/2018/11/22/iranian-human-rights-defender-abdolfattah-soltani-released-from-jail/
Mohammad Najafi performed various human rights related work and defended protestors who were arrested during a mass uprising in early 2018.
Amirsalar Davoudi was sentenced to 30 years in prison, 111 lashses and substantial monetary fine for his work. One of the charges included "collaborating with the enemy sate" which was brought against Davoudi for doing an interview with the Voice of America's Persian section.
A statement from the CCBE urges Iran "to take all the necessary measures to release these four human rights lawyers and to guarantee that all lawyers in the Islamic Republic of Iran are able to perform their professional duties without fear of reprisal, hindrance, intimidation or harassment."
https://en.radiofarda.com/a/jailed-iranian-lawyers-win-human-rights-award/30297336.html