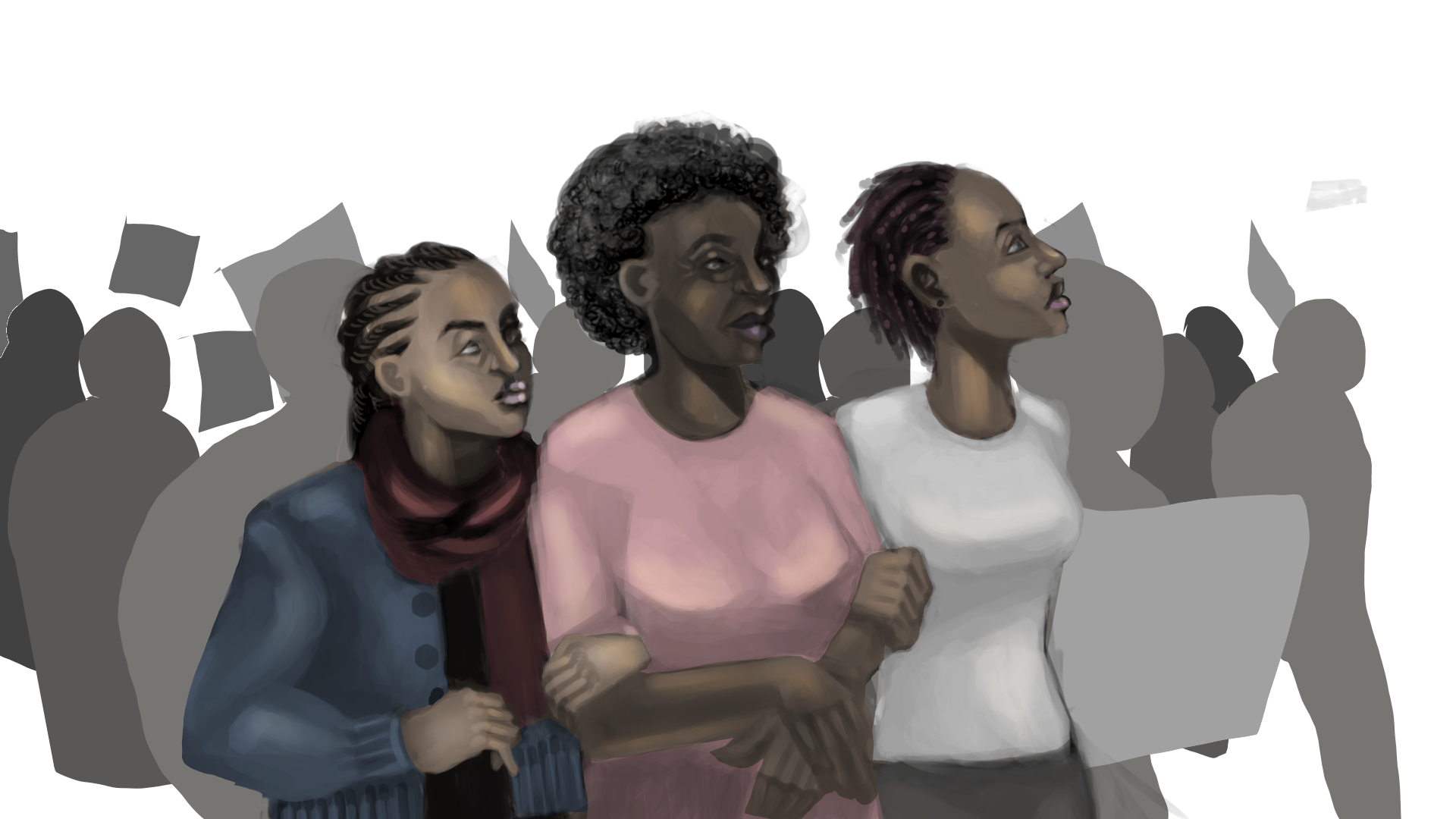 AfricanDefenders & DefendDefenders launched on 29 November 2019 their audio campaign about African women human rights defenders and courage, simply called "THE THREE WOMEN". The story by Gentrix Barasa and beautiful Illustrations by Primordial M. Here is the first episode (https://twitter.com/hashtag/IAmTheThreeWomen) in the context of the 16 Days Campaign Against Gender Based Violence:
THE STORY OF MARTHA. A woman could be heard screaming from a distance in the town square. The distinct sound of a whip hitting her body could be heard reverberating throughout the town. A small crowd of onlookers were gathering around quietly, curious to see what was going on and to find out why this woman was being beaten. Nuru was rushing home so she could prepare lunch when she spotted the crowd of onlookers. Despite being aware that she would get in trouble with her father if she was late, she was drawn towards the woman.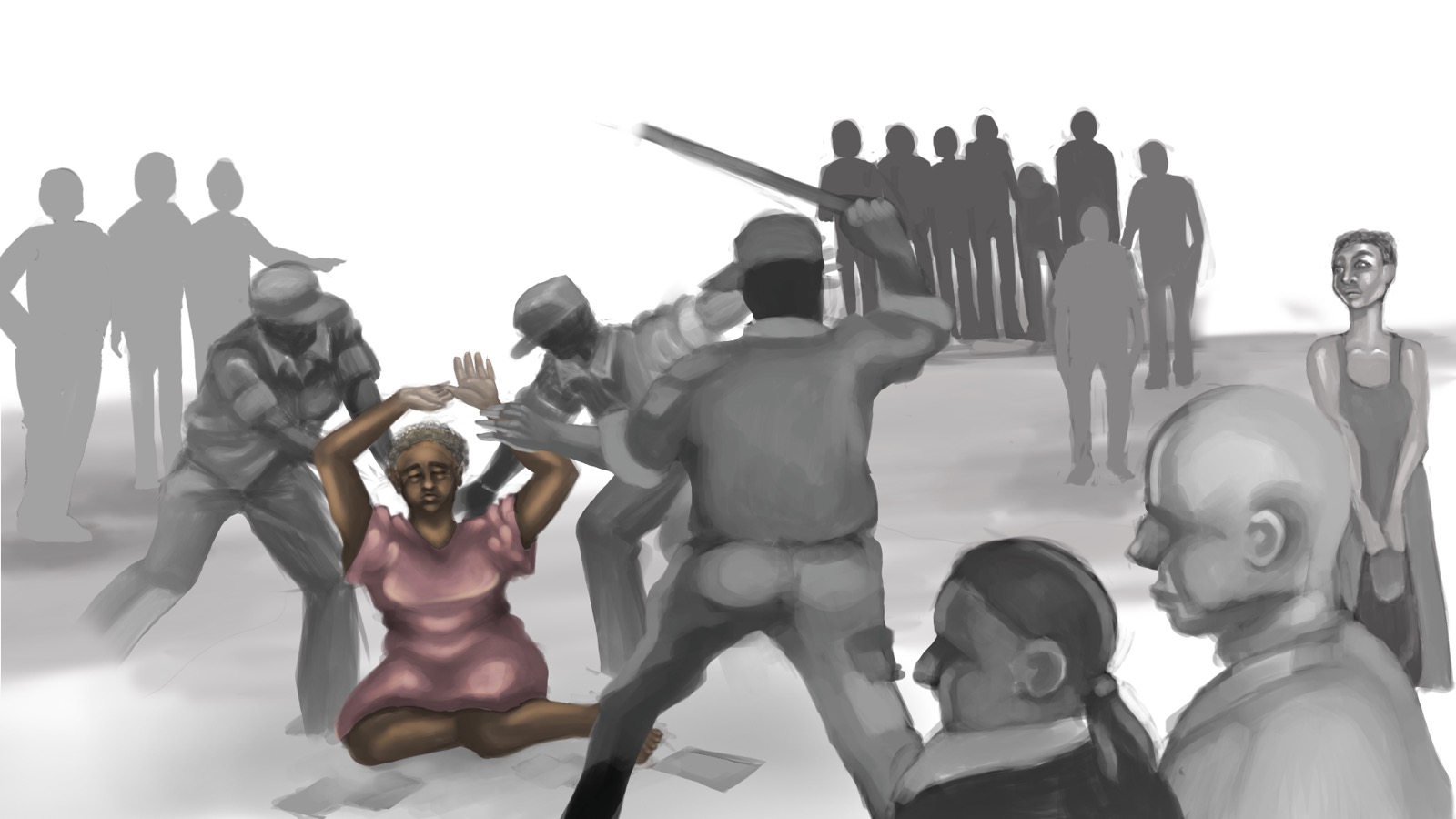 "What is going on?" she asked the man standing beside her.
"Oh, Martha started with her nonsense again. They should beat that devil out of her."
The men in the town, especially the elders, did not appreciate when women challenged societal norms. In their mind, Martha was turning their wives and daughters against them with all this talk of women's rights and liberation. They had complained to the mayor of the town, Mr. Tapiwa, when they caught wind of the women's march that Martha was organising.
"This one is from Tapiwa," one of the policemen said before hitting Martha.
"I heard she is secretly a man," Nuru heard a woman whisper, "why else would she behave like this? This is not how women are supposed to behave."
"I heard she is just trying to break our marriages, so we are miserable and alone like her," another whispered.
"She is a witch. She does not even have children and she is trying to tell us how to bring up our daughters."
"I heard she is a prostitute. She is just trying to corrupt us," the whispers continued.
"I feel bad for her, but she should know that activism is not the work of a woman," a man chimed in.
The police eventually stopped harassing and beating Martha, before taking off. The crowd slowly dispersed, without offering her any help. Eventually, Nuru was the only one left.
She looked around nervously as if trying to make sure no one was looking. As much as she felt sorry for her, she was scared to go against the people of the town. She did not want to be an outcast like Martha. When she was sure no one was looking, she reached out for Martha's hand helping her to her feet.
"Why did they do this to you?" Nuru asked, while watching the older woman wince in pain as she started walking.
"I was fighting for your rights."
"What do you mean my rights?"
Martha gestured at a nearby bench for them to sit on.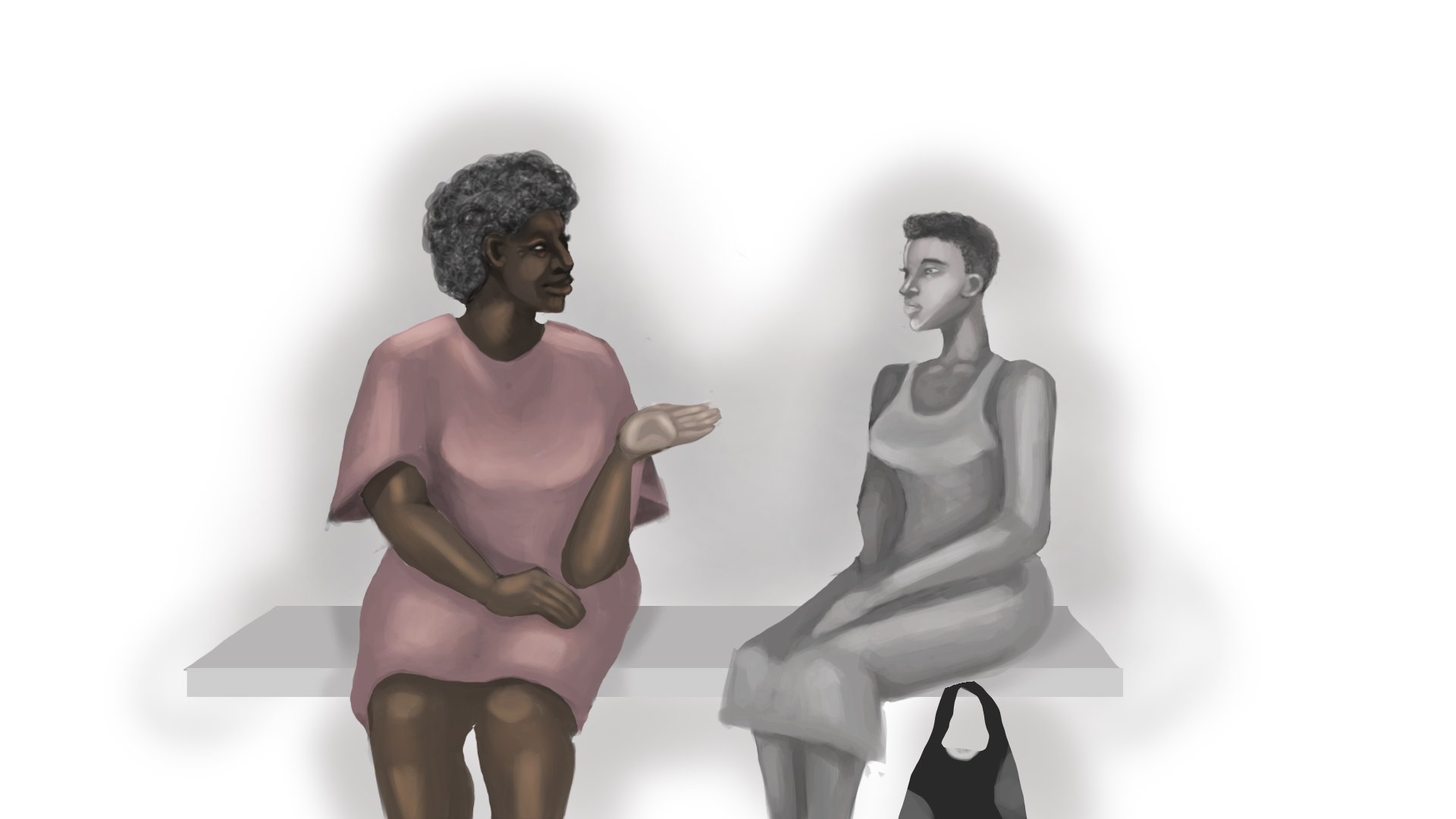 "Don't you want to live in a world where you have choices?" Martha asked.
"I do have choices. I make choices every day," Nuru said defensively.
Martha looked at Nuru, slightly raising an eyebrow. "Did you know you could own property, get an education, be equal to your father and brothers?" Martha continued.
Nuru stared into the distance with a look of longing. She had always wanted more for herself, but she had come to accept her life. Also, she was too scared to go against her father. "My father would never allow it, "she finally said.
Martha reached into her bag and retrieved a card. "This organisation can help you to learn more about your rights and can find you a good school. It is not his place to allow it. It is your right."
Nuru hesitantly took the card and quickly pocketed it, afraid someone would see.
"I heard you are organising a march tomorrow."
Martha nodded and handed her a flier with all the information about the march. "You don't have to come to this if you don't want to, but at least think about what I told you."
Nuru nodded while gathering her things. She was still not quite sure if she would dare to go against her father, after all, who would take care of the house? "You are really nice," Nuru said. She felt like Martha needed to hear some kind words. Then, Nuru took off.
Despite a restless night and the pain from the beating, Martha got up early the next morning to get ready for the march. The beating was the worst she had gotten since she started being outspoken about women's rights. She had received calls and text messages all morning from people backing out of her march. It had worked – the beating had served as a warning to anyone planning to participate. Martha felt ashamed to admit it to herself, but they were really close to breaking her. She had tried so hard to not let them win, but that beating might have been the straw that broke the camel's back.
She held out hope that at least one other person would show up, but she had been standing there for an hour. At that point, it was apparent that the march was a complete failure. In that moment, it was hard to remember why she was fighting so hard for this. As she sat down on the side of the road, with the sign Don't tell me how to dress – tell them not to rape, next to her, a single teardrop ran down her face. With a sigh she reached out for the sign, resigning to go home. Instead of feeling the wooden base of the sign, she felt a hand touching hers. She looked up in panic, expecting to see the policemen from the previous day. Instead, it was Nuru.
"What are you doing here?" Martha asked in a confused tone, quickly drying her tears.
"We want to fight for our rights."
"We?" asked Martha, even more confused. She then saw a group of women behind Nuru.
"We came to stand with you and all the women and girls in town," Nuru said.
Martha smiled. She stood up grabbing the rest of the signs and handing them out to the group. They started chanting the slogans on the signs, marching towards Mr. Tapiwa's office.