Prominent human rights lawyer Abdolfattah Soltani in Iran was granted conditional release after serving more than seven years, reports the Guardian on 21 November 2018.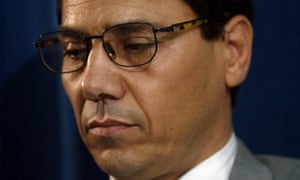 Abdolfattah Soltani. Photograph: Behrouz Mehri/AFP
"The authorities agreed yesterday to my client's conditional parole and he was released today," Soltani's lawyer Saeed Dehghan said on Wednesday, according to IRNA.
Soltani was jailed in 2011 over charges of "spreading propaganda against the system" and "setting up an illegal opposition group", Amnesty International said at the time. He was granted conditional release after serving more than half a 10-year term, IRNA said. A previous parole request on 8 July had been denied, according to his lawyer. Soltani was a co-founder of the now outlawed Defenders of Human Rights Centre alongside Nobel peace prize laureate Shirin Ebadi and others. The human rights lawyer's release could not be immediately confirmed with his family. Soltani was briefly released from prison in August to attend the funeral of his 30-year-old daughter, Homa, who died of a heart attack.
see also: https://humanrightsdefenders.blog/2012/10/10/abdolfattah-soltani-awarded-iba-human-rights-award-lawyers-for-lawyers/
https://www.theguardian.com/world/2018/nov/21/iranian-human-rights-lawyer-abdolfattah-soltani-released-from-jail