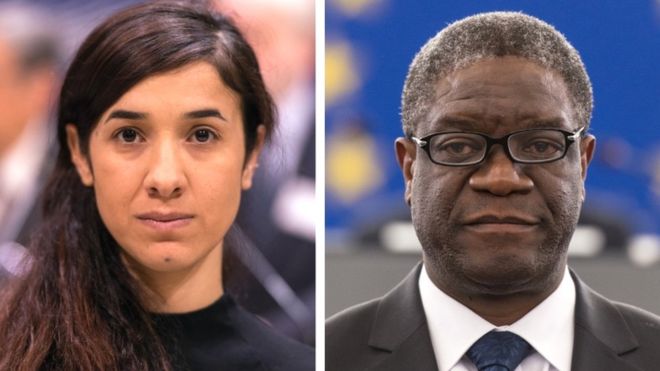 Nobel Peace Prize for anti-rape activists Nadia Murad and Denis Mukwege – Image copyright 

EPA
Ms Murad is an Iraqi Yazidi who was tortured and raped by Islamic State militants and later became the face of a campaign to free the Yazidi people. She found recognition from at least two earlier awards:
Dr Mukwege is a Congolese gynaecologist who, along with his colleagues, has treated tens of thousands of victims. He received wide recognition with 8 international human rights awards:
2008   United Nations Prizes in the Field of Human Rights
2009   Olof Palme Prize
2010   Wallenberg Medal (University of Michigan)
2011   King Baudouin International Development Prize
2013   Civil Courage Prize
2013   Human Rights First Award
2013   Right Livelihood Award
2014   Sakharov Prize for Freedom of Thought
See also: https://humanrightsdefenders.blog/2016/04/12/profile-denis-mukwege-democratic-republic-of-congo-courageous-doctor-rape-women/
Ms Murad, 25, dedicated the award to her mother, who was killed by the Islamic State (IS) militants who overran their home in 2014. Ms Murad described her escape in a BBC interview in 2016, detailing how the women who were held captive were treated by IS.
Dr Mukwege was operating at his hospital when he heard he had won the prize. He dedicated his award to all women affected by sexual violence. He lives under the permanent protection of UN peacekeepers at his hospital and has also previously called for a tougher line on rape as a weapon of war.
https://www.bbc.com/news/world-europe-45759221
see also: https://dansmithsblog.com/2018/10/08/the-nobel-peace-prize-and-sexual-violence-in-war/