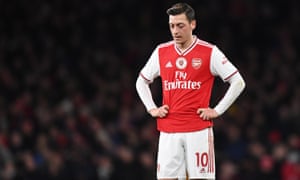 Arsenal's Mesut Ozil posted to his millions of social media fans about the persecution of Uighurs in China. Photograph: Facundo Arrizabalaga/EPA
..Arsenal's response has been a cynical attempt to placate government-manufactured outrage in the pursuit of profits over principles. Executives should remember that critical Chinese voices face detention and censorship. Following in the footsteps of many brands that adopted the Chinese Communist party (CCP) political stance, the club released a Chinese-language statement that "The content published is Özil's personal opinion. As a football club, Arsenal has always adhered to the principle of not involving itself in politics." The statement still does not appear on its English-language social media accounts or website.
As many NBA fans found out in October, when the Houston Rockets manager sparked a major crisis for briefly supporting the Hong Kong protestors, sports clubs are not prepared to stand up to the Chinese government for fear that it will shut down a significant source of revenue. Though global football institutions stayed silent when Uighur footballer Erfan Hezim was sent to an internment camp, they should not look away now that one of the sport's most prominent players has forced the issue. China will host the 2021 Club World Cup and Xi Jinping has his eye on hosting the World Cup. Human rights abuses should not be swept under the rug.
No matter how much brands grovel to the Chinese government, they will always be vulnerable to nationalist sentiment inflamed by the Communist party that has tied its legitimacy on having led the country out of its "century of national humiliation". Self-censorship is not a guarantee of protection for western brands and only exposes their hypocrisy to fans back home in democracies. Instead of falsely claiming they do not involve themselves in politics, Arsenal should use this opportunity to stand up for human rights.
https://www.theguardian.com/football/commentisfree/2019/dec/18/mesut-ozil-china-row-western-brands-be-warned-self-censorship-wont-protect-you