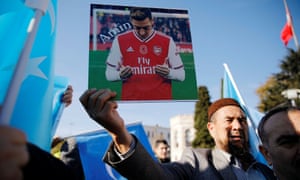 A demonstrator in Istanbul holds up a picture of Arsenal's Mesut Özil who expressed his horror at China's treatment of the Uighurs. Photograph: Kemal Aslan/Reuters
On the Chinese social media site Weibo Arsenal quicly posted that Özil's comments were merely his "personal opinion" and reminding that "Arsenal has always adhered to the principle of not involving itself in politics". The article nicely quotes Simon Chadwick, a professor of sports enterprise at Salford University who specialises in China: "The world is in the midst of an ideological battle: western liberalism versus eastern authoritarianism. And sport is one of the front lines."
Also saying it is just a personal opinion, seems a bit much:  Özil was entirely in tune with a United Nations panel and multiple human rights groups who have spoken out about the imprisonment of millions of Uighur people in internment camps without trial for "re-education" in what has been described as the largest incarceration of one ethnic group since the Holocaust, with multiple accounts of torture, rape and abuse from eyewitnesses who have passed through.
Celebrities have been criticised for NOT speaking out when they insist on touring human rights violating regimes (e.g. only last week Anthony Joshua was widely criticised for not speaking out about human rights in Saudi Arabia and Mariah Carey in July this year [https://humanrightsdefenders.blog/2019/07/10/nicki-minaj-did-the-right-thing-and-cancelled-her-performance-in-saudi-arabia/]. Sean Ingle states" Yet can you blame sportspeople for staying quiet when they see Özil bravely raising his head above the parapet only to be shot down by his own club? As for Arsenal not involving themselves in politics, what did the club think they were doing when they agreed a £30m deal with the Rwandan government to promote tourism?
It would seem that what is 'political' is mostly determined by the sensitivity and power of the country being targeted. And in the case of China there is very little margin. Whether it is the according of awards to dissidents or accepting statements on Hong Kong by NBA officials [see more generally: https://humanrightsdefenders.blog/2012/12/06/china-and-its-amazing-sensitivity-on-human-rights-defenders/]. As Sean Ingle stated: The decision by CCTV not to show Arsenal's match against Manchester City is another reminder that there is no middle ground here. No way to stick up for human rights and free speech without angering China. You are either for such values or against them.
https://www.theguardian.com/football/2019/dec/16/arsenal-mesut-ozil-uighurs-china