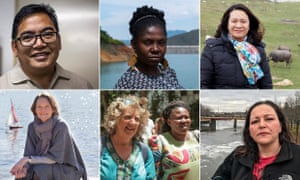 Goldman environment prize winners 2018: (clockwise from top left) Manny Calonzo, Francia Márquez, Nguy Thi Khanh, LeAnne Walters, Makoma Lekalakala and Liz McDaid, Claire Nouvian. Photograph: 2018 Goldman Environmental Prize
This year's Goldman environmental prizes celebrate six remarkable success stories, five of them driven by women.
In Latin America, the winner is Francia Márquez, an Afro-Colombian community leader who led a 10-day, 350-mile march of 80 women from the Amazon to Bogotá that prompted the government to send troops to remove illegal miners who were polluting rivers with cyanide and mercury. [The dangers of environmental activism have been evident in the murder of two Goldman-prize recipients in the past two years: the 2015 winner Berta Cáceres and the 2005 winner Mexican activist Isidro Baldenegro López]  "The first thing we need is to be more aware of the historical moment in which we find ourselves: the planet is being destroyed, it's that simple, and if we do nothing to avoid it we will we will be part of that destruction," Francia Márquez said. "Our time has come, we must act, we have a responsibility to future generations to leave a better world, in which taking care of life is more important than producing cumulative wealth."
South African anti-nuclear activists Makoma Lekalakala and Liz McDaid, [see: anti-nuclear court ruling against former South African president Jacob Zuma]
Vietnamese clean-energy advocate Nguy Thi Khanh,
USA clean-water defender LeeAnne Walters, and
French marine-life champion Claire Nouvian.
Philippines anti-lead campaigner Manny Calonzo.
– see also: https://humanrightsdefenders.blog/2016/04/19/goldman-environmental-prizes-awarded-san-francisco-activists/
https://humanrightsdefenders.blog/2016/03/03/berta-caceres-human-rights-defender-assassinated-today-in-honduras/
https://www.theguardian.com/environment/2018/apr/23/unprecedented-win-for-women-in-top-global-environment-awards-goldman-prize