A post by Marion MacGregor published on 15 November 2021in 'Infomigrants' brings out an awful truth which I have to face up to even though Greece is my adopted country. In the face of Turkey 'weaponsing' migrants, it is trying its hands at deterrence in the hope that it will diminish the pressure of inflows
Greece and other European countries are increasingly using the threat of criminal proceedings against aid workers and those migrants who ended up being marked as migrant smugglers.
Hanad Abdi Mohammad is in prison, he says, because of something he was forced to do. The Somali is serving an impossibly long sentence of 142 years (!) after he was convicted last December for driving an inflatable dinghy carrying migrants to Greece. He says that he didn't have a choice, because the smuggler hit him in the face and threatened him with a gun before abandoning the boat in rough seas. As 28-year-old Mohammad told journalists and members of the European Parliament who visited the prison last week, he "didn't think saving people is a crime."
In the same prison on the Greek island of Chios two men from Afghanistan, Amir Zaheri and Akif Rasouli, both in their 20s, are also serving sentences of 50 years for similar criminal offences. The men's convictions and staggering prison terms show how far Greece is ready to go in order to stop migrants in their tracks.
On the day the smuggler abandoned them at sea between Turkey and Greece, Mohammad and nearly three dozen other migrants were only concerned about their lives. Mohammad says that he called the Turkish coast guard repeatedly, begging to be rescued. But when it arrived, the Turkish patrol boat circled the migrants' dinghy sending water into the boat and gradually pushing it toward Greece. In the chaos, two women fell overboard and drowned, AP reports.
The survivors were finally rescued by the Greek coast guard, and Mohammad helped others onto the rescue boat. He admitted to having driven the boat after the smuggler left. It didn't cross his mind that would lead to him being prosecuted as a smuggler.
"It's not possible that someone who comes to claim asylum in Greece is threatened with such heavy sentences simply because they were forced, by circumstances or pressure, to take over handling a boat," one of the lawyers representing the three imprisoned in Chios, Alexandros Georgoulis, told AP. Greek authorities, he said, "are essentially baptizing the smuggled as the smuggler."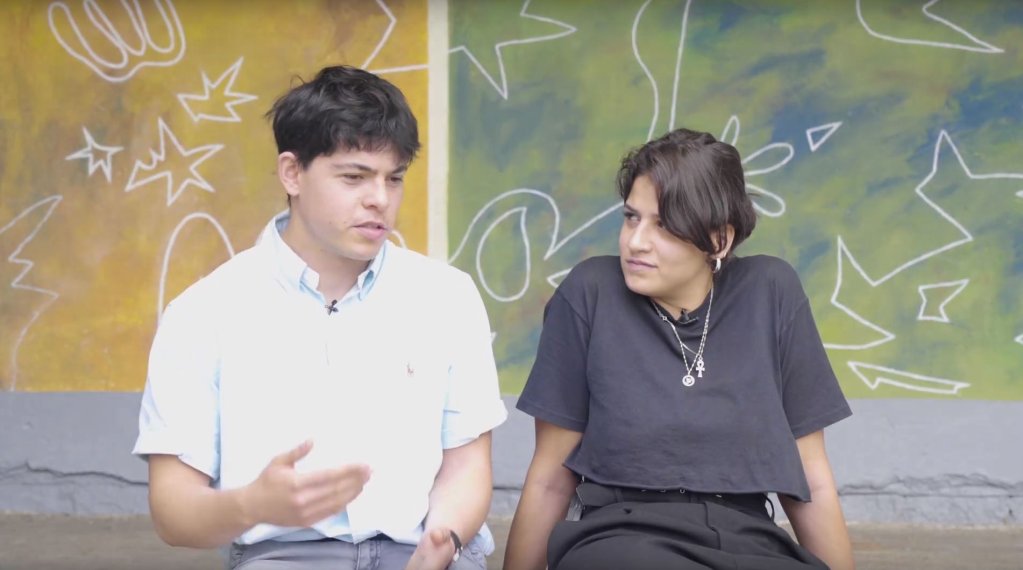 Greek authorities have also accused aid workers and volunteers helping migrants in Greece of serious crimes. In one widely publicized case, the Syrian human rights worker Sara Mardini, a refugee herself, and an Irish volunteer Sean Binder were arrested and detained for months in 2018 on suspicion of espionage, money laundering, human trafficking and other offenses. Due to face trial on the island of Lesbos alongside 22 other civil society activists later this week, Binder says he is "terrified."
"I've had a taste of life in prison on Chios. It was all scabies and bed bugs with 17 of us packed in a cell," Binder told The Guardian. "The police holding cells were even worse, the most awful place on earth; squalid, windowless rooms full of asylum seekers just there because authorities had nowhere else to put them."
Giorgos Kosmopoulos, a campaigner with an Amnesty International group which plans to monitor the trial in Greece, says that this is not only happening there. "Human rights defenders across Europe are being criminalized … for helping refugees and migrants," he told The Guardian. See also: https://humanrightsdefenders.blog/2020/10/09/mary-lawlor-condemns-criminalization-of-those-saving-lives-in-the-mediterranean/
AP reports that, according to the European Union Agency for Fundamental Rights, Germany, Italy, Malta, the Netherlands, Spain and Greece have initiated 58 investigations and legal proceedings since 2016 against private entities involved in search and rescue.
"I think it's important to challenge these in the courts, to not at all sit back and accept that we should be cast as smugglers or spies because I offered CPR, (or) more often than not just a smile, to someone in distress," Binder told the news agency. "It is preposterous that we should be cast as criminals. I don't accept it….It doesn't matter who you are, you don't deserve to drown in the sea."
Binder told The Guardian that he has not bought a return ticket to the UK, where he has been studying. He and Mardini face a maximum eight-year sentence, convertible into a fine. They are still under investigation for offences which could carry 25-year sentences if they are convicted.
In my view, the problem can only be tackled in a European context [see e.g. https://ec.europa.eu/home-affairs/what-we-do/policies/legal-migration-and-integration_en%5D but it seems most member states cling to outdated notion of sovereignty.
Not directly related but possibly relevant is recent legislation in Greece, adopted on November 11, 2021, that makes it a criminal offence to spread "fake news." Human Rights Watch said that the Greek government should immediately move to revoke the provision, which is incompatible with freedom of expression and media freedom. "In Greece, you now risk jail for speaking out on important issues of public interest, if the government claims it's false," said Eva Cossé, Greece researcher at Human Rights Watch. "The criminal sanctions risk making journalists and virtually anyone else afraid to report on or to debate important issues such as the handling of Covid-19 or migration or government economic policy."
While the trial began Thursday, it was almost immediately suspended. The court's decision to adjourn, said 27-year-old Binder, a diver and German national, "is further proof of the absurdity of this case."
https://www.commondreams.org/news/2021/11/18/drop-charges-greece-delays-trial-humanitarians-who-aided-refugees-sea
https://www.infomigrants.net/en/post/36487/greece-migrants-and-aid-workers-facing-decades-in-prison
https://www.independent.ie/regionals/kerryman/news/kerry-aid-worker-faces-trial-in-greece-41058865.html
https://www.hrw.org/news/2021/11/17/greece-alleged-fake-news-made-crime
https://reliefweb.int/report/greece/greece-guilty-verdict-migrant-rights-defenders-could-mean-more-deaths-sea-un-expert
https://www.ansamed.info/ansamed/en/news/sections/politics/2021/11/19/trial-of-aid-workers-in-greece-is-adjourned-amid-protests_5de29280-fde8-4c77-b7c2-ef878c497157.html
See also in March 2022: https://www.hrw.org/news/2022/03/17/ray-hope-fight-against-greeces-border-abuses,
and on 12 April: https://www.ohchr.org/en/press-releases/2022/04/un-committee-enforced-disappearances-publishes-findings-greece-and-niger