Thai authorities on 1 January 2021 made their 38th arrest of a pro-democracy activist in recent weeks under the country's tough lèse majesté law as authorities crack down on the country's unprecedented protest movement. That law, Section 112 of the Thai criminal code, forbids defamation of the king and provides for three to 15 years' imprisonment for violations.The law had been dormant since King Maha Vajiralongkorn succeeded his father, King  Bhumibol Adulyadej, who died in 2016. The Thai government, though, is now using it to try to stamp out continuing protests calling for the government to resign, a new constitution and reform of the monarchy
Thailand's authorities must stop targeting pro-democracy protesters with draconian legal action and instead enter into dialogue, according to the UN's special rapporteur for freedom of assembly, who warned the country risks sliding into violence. Clément Voule said he had written to the Thai government to express alarm at the use of the fierce lese-majesty law against dozens of protesters, including students as young as 16.
"It is legitimate for people to start discussing where their country is going and what kind of future they want," Voule said of the protests. "Stopping people from raising their legitimate concerns is not acceptable."
So far, 37 people face charges of insulting the monarchy for alleged offences ranging from wearing traditional dress deemed to be a parody of the royals to giving speeches arguing that the power and wealth of the king should be curbed.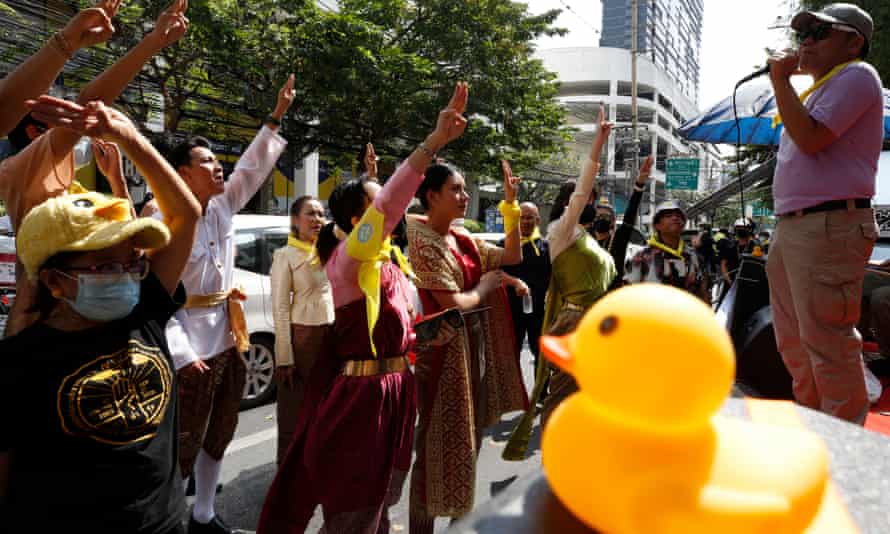 Anti-government protesters flash a three-finger salute – a gesture used adopted by protesters from the Hunger Games films – as they gather in support of people detained under the lese-majesty law at a police station in Bangkok. Photograph: Narong Sangnak/EPA
Prominent protest leaders face an unusually high number of charges. This includes the student activists Parit Chiwarak, also known as Penguin, (12 charges) and Panusaya Sithijirawattanakul (six charges) and the human rights lawyer Anon Nampa (eight charges), who have given speeches calling for the power of the royals to be curbed.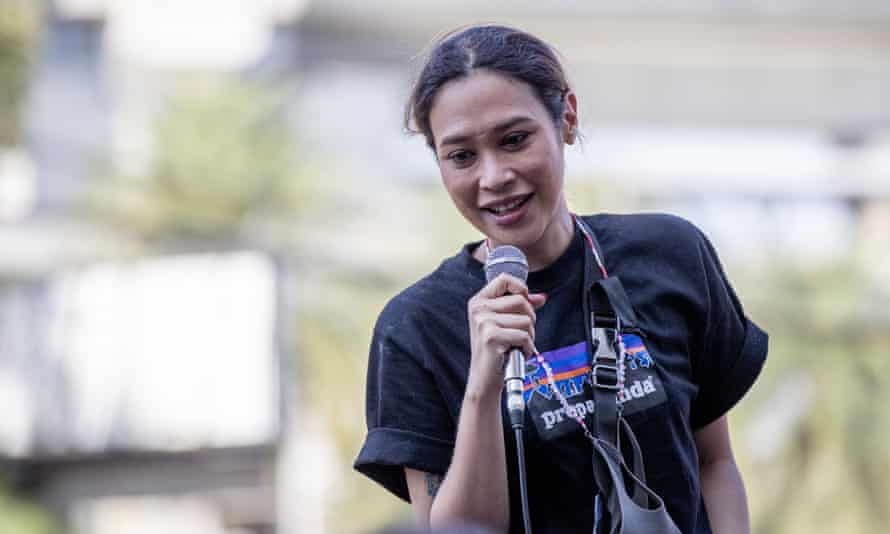 The pro-democracy protest fundraiser Inthira Charoenpura speaks from a stage outside Bang Khen police station in Bangkok. Photograph: Gemunu Amarasinghe/AP
Protesters – who have faced various other charges over recent months, including sedition – declined to participate in a government reconciliation panel in November, rejecting it as an attempt to buy time. The recent cases come after months of demonstrations in which protesters have made unusually frank and public calls for reform to the monarchy.
Benja Apan, 21, one of 13 people facing charges over a demonstration outside the German embassy in Bangkok, said legal action was unlikely to deter protesters from coming out in the new year. "I actually think it will bring more people out, because it is not fair," she said.
The human rights group Amnesty International has launched a campaign calling on PM Prayut Chan-o-cha to drop charges pressed on a number of activists for their role in the pro-democracy movement and to repeal, or at least amend, Thailand's draconian lèse majesté law. According to the campaign, at least 220 people, including minors, face criminal charges for relating to their actions in the pro-democracy movement. Activists are calling on government and monarchy reform, raising issues considered taboo and unprecedented in Thai society. Thailand must amend or repeal the repressive laws it is using to suppress peaceful assembly and the expression of critical and dissenting opinions.
Amnesty International is calling on people to take action and send a letter to the prime minister, calling on the Thai government to change their approach when handing the ongoing protests to protect human rights. Sample letter by AI's campaign calls on Prayut to:
Immediately and unconditionally drop all criminal proceedings against protesters and others charged solely for exercising their rights to freedom of peaceful assembly and expression
Cease all other measures, including harassment, aimed at dissuading public participation in peaceful gatherings or silencing voices critical of the government and social issues
Amend or repeal legislation in order to ensure it conforms with Thailand's international human rights obligations on freedom of peaceful assembly and expression, and to train state officials to carry out their duties confirming to Thailand's obligation to respect, protect and fulfil the peaceful exercise of the rights to freedom of peaceful assembly and expression.
On Saturday 19 December 2020 Maya Taylor in The Thaiger had already reported that the United Nations High Commission for Human Rights has expressed shock and dismay at Thailand's use of its strict lèse majesté law against a 16 year old pro-democracy activist. The UN High Commissioner for Human Rights' spokesperson Ravina Shamdasani has called on Thailand to refrain from using the law against those exercising their right to freedom of speech, as she expressed alarm that a minor was being charged under the law. "It is extremely disappointing that after a period of 2 years without any cases, we are suddenly witnessing a large number of cases, and – shockingly – now also against a minor. We also remain concerned that other serious criminal charges are being filed against protesters engaged in peaceful protests in recent months, including charges of sedition and offences under the Computer Crime Act. Again, such charges have been filed against a minor, among others."
"The UN Human Rights Committee has found that detention of individuals solely for exercising the right to freedom of expression or other human rights constitutes arbitrary arrest or detention. We also urge the government to amend the lèse majesté law and bring it into line with Article 19 of the ICCPR on the right to freedom of expression."
Thailand's Foreign Ministry spokesman has played down the UN High Commissioner for Human Rights' criticisms over the kingdom's enforcement of the Lese Majeste law.
See also in 2019: https://humanrightsdefenders.blog/2019/12/23/thailand-amnesty-and-un-rapporteur-agree-on-misuse-of-lese-majeste/
https://thethaiger.com/news/national/pro-democracy-movement-making-little-headway-monarchys-powers-remain-untouched
https://www.theguardian.com/world/2020/dec/27/un-thailand-protesters-royal-insult-law-lese-majesty
https://www.voanews.com/east-asia-pacific/new-year-new-charges-thai-protesters-slapped-royal-defamation-charges