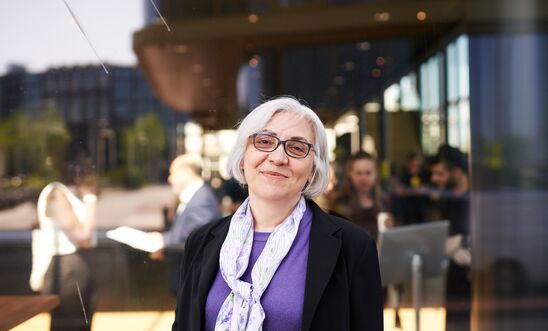 'From the start, this has been a politically-motivated trial' – Idil Eser© Amnesty International (Foto: Jordi Huisman)
The verdict in the trial of Amnesty Turkey's chair, the organisation's former Turkey director and nine other human rights defenders, is expected tomorrow. The key hearing will begin at 8.00am BST (10.00am local time) on Friday 3 July at Istanbul Heavy Penal Court, No 35.
Taner Kılıç, Idil Eser, Özlem Dalkıran, Günal Kurşun, Veli Acu, Nejat Taştan, Nalan Erkem, İlknur Üstün, Şeyhmus Özbekli, Ali Gharavi and Peter Steudtner are all on trial for baseless terrorism charges.
Over the course of 11 earlier hearings spread over nearly three years, 'terrorism' allegations against all 11 defendants have been repeatedly and categorically disproven, including – ironically – by the state's own evidence. The prosecution's attempt to present legitimate human rights activities as unlawful acts has comprehensively failed, said Amnesty. [see also: https://humanrightsdefenders.blog/2020/02/16/turkey-who-will-defend-the-human-rights-defenders/.]
In August 2018, after more than 14 months in prison, former Amnesty Turkey Chair Taner Kılıç was released on bail. Eight of the others spent almost four months each behind bars before they were released in October 2017.
At the tenth hearing in November 2019, the prosecutor requested acquittal for five of the 11, and convictions for the remaining six.
See: https://humanrightsdefenders.blog/2020/05/06/ali-gharavi-of-the-istanbul10-speaks-about-his-experience-and-his-hope/.
In the meantime, on 2 June 2020, the Council of Europe's Commissioner for Human Rights spoke out on the independence of lawyers in Turkey: "I have taken note with concern of a bill recently submitted to the Turkish Parliament containing amendments to the Turkish Law No. 1136, which affect lawyers and their professional associations. The proposed changes would notably allow for a plurality of bar associations in provinces with large numbers of lawyers and modify the election procedures of bar associations and their Union. These changes raise particular concerns when seen against the background of the serious problems I identified in my latest report on Turkey published in February 2020. These problems include a hostile and repressive atmosphere affecting civil society in Turkey, of which professional associations, such as bar associations, are a very important part; the glaring lack of consultation and involvement of civil society in policy-making and legislation; and the very difficult situation, including undue judicial pressure, faced by lawyers in Turkey both as  human rights defenders and as a fundamental part of an increasingly hostile judicial system."
https://www.amnesty.org.uk/press-releases/turkey-verdict-expected-long-running-trial-amnesty-chair-and-ten-others
https://www.coe.int/en/web/commissioner/-/commissioner-s-concerns-about-proposed-changes-affecting-the-legal-profession-in-turkey