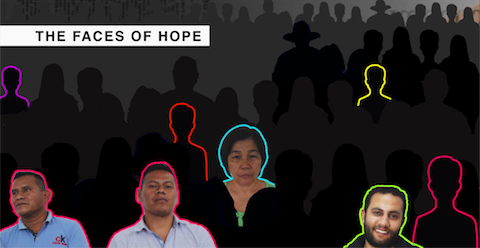 Defending the right to housing for vulnerable communities, exposing corruption and torture, speaking up against injustice, raising their voices for the rights of indigenous peoples or of minorities, upholding miners' rights, peacefully demonstrating against discrimination or for access to clean water. All are legitimate ways to affirm our common rights. And yet, such activities have led many human rights defenders around the world to prison.  During the COVID-19 pandemic, detention may come with serious risks. Like other inmates, defenders face overcrowding and poor sanitary conditions, with basic protective measures a distant dream. Worse, they may be denied access to health care as a form of punishment. These brave people are among the most exposed to contracting the virus, and among the least likely to receive proper treatment.
Following UN High Commissioner for Human Rights Michelle Bachelet's call to governments to "release every person detained without sufficient legal basis, including political prisoners, and those detained for critical, dissenting views" to prevent catastrophic rates of COVID-19 infection, OMCT launched in May 2020 a global campaign calling for the release of all human rights defenders detained worldwide, including those in pre-trial detention.
See: https://humanrightsdefenders.blog/2020/04/29/un-high-commissioner-for-human-rights-bachelet-calls-for-restraint-in-governments-covid-emergency-powers/
Human Rights Defenders work to ensure journalists are free to keep us informed about how our governments are responding to the pandemic and about the effects of quarantine measures; they denounce the abuse of power and police violence that can result from the state of emergency; they champion the needs of discriminated communities; they call on States to protect our housing and labour rights as jobs disappear; they demand that women's sexual and reproductive rights not be neglected as healthcare systems focus on the virus. In short, human rights defenders make sure no one is left behind.
…..Let's bring this solidarity to all the arbitrarily detained human rights defenders whose lives are at risk. Join our campaign and ask for their release using #FacesOfHope. They need us. And we need them too.
Meet the #FacesOfHope:
GUATEMALA: Jorge Coc Coc and Marcelino Xol Cucul
https://www.omct.org/human-rights-defenders/statements/2020/05/d25823/