photo credit: UN
During the ongoing pandemic, the exercise of emergency powers has been used as an excuse for unlawful detention, restriction of movement and suppression of press freedoms, according to Bachelet. The International Press Institute (IPI), a press freedoms watchdog, reports that many nations have silenced journalists under the pretext of stifling "fake news." The IPI maintains a list of international media freedom violations occurring as a result of emergency powers abuses.
In Cambodia the application of emergency powers in response to the COVID-19 pandemic have resulted in the unlawful detention of those who disobey the emergency measures for up to 10 years in a move Amnesty International called "a naked power grab which seeks to manipulate the COVID-19 crisis in order to severely undercut human rights." Further human rights abuses are reported from El Salvador, where grocery shoppers were unlawfully detained when President Nayib Bukele defied a Supreme Court order in their defense. In Central Asia, Amnesty International reports massive expansion of police powers through emergency powers granted during the pandemic.
To guide responsible enacting of emergency powers, the UN has released a new set of policy guidelines that advise states to follow principles such as legality, proportionality and non-discrimination during "humane application of emergency powers," pursuant to the International Covenant on Human Rights. See also: https://humanrightsdefenders.blog/2020/04/14/un-guidelines-for-use-of-emergency-powers-in-time-of-covid-19-pandemic/.
"Given the exceptional nature of the crisis, it is clear States need additional powers to cope," Bachelet's statement concluded. "However, if the rule of law is not upheld, then the public health emergency risks becoming a human rights disaster, with negative effects that will long outlast the pandemic itself."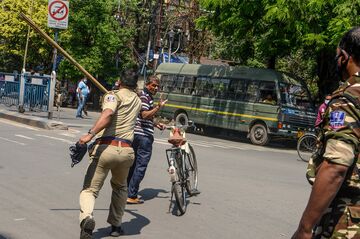 police beats a man with his stick during a government-imposed lockdown in Siliguri, India. Photographer: Diptendu Dutta/AFP via Getty Images