Chimamanda Ngozi Adichie accepts PEN Pinter prize with call to speak out. Arguing that authors have a duty to 'call a lie a lie', the Nigerian novelist also names human rights activist Waleed Abulkhair as the 2018 International Writer of Courage. Alison Flood in the Guardian of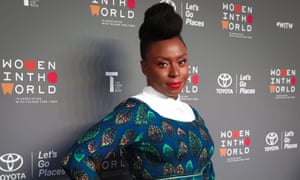 Chimamanda Ngozi Adichie pictured at the Women in the World Summit in 2017. Photograph: Matteo Prandoni/BFA/Rex/Shutterstock
The Nigerian novelist was described by the Jury as "sophisticated beyond measure in her understanding of gender, race, and global inequality". In her acceptance lecture at the British Library, Adichie said that while writers should not necessarily speak out on political issues, she did not believe "that art is a valid reason for evading the responsibilities of citizenship – which are to think clearly, to remain informed, and, sometimes, to act and speak".
…The award-winning novelist revealed how she has been criticised in Nigeria for speaking out about its law criminalising homosexuality, and for her efforts to start a "much-needed conversation" about women's rights in the country….
Adichie said that she did not choose to speak out about social issues because she is a writer. "But my writing gave me a platform to speak about issues that I have always cared about," she said. "I do not want to use my art as an armour of neutrality behind which to hide. I am a writer and I am a citizen, and I see my speaking out on social issues as a responsibility of citizenship. I am struck by how often this speaking out is met, in Nigeria, not with genuine engagement, whether to agree or disagree, but with a desire to silence me. A journalist once helpfully summed it up for me: people don't like it when you talk about feminism, they just want you to shut up and write."
At the ceremony, Adichie named the lawyer and human rights activist Waleed Abulkhair as this year's International Writer of Courage, a title awarded by the PEN Pinter winner each year. Abulkhair, a founding member of the Monitor of Human Rights in Saudi Arabia .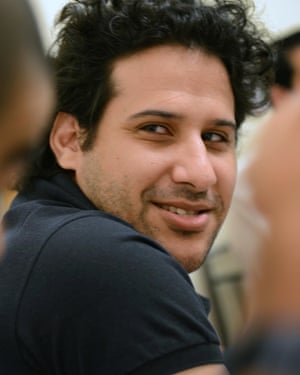 Facebook

Twitter

Pinterest 
Waleed Abulkhair pictured in 2012. The Washington Post/Getty Images
"Waleed has dedicated his life to holding the Saudi authorities accountable for human rights abuses," said Adichie. "He has dedicated his life to speaking out, to supporting the victims of those abuses. Waleed, like Harold Pinter, has shown a lucid dedication to telling his truth. But rather than being lauded for this dedication, Waleed has paid a heavy price – 15 years behind bars." She said she was deeply proud to share the prize with Abulkhair, "and I hope that this small act of solidarity will bring him some comfort, and will remind him that his struggle has not been forgotten, nor will it be in vain."
Previous recipients of the International writer of courage include Bangladeshi publisher and writer Ahmedur Rashid Chowdhury, also known as Tutul; and Italian investigative journalist Roberto Saviano.
https://www.theguardian.com/books/2018/oct/09/chimamanda-ngozi-adichie-accepts-pen-pinter-prize-with-call-to-speak-out