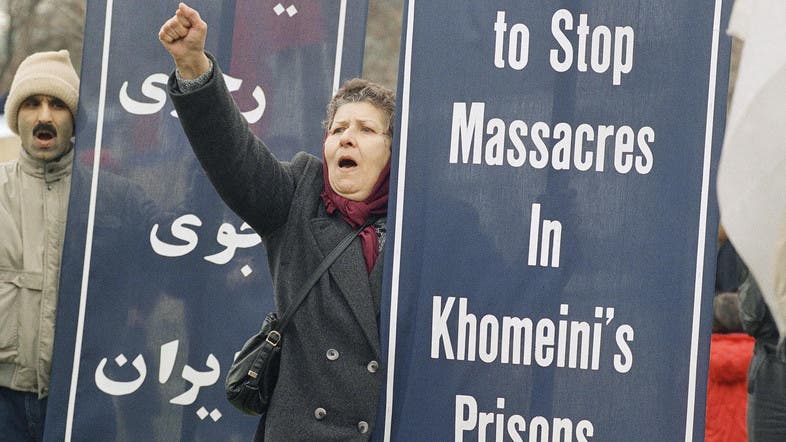 Those who held hopes that with the re-election of the 'moderate' President, Hassan Rouhani, things would also improve in Iran for the large number of human rights defenders in detention will be disappointed. In fact many of his supporters are frustrated by his failing to enact numerous reforms he promised, including the release of HRDs. Here some of the recent developments:
International concern is rising for more than a dozen political prisoners in Iran who are on hunger strike. Amnesty International issued a statement on 22 August 2017 describing their conditions at Raja'i Shahr prison as "cruel, inhuman and degrading". "They are held in cells with windows covered by metal sheets, and deprived of access to clean drinking water, food and sufficient beds," the statement read. Magdalena Mughrabi, Deputy Middle East and North Africa Director at Amnesty International said that on July 30 about 53 political prisoners were violently transferred to Section 10 of Raja'i Shahr prison. Among them are human rights defenders, trade unionists, journalists, students, peaceful political dissidents, and members of Iran's persecuted Baha'i community.
The Iranian regime has increasingly focused on clamping down on anyone who speaks out against the human rights abuses of its ruling class. One of the key areas where this is demonstrated is in the trials of these individuals. Many lack basic legal representation, and the proceedings are brief. If they do have legal representation, there are often hurdles for them to meet with their lawyers and having access to court files delayed. Human rights lawyers who speak out against torture and unfair trials have also faced harassment, disbarment, and imprisonment. Trials of human rights defenders generally take place in a climate of fear.
"It is a bitter irony that as the Iranian authorities boast about their increased engagement with the UN and the EU, particularly in the aftermath of the nuclear deal, human rights defenders who have made contact with these same institutions are being treated as criminals," said Philip Luther, Amnesty International's Research and Advocacy Director for the Middle East and North Africa. "Rather than propagating the dangerous myth that human rights defenders pose a threat to national security, the Iranian authorities should focus on addressing the legitimate concerns they raise. These are people who have risked everything to build a more humane and just society – it is appalling that they are so viciously punished for their bravery."
Amnesty International, in a new report entitled 'Caught in a web of repression: Iran's human rights defenders under attack', is calling on the EU to speak out in the strongest terms against the persecution of human rights defenders in the country. The report also says that under Rouhani's first term human rights abuses have intensified in an unprecedented rate. "Iran's judicial and security bodies have waged a vicious crackdown against human rights defenders since Hassan Rouhani became president in 2013, demonizing and imprisoning activists who dare to stand up for people's rights,"
Iranian opposition leader Mehdi Karroubi – 79 – begun a hunger strike to demand public trial after being held under house arrest since 2011… Several prominent human rights defenders, including Narges Mohammadi, who is now serving a 10-year sentence in Evin prison for her peaceful activism, said that they were going on hunger strikes in solidarity with him. In March, a court sentenced Mr Karroubi's eldest son, Hossein, to six months in prison after convicting him of circulating "propaganda against the regime". He published a letter his father wrote to President Hassan Rouhani calling for a trial. [http://xnewspress.com/2017/08/iranian-opposition-leader-begins-hunger-strike-to-demand/]
On 16 August Hamid Bahrami – a former political prisoner from Iran based in Glasgow, working as a freelance journalist – posted in Euractiv under the title "The EU disregards human rights in Iran" that Federica Mogherini should be asked how she manages to continue relations with the Iranian officials despite reports of Tehran's declining respect for human rights. The formal inauguration ceremony of Rouhani's second presidential term was held earlier this month. The High Representative of the Union for Foreign Affairs and Security Policy, Federica Mogherini, attended the event as a special guest.
An illustration of the cruelty is that while his family waited for him outside Rajaee Shahr Prison the day he was supposed to be released, on 6 June, 2017, Navid Khanjani was told he would have to spend another year behind bars for his peaceful human rights activism.

Navid Khanjani
"There was no indication Navid was supposed to serve another year in prison," an informed source told the Center for Human Rights in Iran (CHRI). "But just as he was waiting to be released from Rajaee Shahr Prison to join his family outside, he was told he had been convicted on another case and had to stay in prison for one more year." Khanjani, a 30-year-old Baha'i human rights activist, was first arrested on March 2, 2010 by the Intelligence Ministry and released on bail after spending two months in solitary confinement. On December 20, 2010, Judge Yahya Pirabbasi of Branch 26 of the Revolutionary Court sentenced him to a total of 12 years in prison for the charges of "publishing falsehoods," "disturbing public opinion," "propaganda against the state," "membership in the banned Center for Defenders of Human Rights," and forming a group to support members of the Baha'i faith who had been expelled from university. The decision was upheld upon appeal, but Khanjani became eligible for early parole under Article 134 of Iran's Islamic Penal Code, which allows for only the longest sentence to be served in cases involving convictions on multiple charges.  Khanjani must serve another year in prison for coming to the aid of earthquake victims in August 2012 in East Azerbaijan Province, where he was arrested with 30 other volunteers. In January 2013, Judge Hamlbar (first name unknown) of Branch 1 of the Tabriz Revolutionary Court sentenced Khanjani and 20 other people to a total of 18 years in prison for "acting against national security."
In his article for The American Thinker, Reza Shafiee, member of the Foreign Affairs Committee of the National Council of Resistance of Iran, writes even more pessimistic words: It is unlikely that Hassan Rouhani will change course during his second term in office. Shafiee writes, "He has been an active participant and a decision maker since the 1979 revolution. He has demonstrated his resolve for pleasing the Supreme Leader every step of the way. Rouhani quietly nags Khamenei for a bigger share of power which is often misread by some in the West as a sign of outright defiance to IRGC or the Supreme Leader. Moderation in Iran's ruling mullahs has been an illusion created by those in the West who want to have a bigger share of Iran's market." 
Sources:
Iran political prisoners cause international concern – Al Arabiya English
Iran Vilifies Human Rights Defenders as 'Enemies of the State'
http://xnewspress.com/2017/08/iranian-opposition-leader-begins-hunger-strike-to-demand/
http://www.euractiv.com/section/freedom-of-thought/opinion/the-eu-disregards-human-rights-in-iran/
http://irannewsupdate.com/news/general/4089-rouhani-s-second-term-will-bring-no-change-for-iran.html