Radio Farda on 8 March 2019 reported that France's President Macron has decided to invite jailed
Iranian
Human Rights Defender
Nasrin Sotoudeh 
to the
G7 Council
. This is an excellent idea that deserves follow-up in other such forums. There are quite a few laureates of human rights awards who are in detention or subject to a travel ban. An invitation from a group of important world leaders is hard to ignore!
My first suggestions are:
https://humanrightsdefenders.blog/2019/01/29/eren-keskin-mea-nominee-2019-speaks-out-fearlessly-turkey-more-oppressive-today-than-ever/
https://humanrightsdefenders.blog/2017/10/10/breaking-news-egyptian-defender-mohammed-zaree-laureate-of-the-martin-ennals-award-2017/
https://humanrightsdefenders.blog/2015/09/15/fly-emirates-if-the-emirs-let-you/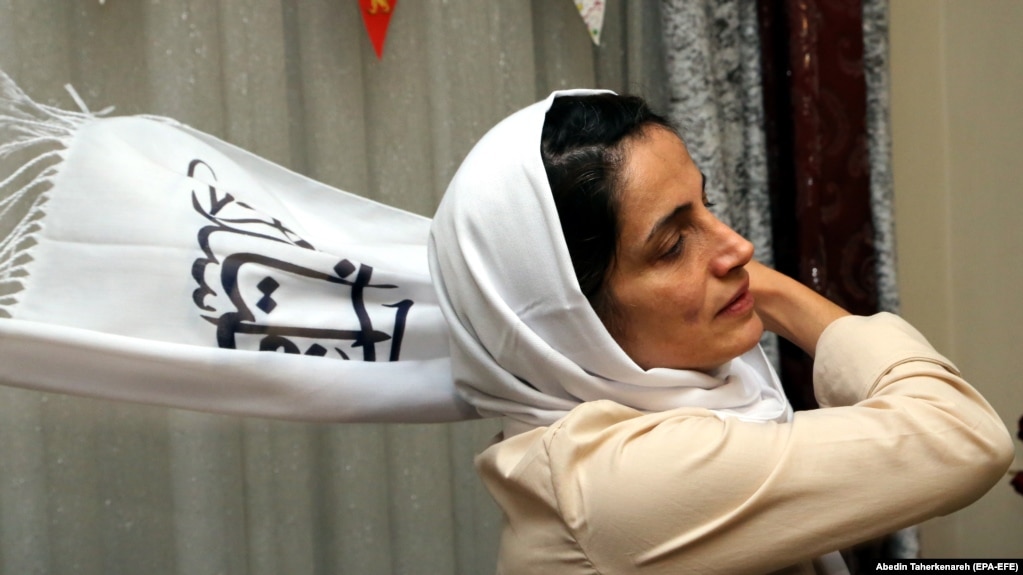 French President Emmanuel Macron has invited jailed Iranian human rights lawyer Nasrin Sotoudeh to take part in the G7 gender equality forum. Sotoudeh's husband Reza Khandan told Radio Farda on Friday that Macron's invitation has been given to him in Tehran on Thursday March 7, one day before the International Women's Day.[see also: https://humanrightsdefenders.blog/2018/06/16/iranian-human-rights-lawyer-nasrin-sotoudeh-arrested-again/]
Ms. Sotoudeh is to be a member of the consultative council for gender equality in Group 7. Khandan said Iranian women should be proud of Soutoudeh's membership in the G7 council. Copies of the invitation have been handed to the Iranian Foreign Ministry and Bar Association.
Nasrin Sotoudeh has been in Jail since June 2018 with a five-year imprisonment sentence and is facing more charges for defending human rights activists in Iran. She is an outspoken opponent of the death penalty and compulsory hijab.  Sotoudeh, 55, is the winner of numerous international awards, including PEN/Barbara Goldsmith Freedom to Write (2011), Southern Illinois University School of Law Rule of Law Citation (2011) and Sakharov Prize (2012). On 21 September 2018, she was awarded the 23rd Ludovic-Trarieux International Human Rights Prize.
https://en.radiofarda.com/a/france-s-macron-invites-jailed-iranian-human-rights-lawyer-to-g7-council-/29811115.html