In China, brave activists are trying to improve the daily life of their fellow citizens and defend their rights to speak freely, to be treated on an equal footing with others, to protest peacefully, or to practice a religion. But the Chinese government fears that their actions will challenge its power and that their criticisms will undermine it. Like the Uyghur and Tibetan peoples, many who stand up for human rights are repressed and silenced, and the authorities have found a very effective way to do that: they disappear them.
On 22 October 2020, exactly a year ago, lawyer Chang Weiping was disappeared under 'Residential Surveillance at a Designated Location' (or 'RSDL') for 'inciting subversion of State power.' Lawyer Chang is a human rights lawyer, who has bravely defended sensitive cases of victims of sexual harassment during China's 'Me Too'. He has also worked with victims of discriminatory practices due to their sexual orientation or HIV status, or targeted for speaking freely or practicing their religion. Ten days before his disappearance, he had published a video denouncing torture he had endured when he was first held under RSDL in January 2020, after attending a meeting with other activists a month earlier. UN experts have publicly called for his release. No one knows where he is held. [see also: https://www.trueheroesfilms.org/thedigest/laureates/2e6ec951-79e7-4a36-b077-76bfe05e3817]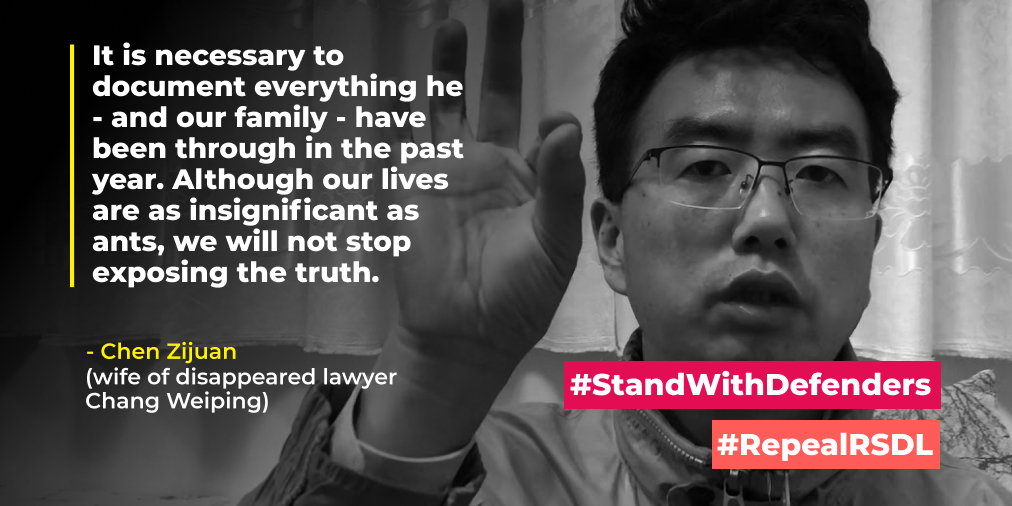 Since 2012, China's rubber-stamp legislative body passed and amended several articles in its Criminal Procedure Law that give police the power to take people into custody without disclosing where they will be held: this is called 'Residential Surveillance at a Designated Location'. When this happens, people are denied all contact with the outside world, even with their family or a lawyer, for up to six months. No one knows where they are. They are interrogated and often tortured to extract confessions. Meanwhile, despite the barriers and risks they have to overcome, their families persist in seeking knowledge about their loved one's fate and justice for what they suffered.
United Nations experts are clear: RSDL is a form of enforced disappearance. With estimations of up to 57.000 individuals under RSDL, enforced disappearances are endemic in China. RSDL tears families apart, and is intended to instill fear into China's human rights movement. See also: https://humanrightsdefenders.blog/2018/01/10/more-on-residential-surveillance-in-a-designated-location-rsdl-in-china/
Many human rights activists have stopped promoting dignity, peace and justice in their communities because they fear to be disappeared by the police. This practice – enforced disappearance – is absolutely wrong and prohibited under international law. Everyone should be able to speak their mind and participate in the life of their communities.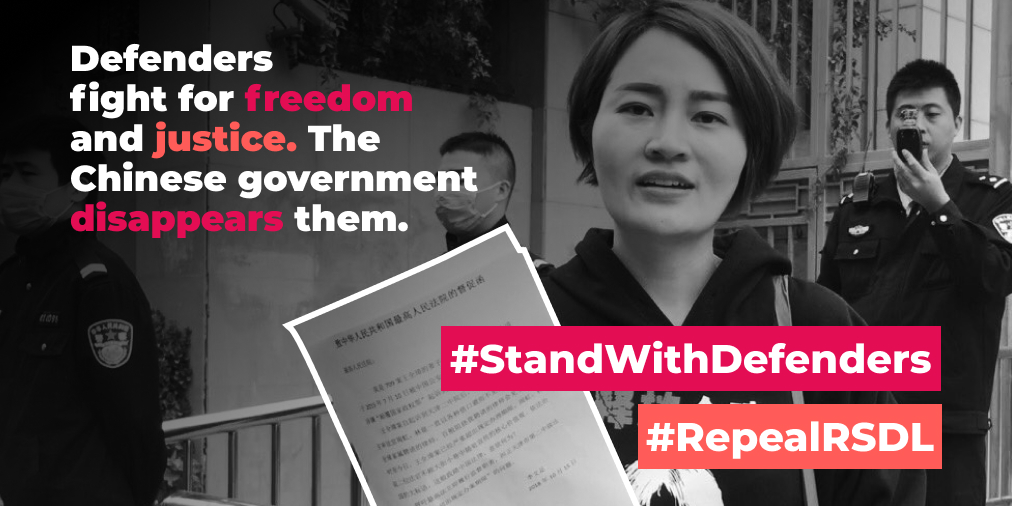 ISHR, Safeguard Defenders, The Rights Practice and The 29 Principles are mobilising the international community to put pressure on China to #RepealRSDL and end enforced disappearances against human rights defenders.
They want the Chinese government to repeal RSDL (articles 74 to 79 of China's Criminal Procedure Law), and to bring truth and justice to victims.
RSDL should be high on the agenda of any human rights exchange with the Chinese government. We want governments worldwide to speak out and use all bilateral and multilateral channels to press the Chinese government to #RepealRSDL. We want the UN to amplify its monitoring of RSDL in China, and to sustain its pressure on the authorities to respect international law and to #RepealRSDL.
Feeling supported is vital for disappeared defenders and their relatives. We want the media, human rights groups and activists across the world to pay closer attention to RSDL, to raise awareness around them, and to stand in solidarity with disappeared Chinese human rights defenders and their relatives.
How do we achieve this?
We are working hard to:
Increase the awareness and legal understanding of government officials and diplomats, UN experts, journalists, and human rights groups, there is a short document that explains clearly what UN experts have said about RSDL, and are spreading the word online and offline.
Mobilise diplomatic missions, through meetings and letters, and encourage them to speak out on RSDL at the UN and in other spaces; 
Push UN experts to take up individual cases and pay a closer look at the use and impact of RSDL in light of China's obligations under international human rights law ;
Encourage governments, activists, and concerned individuals to stand in solidarity with disappeared human rights defenders and their relatives
What can you do?
Stand in solidarity! Feeling supported is vital for disappeared defenders and their relatives. Send a solidarity message with Chen Zijuan, lawyer Chang's wife: write a postcard, and share it with her on your social media by clicking on the image below. Don't hesitate to personalise it before tweeting. Alternatively you can copy paste this link in your browser: https://ctt.ac/477cf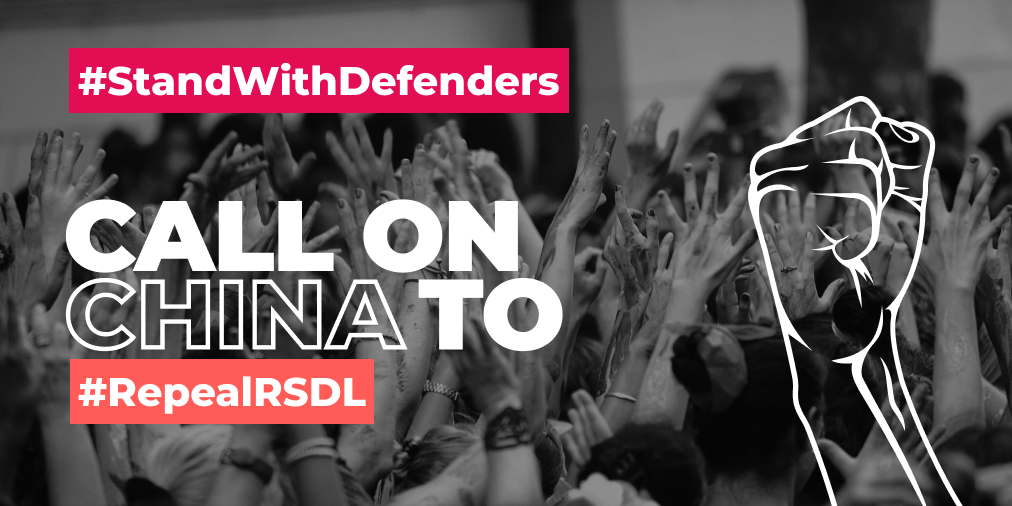 You can also raise awareness! Check out the informational and communication material in our 'Campaign Toolbox', and share it with your country's ministry of foreign affairs, a journalist you know, your friends or your social media followers – and remember to tag @ISHRglobal, and #StandWithDefenders #RepealRSDL.
https://ishr.ch/action/campaigns/call-on-china-to-free-defenders-and-repealrsdl/