Here a bit of wrap up on recent developments in Indonesia. First two disclaimers:
(1) I have a long-standing interest in this country [see: Indonesia and the Rule of Law, 20 Years of "New Order" Government, a Study prepared for the ICJ, published by Frances Pinter Publishers, London, 1987, pp 208 (ISBN: 0 86187 919 8) and previous posts: https://humanrightsdefenders.blog/tag/indonesia/]
(2) the human rights situation has generally improved since that book in 1987 and is a lot better compared to other countries in Asia such as China and Myanmar.
Still, there is no case for complacency as many of the hopes raised with the election of President Jokowi were dashed (see e.g.: https://www.economist.com/asia/2021/08/19/indonesias-president-promised-reform-yet-it-is-he-who-has-changed)
Over the past two years, human rights defenders (HRDs) have faced unprecedented challenges in Asia, where existing risks were exacerbated, while new threats have emerged. Governments enacted and used repressive laws, online harassment became widespread, and Asian HRDs have seen their families and loved ones increasingly subjected to harassment and threats. The COVID-19 pandemic has also significantly increased violations against defenders, and created new challenges for them to safely conduct their work.
Asian Forum for Human Rights and Development (FORUM-ASIA) and the Commission for Disappeared Persons and Victims of Violence (KontraS) presented a joint analysis, "Refusing Silence: A joint analysis on the situation of Human Rights Defenders", as part of a collaboration in documenting cases of violations against human rights defenders in Asia, and particularly in Indonesia since 2020. [For the full PDF version of this analysis in English, click here]
The Indonesian government should put an end to the judicial harassment against human rights defenders Fatia Maulidiyanti and Haris Azhar, and uphold the right to freedom of expression, the human rights organisations said.
'The Government of Indonesia must uphold its international human rights obligations under the International Covenant on Civil and Political Rights (ICCPR) as well as its own national constitution which protects the right to freedom of expression,' said the groups.
The groups urged the Indonesian government to ensure that all persons can express their opinions without fear of reprisals, and to ensure its actions are compliant with Indonesia's Constitutional protections for human rights and the ICCPR, of which Indonesia is a State Party. The National Human Rights Institution, Komnas HAM, must also work towards ensuring the protection of defenders facing judicial harassment, the groups said.
On 22 September, Luhut Binsar Pandjaitan, the Indonesian Coordinating Minister for Maritime Affairs and Investment filed a police report against human rights defenders Fatia Maulidiyanti, Coordinator of the Commission for the Disappeared and Victims of Violence (Kontras), and Haris Azhar, Founder of Lokataru Foundation. The police report alleges that the two individuals violated criminal defamation provisions (Article 310 (1) of the Penal Code), and the controversial Electronic Information and Transaction Law (EIT Law). Luhut Binsar Pandjaitan has reportedly demanded IDR 300 billion, approximately USD 21 million, in compensation.
The report was filed after subpoenas were earlier sent to the two human rights defenders following a talk show on Haris Azhar's YouTube channel, titled 'Ada Lord Luhut di balik Relasi Ekonomi-Ops Militer Intan Jaya!! Jenderal BIN Juga Ada!!', (There is Lord Luhut behind the relation of Economy-Military Operation Intan Jaya!! General of State Intelligence Agency is also there!!) in which Haris Azhar and Fatia Maulidiyanti discussed the findings of a multi-stakeholder report revealing the alleged involvement of active and retired Indonesian army officials in the business operations of the gold mining sector…
The report also recorded the escalation of violent and armed conflict triggered by military operations, one of which occurred in the Intan Jaya Regency. The conflict resulted in the loss of civilian lives and the displacement of thousands of people, including children and women.
'The legal actions by the Coordinating Minister constitute judicial harassment and abuse of power. It criminalises the rights of these two human rights defenders to express their opinions on public affairs and creates a chilling environment for individuals who criticise the government,' the groups said.
'We call on the Indonesian government to amend all repressive laws and legal provisions that hinder the protection of freedom of expression, and ensure the laws align with international human rights standards. The criminalisation of defamation is an inherently disproportionate and unnecessary restriction to the right to freedom of opinion and expression, under international human rights law.[4] Indonesia must immediately drop the charges against Fatia and Haris and take steps towards preventing the misuse of litigation against human rights defenders and civil society that erode the exercise of their rights,' they concluded.
And then there is the situation of Papua:
Indonesia regularly receives criticism for its strategy in relation to separatist groups in Papua, a strategy that relies heavily on a security-based approach and which has raised questions about the government's commitment to human rights. Most recently, the nation found itself included on a list of 45 countries cited as being culpable of intimidation and reprisals against human rights defenders seeking to cooperate with the UN, according to an annual report from the UN Secretary General's Office distributed on September 17.
Between May 2020 and April this year, five individuals seeking to cooperate with UN human rights agencies – Wensislaus Fatubun, Yones Douw, Victor Mambor, Veronica Koman [see also: https://humanrightsdefenders.blog/2019/10/24/indonesian-human-rights-defender-veronica-koman-receives-sir-ronald-wilson-human-rights-award/]and Victor Yeimo – were "subject to threats, harassment and surveillance by government, non-state and private actors, including business enterprises and local political actors", the report said.
On 21 September 2021 A U.N. expert has urged Indonesia to provide an independence activist in its Papua province with proper medical care to "keep him from dying in prison", after reports that his health had deteriorated.
Victor Yeimo, 39, who is the international spokesman of the West Papua National Committee, was arrested in the provincial capital of Jayapura in May. He has been charged with treason and inciting violence and social unrest in relation to pro-independence protests that swept the remote, resource-rich region for several weeks in 2019. Yeimo has denied the charges.
His trial went ahead in August despite repeated requests from his lawyer for a delay on medical grounds, Mary Lawlor, U.N. special rapporteur on the situation of human rights defenders, said in a statement on Monday. "I've seen it before: States deny medical care to ailing, imprisoned human rights defenders, which results in serious illness or death," said Lawlor. "Indonesia must take urgent steps to ensure the fate does not await Mr Yeimo," she said, adding that his access to medical care had been restricted and his prison conditions "may have amounted to torture". Yeimo is being treated at a Jayapura hospital after a court ordered he receive medical attention. Papuan activist Rosa Javiera told a news conference organised by the rights group Amnesty International on Tuesday that Yeimo was suffering from chronic tuberculosis that required continuous medical treatmentt.
The Indonesian government has used the covid-19 pandemic as a pretext to crack down on West Papuan street protests and to impose online censorship, according to new research published by the human rights watchdog TAPOL. Covid-19 protocols have given more power to the police and military to crush protests but they are not fairly implemented across Indonesia in general. The findings are in a new study, the West Papua 2020: Freedom Of Expression And Freedom Of Assembly Report, in which TAPOL has collated and analysed incidents recorded by West Papuan and Indonesian civil society organisations.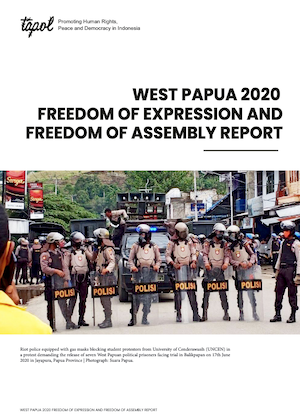 https://www.phnompenhpost.com/international/indonesia-faces-scrutiny-over-papua
https://www.ucanews.com/news/widodo-criticized-for-rights-violations-in-indonesia/94647#