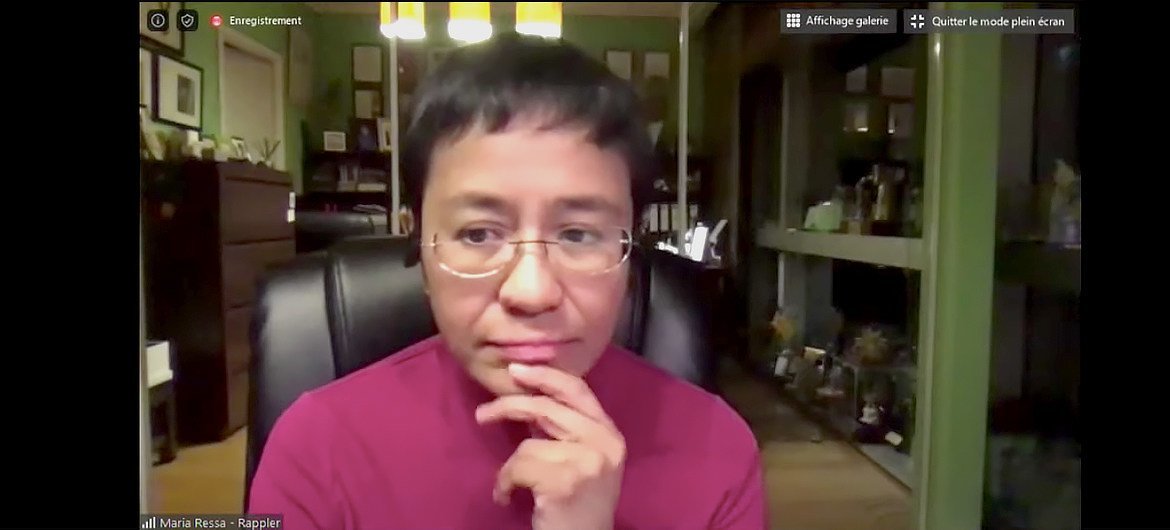 UNESCOA screenshot of Maria Ressa during a UNESCO online dialogue on press freedom in 2020.
On 28 April 2021 UNESCO named investigative journalist and media executive Maria Ressa of the Philippines as the recipient of its 2021 press freedom award. For more on this and other UNESCO awards, see: https://www.trueheroesfilms.org/thedigest/awards/8F8DB978-CD89-4CFB-1C26-D5FEE5D54855
For over three decades, Ms. Ressa has been involved in many initiatives to promote press freedom and currently manages the online outlet, Rappler. Her work however, also made her a target for attacks and abuse, UNESCO – the UN agency tasked with defending press freedom – said in a news release.
Ms. Ressa was chosen for the UNESCO/Guillermo Cano World Press Freedom Prize following the recommendation of an international jury of media professionals.
"Maria Ressa's unerring fight for freedom of expression is an example for many journalists around the world. Her case is emblematic of global trends that represent a real threat to press freedom, and therefore to democracy", Marilu Mastrogiovanni, Chair of the Prize's international jury and an investigative journalist from Italy, said.
The award ceremony will take place on 2 May in Windhoek, Namibia, during the World Press Freedom Day Global Conference. It will be streamed online.
Hosted by UNESCO and the Government of Namibia, the 2021 World Press Freedom Day Global Conference will be held from 29 April to 3 May under the theme of information as a public good, and will focus on topics such as transparency of online platforms and the importance of media and information literacy.
The conference will also tackle ways to promote and support independent media struggling to survive a crisis worsened by the COVID-19 pandemic, at a time when national and local media everywhere face financial instability and other pressures threatening their survival and their journalists' jobs.