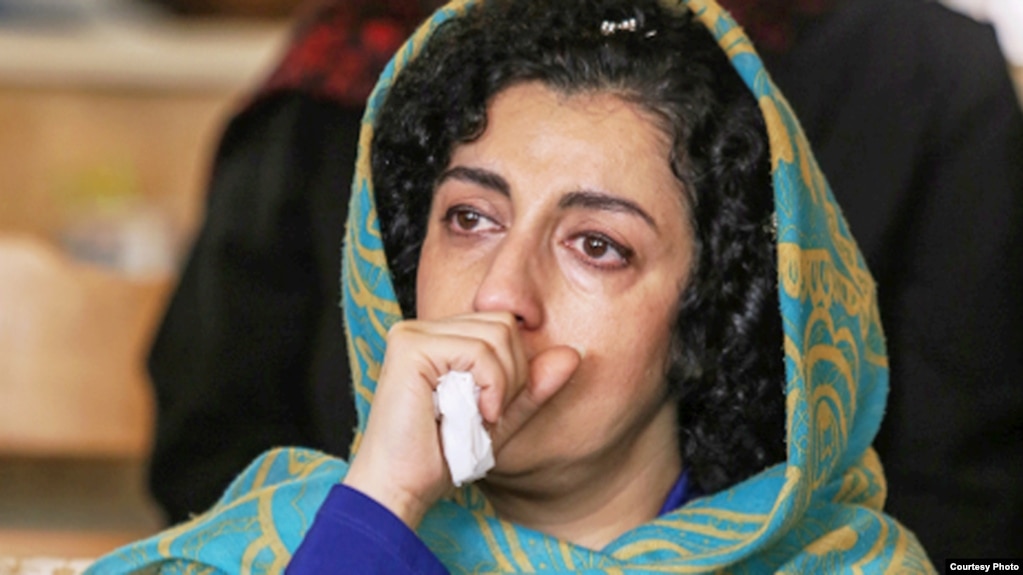 Reporters Without Borders (RSF) has condemned the latest "absurd charge" brought against jailed Iranian journalist and human rights advocate Narges Mohammadi, who has been imprisoned since 2015. On 12 June 2020 RSF urged the UN special rapporteur on the human rights situation in Iran, Javaid Rehman, to "intervene quickly and do everything possible to obtain the release of Iran's longest-held woman journalist."
In a recent open letter to the Iranian judicial authorities, her brother revealed that she was now accused of "dancing in prison during the days of mourning" commemorating the seventh-century killing of Imam Hussein, a revered figure in Shi'ite Islam. Mehdi Mohammadi, now a refugee in Norway, also wrote that his sister had serious health problems but "was not allowed out of prison to see a doctor, who went to her cell." "This persecution of Narges Mohammadi is evidence of judicial discrimination at the behest of the Intelligence Ministry and senior justice system officials," said Reza Moini, the head of RSF's Iran-Afghanistan desk.
Mohammadi, 47, has been awarded several prestigious prizes, including the Per Anger Prize in 2011 and the APS Sakharov prize in 2017 [see: https://humanrightsdefenders.blog/2017/10/28/imprisoned-human-rights-defender-narges-mohammadi-awarded-aps-sakharov-prize-2018/]. For more information on these and other awards see: http://www.trueheroesfilms.org/thedigest
In the meantime there is also an interesting case of an Iranian judge and former prosecutor who was arrested in Romania by Interpol for rights violations (13 June 2020 Radio Farda)
Iran's Judiciary Spokesman confirmed that Interpol has detained Gholamreza Mansouri in Romania. He is accused of human rights violations by rights defenders, but he is also one of the defendants in a recent sensational corruption case in Iran who fled to Europe. Judiciary spokesman Gholam-Hossein Esmaili said Mansouri's extradition is not possible now due to coronavirus restrictions but he will be returned to Iran and put on trial for corruption. He also told a local news network that Iran requested the arrest through the Interpol.
Iranian journalists and human rights activists want Mansouri to be put on trial in Germany or another European country for his grave human rights violations including the arrest and torture of journalists. SEE ALSO: Fearsome Prosecutor Of Journalists Accused Of Taking Bribes, Flees Iran
In a tweet on June 11, the Secretary-General of Reporters without Borders urged German authorities not to let him escape justice. Reporters without Borders (RSF) has supported the call of Iranian activists and filed a complaint with Germany's Federal Public Prosecutor against Mansouri for the arrest and torture of at least 20 journalists in 2013….Mansouri is a highly influential prosecutor and judge notoriously famous for prosecuting journalists and putting them behind bars. In one instance in 2013 he ordered the simultaneous arrest of 20 journalists in one day.
Mansouri's name came up as one of the recipients of bribes in the first trial session of Akbar Tabari, a former Judiciary deputy. The former judge allegedly received 500,000 euro in bribes from Tabari.
In a video published on social media on June 9, Mansouri claimed that he was abroad for treatment of a serious medical condition and could not return due to the restrictions introduced after the breakout of coronavirus. He did not reveal where he was but said he would go to an Iranian embassy to arrange for his return to defend himself against the corruption charges.
See also; https://iranian.com/2018/02/08/1000-days-counting/
https://www.rferl.org/a/jailed-iranian-journalist-faces-new-absurd-charge/30667834.html
https://en.radiofarda.com/a/iran-prosecutor-wanted-for-corruption-and-rights-violations-arrested-by-interpol/30668621.html