On 24 May 2019 Open Democracy published another long piece on an inspiring human rights defender – in cooperation with the Fund for Global Human Rights.  In "How international solidarity saved an activist's life in Burundi" Antoine Kaburahe describes the story of Pierre-Claver Mbonimpa, the laureate of the Martin Ennals Award 2007. [http://www.martinennalsaward.org/hrd/pierre-claver-mbonimpa-2/]. The author was personally involved in the case and the piece is a good example of how international solidairy can save lives.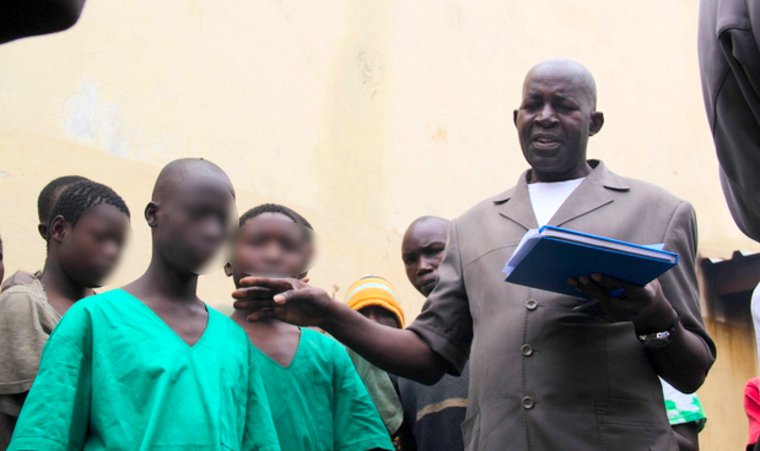 ..Pierre-Claver Mbonimpa was the founder of a human rights organisation, APRODH, in his home country of Burundi, and it had worrying information: the ruling party was secretly distributing weapons to its youth wing. APRODH had also investigated the military training of young Burundians across the border in the Democratic Republic of the Congo, where Burundians had been involved in a long-running conflict – without unofficial support from their government. In 2014 Mbonimpa had been imprisoned by the Burundian authorities, which accused him of "smearing the government and lying". Thanks to an international mobilisation, including a call from Barack Obama, then US president, he had been released on parole, but the regime kept an eye on him…..Pierre-Claver Mbonimpa was used to threats. But that day, the killers meant them. It was in the evening that the news dropped. Pierre-Claver had been shot. Word spread rapidly: 'Mutama', the 'old man', as he is affectionately called, is well-known and respected for his commitment to human rights in Burundi…
Pierre-Claver Mbonimpa remembers well what had happened. He had been in his car with his driver. "I saw behind us a motorcycle that was riding at a breakneck speed. The bike got to us at a fast pace. The man shot four bullets. The shooting was almost close-range. A bullet hit me on the neck and blood spurted." Bleeding heavily, he was rushed to hospital in a critical condition. I went there to see what was happening: at the time I was still a journalist in Burundi before being myself forced into exile. The crowd was already at Bujumbura Central Polyclinic.
"Security guards sent by various embassies came to ensure my safety at the Polyclinic, because there was a rumour that I was going to be killed in my hospital bed," says Pierre-Claver. "All the embassies worked in synergy for my evacuation. "Despite my weakness, my pain, I would like to say that I saw a great surge of solidarity at that moment," says Pierre-Claver. "In my room I saw distinguished individuals such as diplomats of the African Union, those of the European Union and ambassadors."
It was clear to his supporters that Pierre-Claver needed to leave the country immediately. Currently in Belgium as a refugee, [his daughter] Zygène Mbonimpa remembers with overwhelming emotion the support of The Fund for Global Human Rights: "Doctors quickly noticed that Mutama had been seriously affected. He needed care he could not find in Burundi. And then, we were afraid he would be finished off on his hospital bed. I wrote to Tony Tate [programme officer at the Fund] and his reaction was quick. He agreed to pay for flight tickets, and the organisation also contributed to the payment of hospitalisation costs in Burundi."
Tate confirms Zygène's account... I immediately sought approval from my directors and board members to make an emergency grant," he says. "We were able to wire the money to APRODH's account within 24 hours. After the money arrived, it became clear that Pierre-Claver would receive other money and assistance from other funders as well. The money The Fund provided was combined with others to pay for the travel costs of one of his family members to accompany him to Brussels."
That financial support was critical. The Belgian embassy had agreed to give Pierre-Claver a visa, but the family had to find air fares in a very short time. "Without this support, we would have had a big problem to raise this money while Dad's life was in a very critical condition," says Zygène. Tate says he was pleased that the Fund was able to respond to the incident and ensure the safety of one of its long-time partners: "My hope was that the family would see that as an organisation, we stand by our grantees in good times and in bad," he says. "As a human rights funder, we have an ethical responsibility to provide emergency funding when activists we support are in danger. Human rights work is inherently risky and those who support it must stand ready to respond quickly when defenders are in need."
In Brussels, Pierre-Claver was quickly operated on. Doctors first fastened a metal frame on his head to hold his skull together. He spent 121 days in hospital, fed by serum and then a kind of porridge, as he could not open his mouth or chew food. He sat in an armchair, unable to lie down, and his weight went down from 82 kg to 54 kg. But his ordeal did not stop there. As they had missed him, those who wanted to kill him went after his family. First, his son-in-law, Pascal Nshirimana, was killed, and while he was still in the hospital, his son Weli, 24, was also killed. [see e.g.: https://humanrightsdefenders.blog/2015/11/12/mea-laureate-mbonimpa-has-message-of-hope-at-his-sons-funeral/]
Through all this, the now seventy-year-old activist has remained a man guided by peace and justice. We have never heard him speak of revenge…
Always on the phone, Pierre-Claver continues to encourage teams on the ground. He also travels very often in the sub-region. "It is important that the international community continues to support independent human rights organisations in Burundi," he says, "because with the closure of UN organisations and the ban on international media including the BBC, there is a risk that human rights violations will be committed behind closed doors. Organisations such as APRODH still have focal points. But they need means to work."
Pierre-Claver remains modest and accessible despite two honorary doctorates by major Belgian universities and several international awards. [see: https://humanrightsdefenders.blog/2017/10/17/mbonimpa-wins-also-the-2017-civil-courage-prize/]. Asked what he thinks of those who tried to kill him, he simply answers: "I forgave those who shot me and those who killed my son and my son-in-law. But I want justice. If the assassins were arrested, I would be happy to see justice doing its job. For my part, I will not ask for any compensation. What would they give me for the death of my child and my son-in-law?"
https://www.opendemocracy.net/en/frontline-insights/how-international-solidarity-saved-an-activists-life-in-burundi/