Two recent cases of criminalization of human rights defenders in Europe helping people at sea: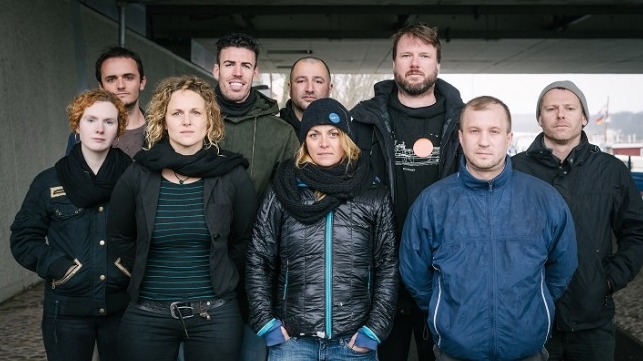 On 13 May 2019 MarEx  reported that the crew of the rescue ship Iuventa operated by the German NGO Jugend Rettet has received the Swiss Paul Grüninger human rights award for saving the lives of around 14,000 of men, women and children in the central Mediterranean. For more on this award, see: http://www.trueheroesfilms.org/thedigest/awards/paul-grueninger-award
The award is seen as a statement against the criminalization of those helping people at sea and comes whilst the crew is under criminal investigations in Italy for "aiding and abetting illegal immigration." They face up to 20 years in prison and fines of 15,000 Euro ($16,900) per saved person. The prize money of 50,000 Swiss francs contributes to the defense.
The Iuventa was the first rescue vessel seized in Italy in August 2017. Captain Dariush was master of the Iuventa for three voyages off the Libyan coast: "We're being charged for saving lives. This is absurd," he said. "It is European politicians who block any safe way for people in need, so we had to act."
The crew says: "Although we have to stand trial, it is us who accuses Europe. We accuse European politicians of turning their backs on people in need. We accuse the E.U. of collaborating with regimes who violate human rights." The Italian public prosecutor's office has been investigating the crew for almost two years. Covert investigators claim to have observed the Iuventa crew cooperating with smugglers. However, the NGO claims that scientists at Goldsmiths, University of London have said there is no evidence for this. "They have compared the accusations of the Italian police with all available data, meteorological measurements, logbooks and recordings of the Reuters agency. In their study for Forensic Architecture, they conclude that the allegations are false." The trial is expected to begin in autumn, and it is expected that charges will be brought against the 10 crew members. It is a precedent for Europe, says lead lawyer Nicola Canestrini: "This trial will show whether Europe can continue to stand for fundamental rights and solidarity in the world."
——–
Tom Ciotkowski is facing up to five years in prison and a fine of up to 7,500 Euros on trumped up charges. In July 2018, he was observing French riot police preventing volunteers from distributing food to migrants and refugees in Calais. He was charged with contempt and assault after he challenged the violent actions of a policeman against another volunteer. "Tom Ciotkowski is a compassionate young volunteer who was taking action to support migrants and refugees when he was arrested. He has committed no crime and is being unjustly targeted for documenting the abusive behaviour of the police in Calais," said Amnesty International's Senior Campaigner on Migration Maria Serrano.
"Tom's case is sadly emblematic of the harassment, intimidation and attacks that human rights defenders supporting migrants and refugees face at the hands of police in Calais. His case also reflects a wider European trend of criminalizing acts of solidarity, as a way of discouraging others from standing up for human rights. We need courageous, compassionate people like Tom more than ever
[BACKGROUND At the end of July 2018, Tom Ciotkowski was observing French riot police ID-checking volunteers who were trying to distribute food to migrants and refugees. He recorded on his mobile phone an official pushing and kicking a volunteer. When Tom complained about the behaviour of the police, an officer approached him and another female volunteer, who he hit with a baton. When Tom asked the officer for his identification number and told the policeman not to hit women, he was pushed hard by an officer and fell backwards over a metal barrier separating the pavement from the road. As Tom fell backwards, a passing lorry narrowly missed him. He was then arrested, put in custody for 36 hours and charged with contempt and assault ("outrage et violence"). In May 2019, Tom filed a complaint against the police officer who pushed him and against other officers who provided reports stating false facts against Tom to support his arrest and prosecution.]
See also: https://humanrightsdefenders.blog/2018/12/02/un-experts-consider-human-rights-defenders-in-italy-under-threat/