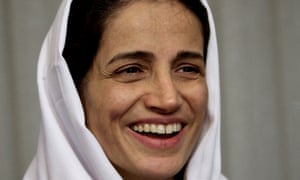 Sotoudeh was charged with spying, spreading propaganda and insulting Iran's supreme leader. Photograph: Behrouz Mehri/AFP/Getty Images
Only yesterday I hoped that Nasrin Sotoudeh's invitation to the G7 would set a good precedent [https://humanrightsdefenders.blog/2019/03/11/does-g7-set-a-precedent-with-sotoudeh-for-inviting-human-rights-defenders/], now Reuters reports that she has been handed a new sentence that her husband said was 38 years in prison and 148 lashes! The news comes days after Iran appointed a hardline new head of the judiciary, Ebrahim Raisi, who is a protege of Ali Khamenei. The appointment is seen as weakening the political influence of the Iranian president, Hassan Rouhani. (NOTE: Her husband clarified later that she will be serving 10 years of the 33 he had announced on his Facebook page and in an interview with Radio Farda)
In the meantime AI reports that a series of videos shared on social media in recent weeks have shed light on the daily harassment and violent attacks women in Iran face at the hands of morality police and pro-government vigilantes seeking to enforce the country's forced hijab (veiling) laws. The videos show members of the public or plain-clothes morality police aggressively confronting or attacking women for defying Iran's degrading forced hijab laws, in the name of defending "public decency". Perpetrators of such attacks appear to be getting bolder in their assaults in response to efforts by women to film the violence they face and share the videos on social media. "The video footage that has emerged in recent weeks demonstrates the shocking levels of abuse women in Iran face on a daily basis from morality police or pro-government thugs simply for daring to defy the country's abusive forced hijab laws," said Philip Luther of Amnesty International.  Iranian women's rights defenders have courageously filmed these incidents as part of the My Camera My Weapon campaign, which aims to raise awareness of the constant harassment and assault that women and girls face in Iran's streets as a result of forced hijab laws.
Amnesty added:…..The charges on which Nasrin Sotoudeh was convicted include "inciting corruption and prostitution" and "openly committing a sinful act… by appearing in public without a hijab". Some of the activities that the authorities have cited as "evidence" against her include: opposing forced hijab; removing her headscarf during prison visits; defending women who peacefully protested against forced hijab; giving media interviews about the violent arrest and detention of women protesting against forced hijab; and placing flowers at the scene where a woman protester was violently arrested.
The UN Human Rights Council also was dealing with Iran this week: Worrying patterns of intimidation, arrest, prosecution, and ill-treatment of human rights defenders, lawyers, and labour rights activists in Iran signal an increasingly severe State response to protests and strikes in the country, Javaid Rehman, the Special Rapporteur on human rights in Iran, said on 12 March 2019. "Today, the people of Iran face a myriad of challenges," he told the Human Rights Council in Geneva. "Many have voiced their concern through protests, demonstrations, and strikes. People from diverse sections of society – from truck drivers to teachers to factory workers – across the country have protested." "It is in this context of increased challenges that concerns are mounting about human rights, including the rights to freedom of peaceful assembly and to association in Iran," he said, calling on the Government to release all those detained for exercising such rights. Presenting his first report to the Council, Rehman said the re-imposition of secondary sanctions by the United States of America had further increased concerns for the welfare of ordinary Iranians.
The Special Rapporteur also highlighted the alarming health situations of numerous imprisoned individuals such as human rights defender Arash Sadeghi [see also: https://humanrightsdefenders.blog/2016/09/30/iran-shameful-sentences-for-narges-mohammadi-issa-saharkhiz-arash-sadeghi-no-detente-in-human-rights/]. Rehman also highlighted the situation of prominent woman human rights lawyer Nasrin Sotoudeh who was reportedly convicted last week of charges related to her work and could face a lengthy prison sentence. Other issues raised in his report include concerns regarding the right to life and to fair trial, the situation of detained foreign and dual nationals, and the treatment of religious and ethnic minorities.
Human Rights Watch commented that the Iranian judiciary's draconian sentence for a prominent human rights lawyer Nasrin Sotoudeh was an "appalling travesty of justice".
https://www.theguardian.com/world/2019/mar/11/human-rights-lawyer-nasrin-sotoudeh-jailed-for-38-years-in-iran
https://www.amnesty.org/en/latest/news/2019/03/iran-pro-government-vigilantes-attack-women-for-standing-up-against-forced-hijab-laws/
http://www.scoop.co.nz/stories/WO1903/S00091/iran-un-expert-concerned-by-crackdown-on-protests.htm
https://www.hrw.org/news/2019/03/12/iran-decades-long-sentence-womens-rights-defender
https://en.radiofarda.com/a/jail-term-ambiguity-clarified-for-iran-rights-defender—eu-protests/29817359.html