Perhaps one should be 'grateful' that China on 3 January 2016 decided to detain the Swedish human rights campaigner Peter Dahlin (first foreigner to be detained for 'endangering state security') as this helped international media the take note of the extraordinary crackdown by Chinese president Xi Jinping who is now widely considered to be China's most authoritarian leader in decades. Here a short overview of the most notable cases in the first two weeks of 2016: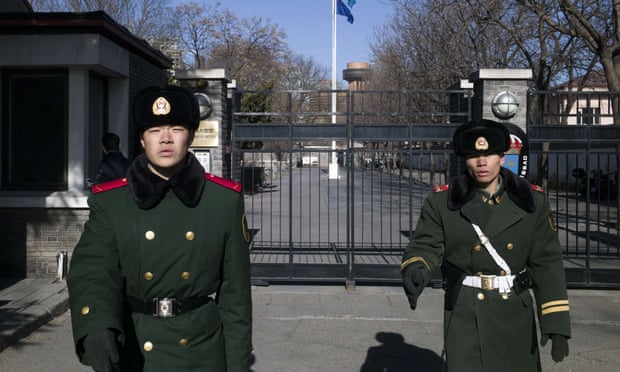 Paramilitary guards stand in front of the gates of Sweden's embassy in Beijing on Wednesday. Photograph: Fred Dufour/AFP/Getty Images
Many newspapers and television stations (here just a reference to the Guardian of 13 January) reported that 
Peter Dahlin,
35, disappeared on the night of 3 January while making his way to Beijing's international airport, from where he had planned to fly to Thailand, colleagues say.  On Wednesday afternoon, the Chinese government confirmed Dahlin was in custody and said the Beijing-based activist was being held on suspicion of "
endangering state security"
.  The Swedish activist's Chinese girlfriend has also reportedly disappeared. [Dahlin ran an organisation called Chinese Urgent Action Working Group (CUAWG) 
which describes itself as
 "a team of human rights defenders working in mainland China … to assist fellow human rights defenders in distress.]
Radio Free Asia on 8 January referred to the case of
Shu Xiangxin,
 who received a six-month jail term and whose lawyers (
Cai Xin
) say he was tortured while in custody at a police-run detention center. Shu was found guilty of "
defamation
" at a one-day trial at the Licheng District People's Court in Shandong's provincial capital, Jinan. His wife,
Liu Xiuqin,
said she is extremely concerned for her husband's physical and mental health after seeing him in the dock on Friday. "
He seemed confused, and he couldn't stand up properly; he was propped up by a couple of policemen when they brought him in,
" Liu said. During Shu's trial, his lawyers were denied the opportunity to argue in his defense, and prevented from submitted files of evidence. "
They wouldn't let the defense attorney in there, and they wouldn't allow them to bring in all the case files,"
Cai Ying said.
"Then, they searched the lawyers and wouldn't let them keep their phones."
[Shu was initially detained in November 2012, after he had spent several months gathering evidence of connections between local officials and organized crime in Jinan. His lawyers said at the time that he had been detained in connection with his work on behalf of villagers who were trying to fight the acquisition of their land by local officials. He had also made online allegations that an official in Shandong's Guan county had tried to bribe him to drop an "extortion" lawsuit brought against the government by local farmers, and that he had been beaten and harassed by local mobsters, official media reported at the time. Authorities later withheld Shu's lawyer's business license, a tactic frequently used by the ruling Chinese Communist Party to target lawyers who represent "sensitive" and disadvantaged groups, often evictees who have had their land requisitioned by cash-strapped local governments. Shu was re-detained suddenly last Friday on the same charges.]
Meanwhile, video shot by supporters outside the court buildings showed an unidentified man beating Shu's daughter unconscious, leading to her hospitalization, her mother said. "My daughter is unconscious right now, and I don't know exactly what happened," Liu said. "She is being transferred from one hospital to another."
"Shu Xiangxin's recent mistreatment illustrates that little has changed since the UN Committee against Torture made recommendations intended to urge the Chinese government to abide by its international treaty obligations," the overseas-based Chinese Human Rights Defenders (CHRD) group said in a statement. Meanwhile, a number of rights groups including Human Rights in China condemned Shu's treatment in a statement on the website of the World Organization Against Torture. "Our organizations strongly denounce the continued use of torture and harassment against human rights defenders and lawyers in China," the statement, also signed by the Hong Kong-based China Labour Bulletin, said. "We call on the international community … not to give China a free pass for these violations of international human rights standards."
———————–
In the same period Front Line Defenders has reported on the charging of human rights defenders following months of incommunicado detention.
On 11 and 12 January 2016, the families of five human rights lawyers and a legal assistant received official notice that their family members had been formally charged. All six individuals had been held in secret detention for six months. Mr Zhou Shifeng, Mr Wang Quanzhang, Ms Zhao Wei and Ms Li Shuyun have all been charged with subversion of state power, while Mr Xie Yanyi and Mr Xie Yang have been charged with inciting subversion of state power. The maximum penalty for the crime of 'subversion of state power' is life imprisonment. There is a 15 year maximum penalty for the crime of 'inciting subversion of state power'.
Zhou Shifeng is the Director of Fengrui Law Firm in Beijing, where Wang Quanzhang and Li Shuyun also worked. The law firm has handled a number of high-profile human rights cases including that of the Uighur human rights defender Mr Ilham Tohti, who is currently serving a life sentence on separatism charges. Xie Yanyi is also a Beijing-based lawyer who has represented human rights defenders involved in the New Citizens' Movement, a loose network of human rights defenders who campaign for constitutional government, increased transparency among Chinese Communist Party officials, and greater equality within the education system. Xie Yang is a Hunan-based human rights lawyer who has represented the family of Xu Chunhe, a man shot dead by police in Heilongjiang Province in May 2015. Zhao Wei is the legal assistant of Li Heping, a human rights lawyer who is currently being held in incommunicado detention.
———–
The same NGO reported on 12 January 2016, that human rights lawyer Mr Wang Qiushi was reportedly placed under residential surveillance by police in Beijing. On 9 January 2016, the human rights lawyer disappeared after being summoned by police in the capital. Wang Qiushi is a Heilongjiang-based human rights lawyer who has taken on a number of so-called 'politically sensitive' cases in the past number of years. In March and April 2015, he represented women's rights activist Ms Wei Tingting, who was one of five feminists arrested   for planning anti-sexual harassment demonstrations to mark International Women's Day on 8 March. Since taking on the case of fellow human rights lawyer Wang Quanzhang, who has been held in detention since 10 July 2015, Wang Qiushi has been denied permission to meet with his client, who is reportedly being held in Hexi District Detention Centre in Tianjin.
On 12 January 2016, family members of Wang Qiushi reportedly received notification that the human rights lawyer had been placed under residential surveillance at a designated location by the Beijing National Security Bureau. His whereabouts are currently unknown. Article 73 of the Criminal Procedure Law allows for the detention of suspects in state security, terrorism and serious bribery cases for up to six months in undisclosed locations, under the guise of 'residential surveillance'. The authorities are not obliged to specify the place of detention or notify the suspect's relatives or legal representative of the reasons for the residential surveillance in cases relating to the three charges, if doing so may "interfere with the investigation".
Wang Qiushi disappeared on 9 January 2016, following two days of police harassment and intermittent interrogation, after having informed friends that he had been once again summoned by police in Beijing. On 8 January 2016, he was summoned by police and questioned for six hours before being freed. He had previously presented himself at Beijing Haidian Police Station on 7 January 2015, having been falsely informed that police in Harbin city, Heilongjiang province, were seeking to question him. He was held for 10 hours before being released. Wang Qiushi is the latest lawyer to be detained in a six-month long assault on the country's human rights lawyers.
————————
On 8 January 2016, human rights defenders Mr Zeng Feiyang, Mr He Xiaobo and Ms Zhu Xiaomei were formally arrested, following their detention on 3 December 2015. They were reportedly charged with 'gathering a crowd to disturb social order', while He Xiaobo was charged with 'embezzlement'. A fourth human rights defender, Mr Meng Han, was also charged with 'gathering a crowd to disturb social order'. Mr Deng Xiaoming, who was detained at the same has reportedly been released. There is no further information regarding the situation of Mr Peng Jiayong, who was also detained on 3 December 2015. The formal arrest of the four human rights defenders indicates a strong likelihood that they will be brought to trial.
All of the above-mentioned individuals are human rights rights defenders in the labour area. Zeng Feiyang is the director of the Guangdong Panyu Migrant Worker Centre, a prominent group which helps workers organise collective bargaining, to win severance pay and more generally assert their rights. Zhu Xiaomei is a staff member at the centre. He Xiaobo runs Nanfeiyan Social Work Service Centre, an NGO campaigning for compensation on behalf of workers who have been injured during the course of their work. Peng Jiayong is the director of Panyu Labourer Mutual Aid Group, another workers' rights organisation. Deng Xiaoming is a local workers' rights defender and, along with Zhu Xiaomei, was reportedly recently involved in successfully organising sanitation workers in the Panyu district in Guangdong. In 2014, Meng Han was sentenced to nine months' imprisonment for organising a group of hospital security guards to strike for better conditions in Guangzhou city.
======
And today, 13 January 2016, Front Line reports that two more human rights lawyers charged with 'subversion' and 'inciting subversion'
The familiy of Ms Wang Yu received official notice dated 8 January 2016 that she has been charged with 'subversion of state power'. Her husband, Mr Bao Longjun has been charged with 'inciting subversion of state power'. The maximum penalty for the crime of 'subversion of state power' is life imprisonment. There is a 15 year maximum penalty for the crime of 'inciting subversion of state power'.
Wang Yu, an employee of Fengrui Law Firm, is a Beijing-based human rights lawyer who has represented dozens of human rights defenders over the past number of years, including Ms Cao Shunli, who died in custody in 2014 following a lack of adequate medical treatment. She acted as legal representative for one of the Feminist Five, who were detained for 37 days in 2015, and she previously represented Mr Ilham Tohti who was sentenced to life imprisonment in January 2015. Bao Longjun is also a lawyer who has been active in helping citizens in Beijing defend their rights against forced demolitions of properties. In October 2016, the couple's 16 year old son, Bao Zhuoxuan, and two other human rights defenders were detained (https://frontlinedefenders.org/node/29837) by police in Myanmar and sent back to China. See also: https://thoolen.wordpress.com/tag/wang-yu/
[Since 9 July 2015, over 300 lawyers, legal assistants, human rights defenders and their family members have been detained, summoned for questioning, harassed or subjected to travel bans. It is believed that at least two dozen human rights defenders remain in some form of police custody, with the whereabouts of the majority of the detained unknown. See also: [https://thoolen.wordpress.com/2015/07/29/the-remarkable-crackdown-on-lawyers-in-china-in-july-2015/]
see also: https://thoolen.wordpress.com/2016/01/07/human-rights-defenders-sui-muqing-and-huang-liqun-in-china-released/
Sources:
http://www.theguardian.com/world/2016/jan/13/china-human-rights-crackdown-arrest-peter-dahlin-swedish-activist
China Jails Tortured Rights Lawyer For Six Months Amid Protests (Reported by Yang Fan for RFA's Mandarin Service, and by Lin Jing for the Cantonese Service. Translated and written in English by Luisetta Mudie.)
https://www.frontlinedefenders.org/node/29112
https://frontlinedefenders.org/node/30223