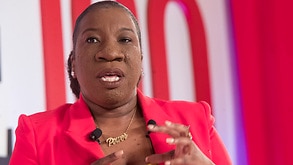 Activist Tarana Burke founded the #MeToo movement in 2006. Source: AAP
SBS reports that the founder of the global #MeToo movement, Tarana Burke, and one of the leading faces of the Australian movement, Tracey Spicer, have been jointly awarded the Sydney Peace Prize for their work in the #MeToo movement. [For more on this and other awards: http://www.trueheroesfilms.org/thedigest/awards/sydney-peace-prize]. The two human rights defenders have received the award for their work in revealing and protesting against sexual harassment, particularly the widespread 2017 investigations into sexual harassment in the media industry.
Ms Burke said that receiving the peace prize highlights the prevalence of sexual violence and strengthens belief that the issue can be eradicated.  "The #MeToo movement will continue this work until we shift the culture to one that believes that every person, no matter their identity or circumstance, has the right to consent and safety," Ms Burke said.
Ms Spicer greatly contributed to revealing sexual harassment in the Australian media industry, through work investigating multiple allegations of sexual harassment and bullying by Australian TV personality Don Burke.  Ms Spicer expressed her "tremendous honour" in accepting the Sydney Peace Prize alongside Ms Burke. "I dedicate this prize to everyone who is a survivor of sexual violence: your voices are being heard." Ms Spicer also created Now Australia in 2018 to support survivors who have been sexually harassed, and to support the National Inquiry into Sexual Harassment being led by the Australian Human Rights Commission.
See also: https://humanrightsdefenders.blog/2019/03/16/civicus-publishes-report-on-women-human-rights-defenders-and-the-struggle-against-silencing/