There are many people looking back on 2018 in terms of human rights. I would like to share the following by 
Surangya
 published on 1 January 2019 in Newsclick, entitled: "F
rom terror plots to national security threats, political dissenters faced several charges and labels for raising their voice and questioning excessive power
", with its own angle and priorities: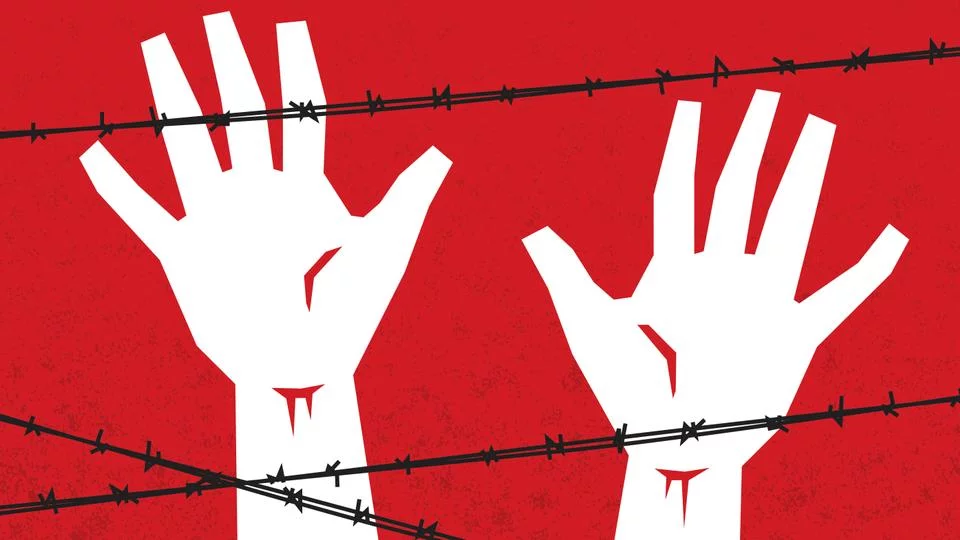 As 2018 draws to an end, we take a look at how the year fared for dissent and democracy in different parts of the world:
…Palestinian children detained in Israeli prisons for protesting the occupation
The occupying state of Israel is perhaps one of the best examples of a country normalising violence of all sorts. For decades, Israel has occupied Palestinian lands and subjected the people to all kinds of humiliation. This has only intensified the resistance against the occupation, with Palestinians ferociously protesting, even at the cost of their lives…..Israel recognises this threat, which is why as of November 2018, there were almost 6,000 Palestinians in Israeli prisons, most of whom challenged the occupation in one way or another. Even more astonishing is the fact that among these prisoners are nearly 250 children, over 40 of whom are under 16 years of age..This imprisonment of children and subjecting them to torture, inhumane living conditions, often even solitary confinement, is a clear violation of the UN Convention on the Rights of Child, to which Israel is a signatory. Just recently, a 17-year-old Palestinian boy, Ahyam Sabbah, was sentenced to 35 years in prison for a charge of attempted stabbing…
Plot to assassinate the prime minister in India
… With the general elections approaching in 2019, the far-right government led by the Bharatiya Janata Party (BJP) with Narendra Modi at the helm, has been looking for any excuse to silence those highlighting this government's many flaws and suppression of minorities. The most prominent case this year was of the arrest of 10 renowned human rights activists, who were labelled members of the banned Communist Party of India (Maoist) and made part of a plan to assassinate Prime Minister Modi, despite there being no concrete evidence supporting these allegations. The wording of the UAPA is such that any speech a person makes questioning the state can be seen as a threat to the country's security and sovereignty. [see also: https://humanrightsdefenders.blog/2018/09/22/attack-on-human-rights-defenders-in-india-are-an-attack-on-the-very-idea-of-india/]

Varavara Rao, Vernon Gonsalvez, Sudha Bharadwaj, Gautam Navlakha, Arun Ferreira and Stan Swamy were amongst the activists who faced charges.
Failed peace process in Colombia
Two years after the signing of a peace treaty between the Colombian government and the Revolutionary Armed Forces of Colombia (FARC) in Havana, Cuba, the government has failed to make good on its promises. While the guerrilla organisation surrendered arms for the most part after the treaty was signed, the government now shows no political will to implement the accords and demobilised combatants have been subject of unabated persecution. 92 people who participated in the reincorporation process have been killed……For the more than 400 social leaders and human rights defenders assassinated by right-wing paramilitary and state forces since the Havana agreements were signed, the legal system has been much slower to find those responsible and the government has shown it has no desire to dismantle the criminal structures that carry out these crimes. Just in 2018, human rights organisations reported that over 226 leaders were assassinated and the National Indigenous Organisation of Colombia (ONIC) declared in August that under Duque's presidency, there has been an increase in the attacks against indigenous people.
Impending elections always create an upsurge in state clampdowns on people's rights to free speech and protest.
Crackdown in Congo
As the Democratic Republic of Congo finally hit the polls on December 30 after a delay of two years, there was widespread apprehension over the fairness of these elections. President Joseph Kabila held on to power for two years after his constitutionally mandated term ended in December of 2016. Despite being president for the permitted two terms, he remained reluctant to give up control over the country, and only agreed to not contest this time after naming Emmanuel Ramazani Shadary as his successor. Shadary is a former minister of interior, and remains under sanctions by the European Union for committing human rights violations in Congo…..At least 2,000 activists, opposition members, and journalists have been put behind bars since the protests against Kabila began in 2015. Many were released after weeks or months of detention and reported mistreatment. In November alone, at least 18 pro-democracy activists were arrested from the capital city Kinshasa. It remains to be seen if the much anticipated elections will bring a change and some relief to the people of Congo.
Philippines
A scenario similar to this, but of a different magnitude, is being witnessed in the island nation of Philippines under the authoritarian regime of Rodrigo Duterte, with widespread attacks on activists and pubic dissenters…Earlier this month, the government approved extension of martial law for the third time, making it effective for another year. While the stated purpose of this is to combat "extremists", often labelled as members or leaders of the banned Communist Party of Philippines (CPP) or New People's Army (NPA), those facing chargers are mostly activists challenging Duterte's authority. In late February, the Duterte regime released a list of almost 600 activists and political dissenters, which was called the Terror List. Labelled terrorists and members of banned groups, many in the list are renowned activists and public figures, including Victora Tauli-Corpus, the current UN Special Rapporteur on the Rights of Indigenous People.
Brasil
Any concrete evidence to show Lula's involvement in the corruption scandal is yet to be presented. His indictment, however, gave the extreme right candidate Jair Bolsonaro's campaign a push, ultimately leading to his victory. The judge responsible for the legal crusade against Lula, Sergio Moro, has been rewarded with a place in Bolsonaro's cabinet as the Minister of Justice. The attacks against Brazil's social movements have already intensified. Two leaders of the Landless Rural Workers Movement (MST) were assassinated days before the Human Rights Day on December 10. Members of social movements fear that such incidents will become more commonplace under Bolsonaro, known for encouraging Brazilians to resort to violence when faced with social conflicts.
The year ahead…
While 2018 saw several right-wing regimes and authoritarian leaders accede to power, the coming year offers hope of being different as discontent against neo-liberal systems is rising. The Yellow Vests movement in France, which is still going strong after almost a month and a half, is an inspiring instance of that. Several countries will hit the polls in 2019. The need for mobilising against anti-people parties and disseminating the truth about such parties which often seem appealing to the masses with their populist messages is now stronger than ever, especially if we are to make 2019 any different.