This day is one on which the world stands still to think about press freedom and journalists who are persecuted. I want to start with some quotes from an excellent piece in the Economist on 2 May by Indian reporter Rana Ayyub who wonders whether plaudits such as "brave" normalise their persecution:
"When a journalist is killed or incarcerated or assassinated, obituaries scream bravado, editorials claim courage. Have such plaudits normalised the persecution of journalists? Why does a journalist have to be brave to report facts as they are? Why does she need to be persecuted for her story to reach the world? Consider Gauri Lankesh, Daphne Caruana Galizia and Jamal Khashoggi—all journalists with a profile, all brazenly killed in broad daylight. Their murders dominated the front pages of international publications. But their killers, men in power, remain unquestioned not just by the authorities but often by publishers and editors who develop a comfortable amnesia when meeting those in power. They do not want to lose access to them."
"Journalists are the new enemy of the state; we are going through one of the toughest phases in the history of the profession. We document the truth at a time marked both by a voracious demand for news and by the persecution of minorities, genocide and war crimes. We witness savage attacks on minorities in India, Myanmar, China, Palestine or Ukraine even as bumbling editors still frame arguments and narratives through the prism of "'both sides". For example attacks on Palestinians, even during Ramadan, are often referred to as "clashes". Despite one side having grenades thrown at them, and pelting stones in defence, the lens of the mainstream media remains firmly aligned with the oppressor. In India attacks on Muslims by Hindu nationalists often are reported as "riots" or "clashes", too. The distinction between oppressor and oppressed can be blurred as convenient"….
"Journalism was never a nine-to-five profession. We knew it was an unconventional calling, and one where we might not leave the office for days, or where our families might have no communication from us as we report on crucial investigations, wars and undercover operations. Journalism schools taught us the ethics of our profession, but they did not warn us about nervous breakdowns, or about spending more time in courtrooms than newsrooms. We owe it to the next generation of journalists to create a safer environment in which to work. They should fear only the distortion of truth, never reporting the truth itself."
At the Global Conference for World Press Freedom Day, May 2-5 in Uruguay, DW Akademie hosted a panel on digital authoritarianism. International media experts (Nanjala Nyabola, Laís Martins, Vladimir Cortés Roshdestvensky and Annie Zaman) discussed fighting disinformation and censorship.
Digital authoritarianism – when governments assert power and control information using digital tools and the internet – disrupts journalism and can endanger reporters and human rights defenders.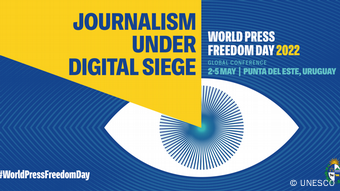 Regardless of recognition of press freedom under international legislations and under state constitutional provisions, the attack on journalists and ultimately on access to information remains a growing concern. According to the UN, 55 journalists were killed in 2021, while 62 of them were killed in 2020. A number of global networks of journalists have led the work of advocating press freedom and provide a platform for journalists to fight such state and non-state actors in unison.
Mid-day.com lists some of the major networks: https://www.mid-day.com/amp/lifestyle/culture/article/press-freedom-day-five-global-journalist-networks-that-advocate-press-freedom-23225560
Network of Women in Media, India (NWMI)
The NWMI is a network of over 600 women journalists across India providing a space or a forum for women in Indian media to come together and share information, exchange ideas, discuss media ethics and promote gender equality in media. The collective aims to provide a holistic system to support women journalists in terms of space, resources and access to justice in case of rights violations. It also works for getting recognition, fair pay and decent working conditions for women independent journalists in the country. https://nwmindia.org/
International Federation of Journalists (IFJ)
IFJ is a Paris-based organisation representing as many as 6,00,000 media professionals across 140 countries. The collective works to strengthen labour rights of journalists and advocates for their fair pay, decent working conditions and gender equality in media recruitment at a global level. One can access records and data documented by IFJ through their campaigns focusing on violence against journalists, impunity to the perpetrators and countries where media freedom is curbed through state laws or private entities.
https://www.ifj.org/who/about-ifj.html
Reporters Sans Frontiers or Reporters without Borders (RSF)
With 115 correspondents across the world, RWB is a non-profit organisation started by four journalists and headquartered in Paris. RWB is known for its annual Press Freedom Index, one of the most credible indicators of the status of media freedom in over 180 countries of the world. In addition to this, RWB also tracks censorship activities and various kinds of abuse that journalists are subjected to and communicates the information in five different languages. RWB works in cooperation with international rights based organisations to further recommendations to the state in order to provide legal and material resources for journalists and advocate their safety as media personnel.
Committee to Protect Journalists (CPJ)
CPJ is known for its Global Impunity Index analysing the state impunity provided to murderers of journalists in democracies as well as in war-torn countries. As an independent and non-profit organisation based in New York City, CPJ documents attacks on journalists and the subsequent press freedom violations and works with the state actors to provide rapid response assistance, legal support and other resources to journalists in danger.
Article 19
Article 19 mainly works to improve access to information, protect the civic spaces to discuss and dissent and strengthen human rights in the digital space too. Its key areas of work include information, censorship, gender and sexuality, freedom of religion and belief, equality and hate speech and media freedom among others. In line with its objectives to create a safe space for free flow of information, the organisation channelises its resources for the protection of journalists and human rights defenders. Article 19's annual Global Expression Report and GxR metric provides a detailed picture of the condition of freedom of expression across the world. https://www.article19.org/about-us/
Media Defence
Media Defence's focus lies on providing legal advice, support and resources to journalists, independent journalists and citizen journalists, who are under threat for their reportage and enable them to carry out reporting on issues of larger public interest. An international human rights organisation, in addition to documenting cases, it also intervenes to provide legal recourse to the journalists undergoing trial. https://www.mediadefence.org/legal-resources/
And of course – marking World Press Freedom Day, Reporters Without Borders (RSF) published their 2022 World Press Freedom Index that indicates a two-fold increase in polarization exacerbated by information disorder — that is, media polarization fuelling divisions within countries, as well as polarization between countries at the international level. See: https://rsf.org/en/index
"Within democratic societies, divisions are growing as a result of the spread of opinion media following the 'Fox News model' and the spread of disinformation circuits that are amplified by the way social media functions," the watchdog said in a statement.
At the same time, the disparity between open societies and autocratic governments that dominate their media and online platforms while waging propaganda campaigns against democracies is eroding democratic institutions around the world. Therefore, the polarization on different levels is fuelling increased tensions, according to RSF.
Assessing the state of journalism in 180 countries and territories worldwide, the World Press Freedom Index showed how the crisis in the world reflects on the media.
See also: https://humanrightsdefenders.blog/2020/05/03/world-press-freedom-day-2020-a-small-selection-of-cases/ and https://humanrightsdefenders.blog/2020/05/04/world-press-freedom-day-2020-a-few-more-links/
https://www.economist.com/by-invitation/2022/05/02/rana-ayyub-says-we-should-stop-calling-journalists-brave
https://www.dw.com/en/world-press-freedom-day-panel-how-to-counter-digital-authoritarianism/a-61554434
https://www.mid-day.com/amp/lifestyle/culture/article/press-freedom-day-five-global-journalist-networks-that-advocate-press-freedom-23225560
https://www.occrp.org/en/daily/16279-2022-world-press-freedom-index-warns-on-news-chaos-media-polarization