Journalism without fear or favour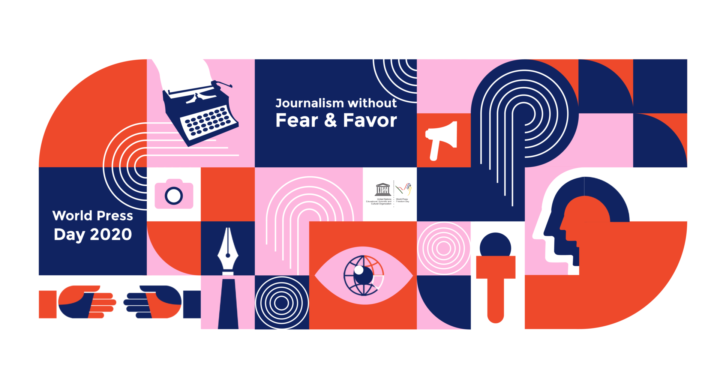 The ongoing COVID-19 pandemic has made even clearer the importance of being able to access reliable, unbiased information in a time of crisis – and of independent media as the source of such information. But freedom of the media is under attack in many countries all around the world and journalists are subject to harassment, repression and violence. The World Press Freedom Conference 2020 (WPFC) aims to stand up for a free, safe and independent media and protect journalism from new and existing forms of unwanted control, pressure and influence.
The WPFC is co-hosted by UNESCO and the Kingdom of the Netherlands and will take place on 9 – 10 December 2020 in a new, innovative format, merging digital and in-person elements. It will bring together journalists, media companies, human rights defenders, members of the judiciary, policymakers, academics, youth and NGOs from around the world and is open to anyone, anywhere, who is interested in press freedom. [see also https://humanrightsdefenders.blog/tag/world-press-freedom-index/]

RNW Media will be hosting a session called PRESSure is ON: creating an inclusive and enabling online space for digital media communities. This session puts the spotlight on the marginalised voices of young media makers. Bloggers, vloggers and media makers from teams in Libya, the Democratic Republic of Congo and India will discuss their on-the-ground experiences in their local contexts, the challenges they face when it comes to digital rights (both access and content takedowns) and the possible solutions.
The session on 10 December 12:15 – 13:15, will be led by Melody Patry, Advocacy Director at the digital rights NGO Access Now. The audience will be able to use a chat function to share their thoughts on the topics discussed and will be asked to respond to questions that will pop up on their screens throughout the session. These questions are designed to gather the audience's opinions on such issues as what poses the biggest threat to freedom of speech and whether or not governments should have the right to censor media content they consider harmful to society.
The RNTC media training centre has joined forces with UNESCO and the Netherlands Ministry of Foreign Affairs to hold an online competition in the run-up to the conference offering the chance to win a two-day online Masterclass in Investigative Journalism. People are invited to submit a short story, picture or 10-second video message explaining what press freedom means to them or how they've contributed to it, via direct messaging @UnescoNow. A total of 20 winners will be selected to take part in RNTC's masterclass which will take place in January.
The on-line training will introduce key concepts and tools for investigative journalism and strengthen participants' capacity to identify and research issues of governance, accountability, corruption, and misuse of power. In order to publicise the competition, RNW Media has been sharing videos on its social media channels of journalists from around the world explaining what press freedom means to them