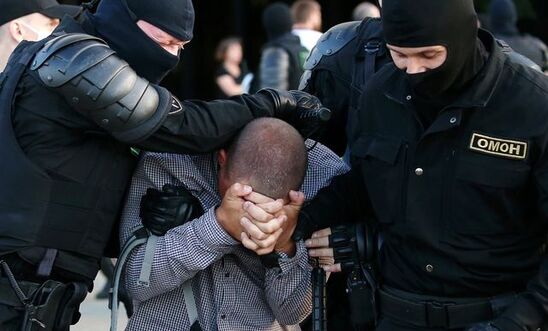 Police officers detaining a protester in Minsk on 10 August © Natalia Fedosenko/TASS
An open letter has been signed by: Article 19, Assembly of Pro-Democratic NGOs of Belarus, Barys Zvozskau Belarusian Human Rights House, Belarusian Association of Journalists, Belarusian Helsinki Committee, Civil Rights Defenders, Human Constanta, Human Rights House Foundation, Human Rights Watch, International Federation for Human Rights (FIDH), La Strada International, Legal Initiative, Legal Transformation center (Lawtrend), Viasna Human Rights Center and World Organisation Against Torture (OMCT).
The UN Human Rights Council must urgently convene a special session to address the human rights crisis in Belarus. The joint letter expresses the organisations' "utmost concern" over "widespread violations of human rights, including arbitrary arrests, prosecutions under trumped-up charges, and torture and other ill-treatment".
The letter calls on the council to adopt a resolution requesting the UN High Commissioner for Human Rights to monitor and report on human rights abuses in Belarus with "a view to ensuring full accountability".
See also: https://humanrightsdefenders.blog/2020/08/13/what-can-we-do-about-the-result-of-the-belarussian-election-on-line-discussion-today-at-14h00/
[In the three days after the 9 August presidential election, the authorities in Belarus confirmed the arrest of at least 6,700 protesters. According to Viasna Human Rights Center, at least 450 of the detainees reported being tortured or otherwise ill-treated – including through severe beatings, being forced to perform humiliating acts, being threatened with rape and other forms of violence – while held in incommunicado detention for up to ten days.
Since 12 August, the authorities have taken steps to de-escalate the situation, refraining from mass arrests and releasing those detained. However, the threats against peaceful protesters recently made by President Alyaksandr Lukashenka and his subordinates together with the recent deployment of the armed forces in the country's capital Minsk and elsewhere, signal a possible new spiral of violence and accompanying human rights violations.]
Here the Letter in full:
Click to access civil-society-organizations-call-on-the-united-nations-human-rights-council-to-convene-a-special-session-on-belarus.pdf