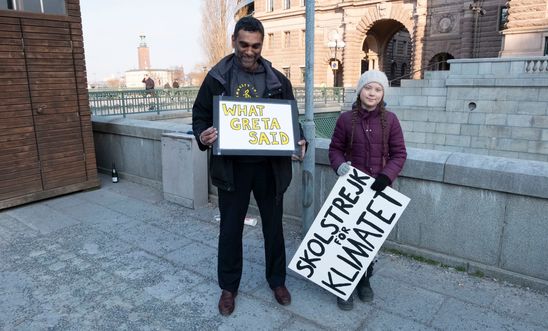 Climate activist Greta Thunberg and the Fridays for Future movement of schoolchildren have been given Amnesty International's 'Ambassador of Conscience' award for 2019 © Amnesty International
On 7 June it was announced that climate activists Greta Thunberg and the Fridays for Future movement are given Amnesty International's Ambassador of Conscience Award 2019 [for more on this and other such awards:http://www.trueheroesfilms.org/thedigest/awards/ambassador-of-conscience-award]. See also: https://humanrightsdefenders.blog/2019/04/10/first-prix-liberte-of-normandy-for-teen-climate-activist-greta-thunberg/.
The Fridays for Future movement was started by Greta Thunberg, a teenager from Sweden who last August began protesting outside the Swedish parliament – skipping school every Friday demanding the Swedish government take more serious action to tackle the climate crisis. Her efforts have inspired a global movement, with the most recent Fridays for Future schools strikes seeing more than one million young people from all over the world take part, with demonstrations in more than 100 countries.
Greta Thunberg, said: "It is a huge honour to receive Amnesty International's Ambassador of Conscience award on behalf of Fridays for Future. This is not my award, this is everyone's award. It is amazing to see the recognition we are getting and know that we are fighting for something that is having an impact.  To act on your conscience means that you fight for what you think is right. I think all those who are part of this movement are doing that, because we have a duty to try and improve the world. The blatant injustice we all need to fight against is that people in the global south are the ones who are and will be most affected by climate change while they are the least responsible for causing it."
Kumi Naidoo, Amnesty International's Secretary General, said: "The Ambassador of Conscience award celebrates people who have shown unique leadership and courage in standing up for human rights. I can think of no better recipients this year than Greta Thunberg and the Fridays for Future climate strike movement.
Greta Thunberg, said: "Human rights and the climate crisis go hand in hand. We can't solve one without solving the other. Climate change means people won't be able to grow food, their homes will come under threat and their health will be compromised. Governments have a duty to protect us, so why are they doing nothing to stop climate change from devastating our lives?"
Kananura Irene, a Fridays for Future activist from Kampala, Uganda, said: "Sometimes I feel really sad because some of the people I try to talk to won't listen. Some people insult us, others think we are politicians, and others ignore us entirely, they tell us maybe we won't finish what we've started.  But I can assure everyone that we are really determined to finish what we have started, because our futures are on the line."
[Around the world, attacks against ordinary people who stand up for freedom, justice and equality are surging. Authorities around the world are misusing their power to crack down on human rights defenders – imprisoning, torturing and even killing them for speaking up. In 2018, 321 defenders in 27 countries were targeted and killed for their work – the highest number ever on record. Amnesty is calling on the UK Government to show the world that protecting human rights defenders is a priority.]
—-
https://www.amnesty.org.uk/press-releases/greta-thunberg-given-amnestys-2019-ambassador-conscience-award
https://www.dw.com/en/greta-thunberg-fridays-for-future-movement-win-amnesty-human-rights-award/a-49096921