On 23 January 2019 RFE/RL reported that Iranian human rights defender Reza Khandan got a six-tear prison sentence. The next day Amnesty International issued a damning overview of the situation of human rights defenders in that country: Iran arrested more than 7,000 people in a sweeping crackdown against protesters and dissidents in the past year. See more below: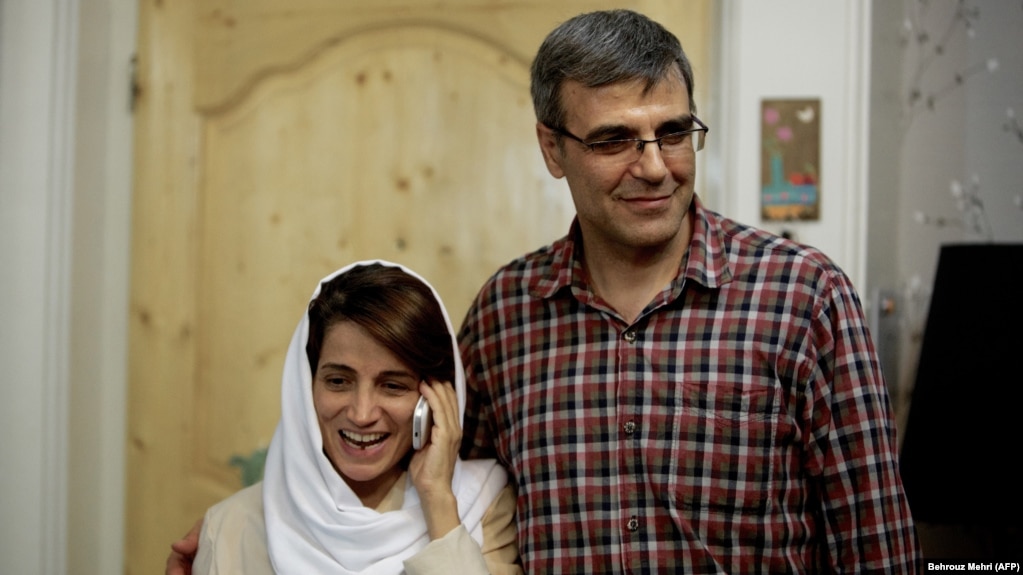 Iranian human rights defender Reza Khandan, the husband of Nasrin Sotoudeh, the jailed human rights lawyer, has been sentenced to six years in prison for conspiring against national security and one year for propaganda against the system, the lawyer, Mohammad Moghimi, said on January 23. He has also been "banned for two years from leaving the country, any activity in social media or newspapers, and membership in political groups," Moghimi told the AFP news agency. [see also: https://humanrightsdefenders.blog/2018/06/16/iranian-human-rights-lawyer-nasrin-sotoudeh-arrested-again/]
—-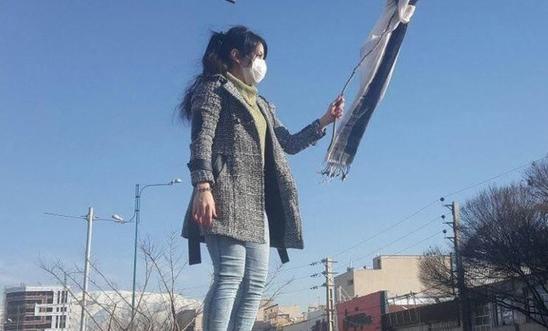 A woman in the city of Karaj protesting against the forced wearing of headscarves last year © White Wednesdays Campaign
'2018 will go down in history as a year of shame for Iran' –Philip Luther, AI's Middle East Research and Advocacy Director.  "Throughout 2018, the Iranian authorities waged a particularly sinister crackdown against women's rights defenders.  "Governments which are engaged in dialogue with Iran must not stay silent while the net of repression rapidly widens."
The Iranian authorities arrested more than 7,000 people in a sweeping crackdown against protesters and dissidents in the past year, said Amnesty International as it published new figures on the scale of Iran's repressive measures.  Those swept up by the crackdown include students, journalists, environmental activists, factory workers, lawyers, women's rights activists, minority rights activists and trade unionists. 
Hundreds were sentenced to prison terms or flogging, and at least 26 protesters were killed. Meanwhile, nine of those arrested died in custody under suspicious circumstances.  Throughout the year the Iranian authorities violently dispersed peaceful demonstrations, beating unarmed protesters and using live ammunition, tear gas and water cannons against them. Thousands of people were arbitrarily arrested and detained… 
At least 20 media workers were sentenced to long prison or flogging sentences after unfair trials. ..
In addition, at least 112 women human rights defenders were arrested or remained in detention in Iran during 2018.
Last year also saw Iran engulfed in a deepening economic crisis, triggering strikes and worker protests – including a series of major protests by sugar cane workers from the southwestern city of Ahvaz.  In response, the Iranian authorities arrested at least 467 workers, including teachers, truck drivers and factory workers, summoned others for questioning (subjecting many to torture), and sentenced dozens to prison terms. Courts also handed down flogging sentences amounting to a total of nearly 3,000 lashes against 38 workers. 
On 10 May, the Iranian authorities violently dispersed a peaceful protest by Tehran teachers calling for higher wages and better funding of public education. By the end of the year, the authorities had arrested at least 23 teachers following nationwide strikes in October and November. Eight were sentenced to jail terms and lashes.
Throughout the year, at least 278 truck drivers were arrested and some threatened with the death penalty after they took part in nationwide strikes demanding better working conditions and higher wages. 
……
At least 63 environmental activists and researchers were reportedly arrested in 2018. Without providing evidence, the Iranian authorities accused a number of them of collecting classified information about Iran's strategic areas under the pretext of carrying out environmental and scientific projects. At least five were charged with "corruption on earth", which carries the death penalty.
https://www.amnesty.org.uk/press-releases/iran-more-7000-arrested-last-year-crackdown-staggering-scale-new-figures
https://www.rferl.org/a/iranian-rights-activist-reza-khandan-gets-six-year-prison-sentence/29726991.html