Having just posted about HRW's annual report [https://humanrightsdefenders.blog/2018/01/19/human-rights-watch-and-kenneth-roth-take-a-stand-against-trumps-dictator-friendly-policies/], I wanted to share also the assessment by AI USA on 19 January 2018: "USA: 'resistance' to Trump hailed after year of human rights violations".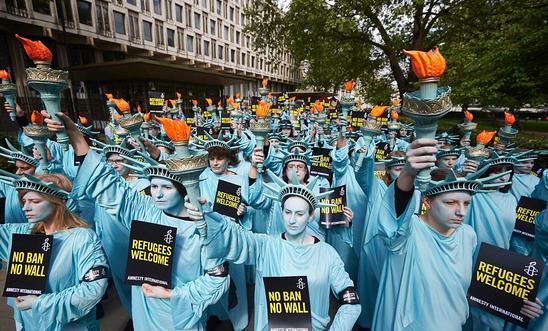 President Trump's regressive policies have led to an upsurge in human rights activism © Amnesty International
Ahead of the one-year anniversary (20 January) of the inauguration of US President Donald Trump, Margaret Huang, executive director of Amnesty International USA, said:
"While the policies of the Trump administration presented daunting challenges over the past year, we also saw the rise of a fierce and determined movement of people across the country and around the world standing up to defend human rights.

"Starting with the throngs of people braving the January cold to fill the streets on the very first day of his presidency and continuing throughout the year, we have taken heart in the galvanising spirit of resistance that has swept the world. 

"We have marched alongside both seasoned activists standing up for women's rights and we have welcomed those who have never actively protested before in denouncing Trump's discriminatory Muslim ban. 

"We have placed welcome mats for refugees at the foot of Trump Tower, and filled London's Grosvenor Square with 100 sombre Statues of Liberty standing in silent protest at the US Embassy.  

"From Sydney to Madrid, human rights defenders have made it known that the politics of hate and fear have no place in the world we wish to build for ourselves and our children.

…
A year of human rights violations: Among other things in the past year, Amnesty has strongly criticised the Trump administration's plan (reported earlier this week) to consider using nuclear weapons in response to a cyber-attack in the USA; the ending of "Temporary Protected Status" for over 250,000 people from El Salvador in the USA; the decision to recognise Jerusalem as the capital of Israel, its insistence on pushing ahead with a revised multi-country travel ban; an executive order affecting the Mexico-USA border which allows for the forcible return of people to life-threatening situations;  the withdrawal from the Paris Agreement on climate change; the reinstatement of the "global gag rule"affecting funding for international women's health programmes; its continued sale of military equipment to countries with poor human rights records; and the decision to continue the construction of the Dakota pipeline despite environmental and cultural concerns.