Chau Van Kham's family has lost contact with him for nearly four months and fear the Australian government has 'forgotten about him' writes the Guardian on 6 June 2020.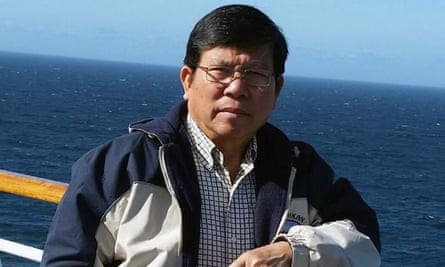 Vietnamese-born Australian, Chau Van Kham, was arrested in January 2019 and sentenced to 12 years imprisonment on 'financing terrorism' charges. Photograph: HRW/HANDOUT/EPA
Ben Doherty reports that the 70-year-old Australian Vietnamese-born Chau has "disappeared" inside Vietnam's prison system and that no one from his family or the Australian government has been allowed to see or speak with him for nearly four months. Human rights advocates, lawyers and Chau Van Kham's family said the charges against him are baseless and politically motivated, his single-day multiple-defendant trial was grossly unfair, and his failing health means his 12-year prison sentence is "effectively a death sentence".
Chau's son Dennis told the Guardian his family feared his failing health will be exacerbated by his isolation.  Chau's sister, who lives in Vietnam, had previously been allowed to visit once a month to give her brother money, medicine and letters from home. But she has been refused access and phone calls to him since 10 February. Consular visits scheduled for February, March, April and May were all cancelled out of concerns over the spread of Covid-19. Permission for a visit in June is pending.
"He has literally disappeared," Australian lawyer Dan Phuong Nguyen, who is acting pro bono for the Chau family, told the Guardian.
[Chau, an Australian citizen, was born in Vietnam and served in the army of the Republic of Vietnam before 1975. After the war, he was sent to a re-education camp for three years before he fled Vietnam by boat, arriving in Australia in 1983. In Sydney, he worked as a baker for decades, rising before dawn to work at a modest suburban bakery. In 2010, he became a member of the Viet Tan pro-democracy organisation, and became a key Australian organiser of pro-reform rallies and an outspoken advocate for democratisation in Vietnam. The United Nations describes Viet Tan as "a peaceful organisation advocating for democratic reform", but it was formally proscribed as a terrorist organisation by the Vietnamese government in 2016, which said it was "a reactionary and terrorist organisation, always silently carrying out activities against Vietnam.]
Chau sought to return to Vietnam in 2019 to meet fellow pro-democracy advocates but was refused a visa. He crossed into Vietnam via a land border with Cambodia in January, carrying a false identity document. He was arrested after meeting a democracy activist who, it is believed, was under surveillance, along with Vietnamese nationals Nguyen Van Vien and Tran Van Quyen, who were sentenced to 11 and 10 years prison respectively.
Chau was convicted and sentenced at his first appearance in the people's court of Ho Chi Minh City after more than 10 months in detention.
The single-day judge-only trial, held simultaneously with four other people, saw him tried and convicted on charges of "financing terrorism", and sentenced to 12 years in jail, all within four hours.
The court was effectively closed – open only for approved people, his family was excluded – for the entirety of the trial. Viet Tan condemned Chau's hearing as a "sham trial" and said it would "continue to support human rights defenders on the ground".  Chau's appeal was dismissed in March.
Dennis Chau told a human rights summit in Geneva this year: "With a 12-year sentence, [my father will] be 82 when he is released … I don't believe I'll ever see him alive, a free man. It's effectively a death sentence."
https://www.theguardian.com/world/2020/jun/07/jailed-australian-democracy-activist-has-disappeared-inside-vietnams-prison-system