Remembering the life of Adri Kemps (1955 – 2020)
…. Adri was part of a brilliant team, at the national office of Amnesty International. Human rights until that time were a concept only known to a group of foreign policy experts and to a minute fraction of the legal community. Amnesty in the Netherlands was hugely successful in popularizing the concept as a notion that stood above political struggle. Adri and his friends developed campaigns to mobilise public support to raise human rights issues in countries around the world. A new action method for Amnesty, that was viewed by many in the organization's London headquarters as a suspect deviation. This group of volunteers was dominant in the Netherlands' representation in Amnesty's international decision-making bodies. By 1980, they formed the majority of the executive board of Amnesty Netherlands. A group of people aged 25 or younger leading an organization with a budget of millions and several dozen staff members, unthinkable in today's professionalized civil society sector in the Netherlands.
At that time, Adri was part of the board for a couple of years. He was also engaged in setting up a number of other organizations working on international solidarity (as this was called). He soon left for Nicaragua, joining his partner Marijke (who he had met at Amnesty), and gradually carving out a role for himself in development work in that new location.
In the beginning of the 1990s, a much more mature man, he joined Amnesty Netherlands again as Executive Director. An exceedingly difficult job, he had to lead an organization that was professionalizing rapidly but still maintained some characteristics of the volunteer spirit. The period was a challenging time for human rights, and yet it was a high period for their national as well as international recognition. Adri skilfully utilized this for the benefit of the organization.
After yet another, shorter period living in Nicaragua, he returned to the Netherlands to head the Netherlands Fundraising Regulator (CBF). An entity that runs a certification scheme for fund-raising NGOs, independent from both government and civil society, yet a civil society body itself, and subject to diverse pressures and not easy to lead.
He started running into health problems, including a stroke now six years ago. During his recovery, he joined the Netherlands Helsinki Committee's office, and stayed on to work on an increasingly broad range of assignments. His expertise and strategic and tactical insight helped the organization tremendously in its fund-raising efforts. He took on substantive activities as well – things important for the promotion and defence of a healthy society but that did not necessarily fall in the defined areas of work of the organization – a training on strategy development for fund-raising organizations in Ukraine, involvement in a study on political advertising on the internet.
He continued to be active in local social democracy in Haarlem, where he lived, and increasingly also in initiatives to recreate a sound environment and in addressing the climate crisis. The extreme political repression that has developed over the past years in Nicaragua, the country where he had lived for such a long time, affected him a lot. He spent time advising on initiatives to help local people and increase pressure on the government.
The maxim that to be a human rights activist, you must by definition be an optimist, definitely applied to Adri. His co-workers at the NHC remember him as a friendly, interested and cheerful colleague, bringing a lot of positivity and creativity to the workplace.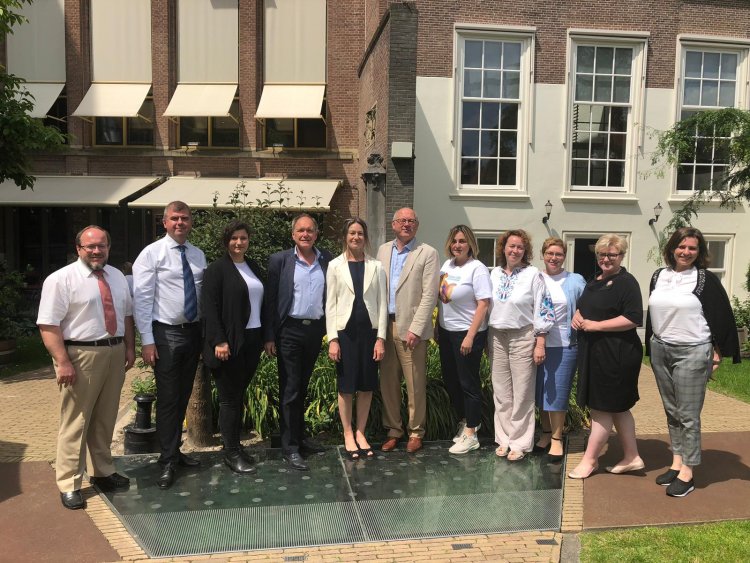 Adri (in the middle) at a meeting with Ukrainian civil society and government representatives, discuss effective government-civil society partnerships
https://www.nhc.nl/in-memoriam-nhc-expert-advisor-and-volunteer-adri-kemps/