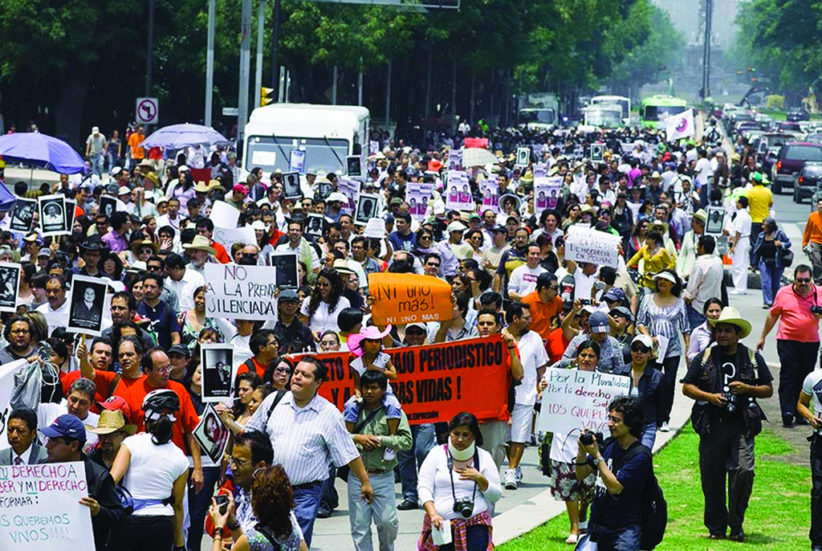 The body of 34-year-old Rafael Murua Manriquez was found by the side of a road in Northern Mexico Sunday 20 January 2019, the same day he had been reported missing by his family. The former director of the community radio station, Radiokashana in Santa Rosalia, has become the first Mexican journalist to be killed in 2019.
Within his news reporting, Rafael Murúa Manríquez, is believed to have denounced the aggressions of the municipal president of Mulegé Felipe Prado, according to El Comercio. Following a statement from the Mexican representative of the Committee to Protect Journalists, Jan-Albert Hootsen, it has also been confirmed that the young journalist had already received threats since last year and had been placed under the country's journalist protection programme since 2016.
It is the second journalist to have been reported as murdered within the presidency of Andres Manuel Lopez Obrador, the first of which was killed just one day after his inauguration. The country's leading NGOs and media protection agencies have since called upon a thorough investigation into the murder, in hopes of finding the people responsible.
At least ten journalists were killed last year alone, and in 2018 Mexico recorded the highest rate of press disappearances around the globe. The attacks continue on a long line of violence against the press throughout the past decade in Mexico as cartels brush shoulders with politicians creating a violent treat towards the investigation of 'narcopolitics'.  See also: https://humanrightsdefenders.blog/2018/03/24/new-national-award-to-honor-slain-mexican-journalists/
The Federal Mechanism for the Protection of Human Rights Defenders and Journalists, which is used by Mexicans who have had their lives threatened, came into play in 2012. However, the initiative is believed to already be overwhelmed with recent enrollment. …With both federal and state protection mechanisms, there are also concerns that journalists with state-level support are often seeking protection from the very authorities trusted with guarding them. Last year, Mario Gómez Sanchez was gunned down by armed motorbikers, however, human rights groups could not explain why his protection mechanism was removed before his killing. The State Attorney General's office declined to comment when contacted by Aztec Reports.
https://aztecreports.com/first-mexican-journalist-killed-in-2019/2359/