Louis Jacques Blom-Cooper, lawyer and writer, born 27 March 1926; died 19 September 2018. Blom-Cooper was involved in the foundation of Amnesty International in 1961, supporting Peter Benenson's idea for an appeal for amnesty for political prisoners. He was also a Patron of Prisoners Abroad a registered charity which supports Britons who are held overseas, and was a trustee of the Howard League for Penal Reform. He was a fighter against the death penalty.
….
The enduring value of Louis's work is likely to lie in his campaigning, supported by astute legal scholarship, against the death penalty, his contribution to the foundation of Amnesty International and his lifelong championship of the cause of penal reform and prisoners' rights. For half a century he was a courageous advocate, a controversial legal author and journalist, a deputy high court judge and a forthright and radical chairman of numerous public inquiries and bodies. A man of extraordinarily wide intellectual interests, he was generous in his encouragement of younger lawyers and his availability and accessibility to his many prisoner clients.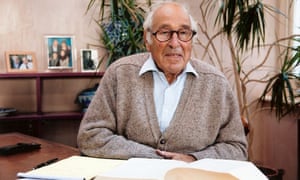 Louis Blom-Cooper in 2015. He was a prolific, informed and provocative legal journalist, writing for the Guardian and the Financial Times
Born in London, Louis was the son of Alfred Blom-Cooper, a fruit and vegetable trader, and his wife Ella (nee Flesseman), who lived in Mill Hill. After attending Port Regis school in Dorset and Seaford college in West Sussex, Louis joined the East Yorkshire Regiment towards the end of the second world war (1944-47). He studied law at King's College London, Fitzwilliam College, Cambridge, and the Municipal University of Amsterdam, where he obtained his doctorate in 1954.
He retained a spirit of inquiry in writing numerous challenging books on the death penalty, penal reform and murder law, notably the imposition of a mandatory life sentence for murder. But he also argued for the abolition of the jury system, because it did not give the convicted offender any reasons for his conviction.
….He was the first to argue for the extension of the principles of natural justice or fairness to the field of immigration and asylum law in cases such as that of the American journalist Mark Hosenball, deported in 1977 as a security risk after revealing the existence of GCHQ in a magazine article. ..
Most of all, Louis was a leading proponent of a general duty to state reasons in administrative law and made a judgment to that effect in his capacity as a high court judge. Rejected at the time as too advanced a position, the duty to give reasons for executive decisions has now been widely accepted.
….
As chairman of the Press Council (1989-90), he supported the principle that there should be a requirement that newspapers accord a right of reply to those they attacked. He also called for a law against the invasion of privacy, introduced changes to give complainants a better hearing and speed up adjudications, and also introduced a code of practice for newspapers. But it proved to be too little, too late.