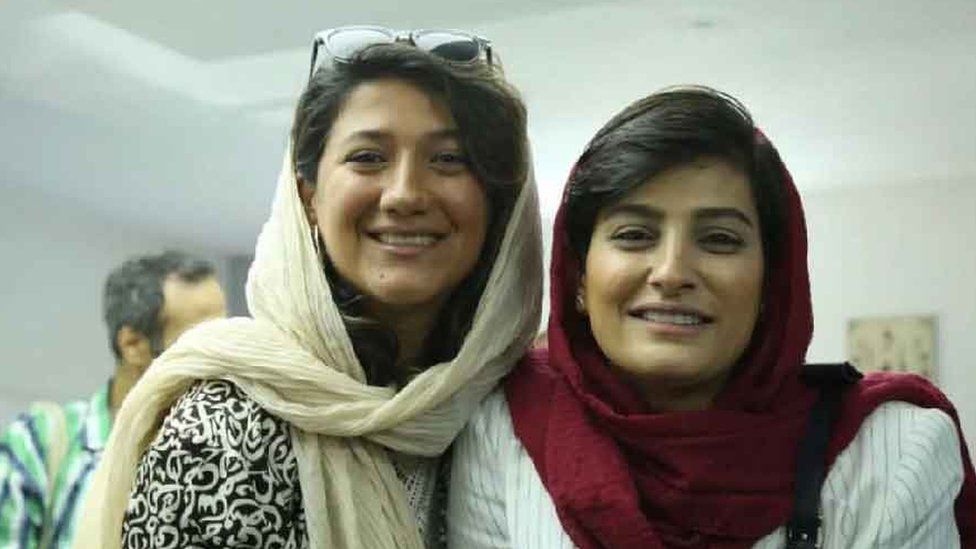 BBC Persian Service on 5 May 2023 drew attention to the fate of the two journalists who reported first on Mahsa Amini, whose name made headlines around the world when she died in custody last September, sparking waves of protests in Iran. But not many people have heard of Niloufar Hamedi and Elaheh Mohammadi.
The two female journalists helped break the story of Ms Amini's death and have been detained in two of Iran's most notorious prisons ever since. On Tuesday, they and the imprisoned Iranian human rights activist Narges Mohammadi were awarded the 2023 Guillermo Cano World Press Freedom Prize by the United Nations' cultural agency, UNESCO."They paid a hefty price for their commitment to report on and convey the truth. And for that, we are committed to honouring them and ensuring their voices will continue to echo worldwide until they are safe and free," said Zainab Salbi, the jury chair. For more on Narges, see; https://www.trueheroesfilms.org/thedigest/laureates/07C20809-99E2-BDC0-FDC3-E217FF91C126
On 22 September, just six days after she tweeted a photograph of Mahsa's grieving family, Niloufar Hamedi was arrested. Security forces also raided Elaheh Mohammadi's home at the same time, seizing her electronic devices. On 29 September, she too was arrested.
Both Ms Hamedi and Ms Mohammadi were already known for hard-hitting news reports and coverage of human rights issues.
As well as winning UNESCO's press freedom prize, Ms Hamedi and Ms Mohammadi have been named as two of Time Magazine's 100 Most Influential People of 2023 and given the 2023 Louis M Lyons Award for Conscience and Integrity in Journalism, presented by Harvard University in the United States. See: https://www.trueheroesfilms.org/thedigest/awards/8809EB31-7E9C-4624-88E3-FC592D496807 and https://www.trueheroesfilms.org/thedigest/awards/1748C306-757A-49EB-8436-A9C607356112
"Journalists in Iran are risking their lives on a daily basis to report on the conditions and oppressions there," the Harvard fellows noted.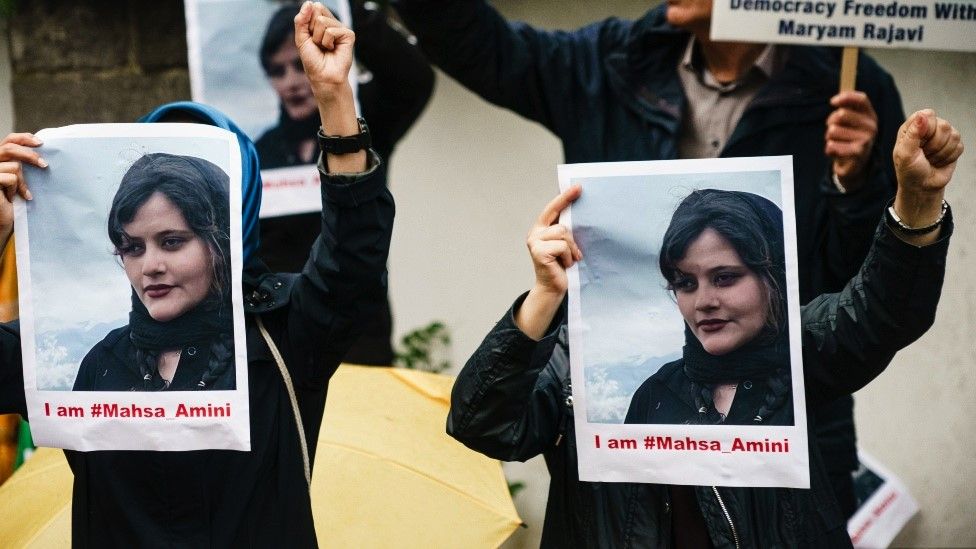 Ms Hamedi and Ms Mohammadi have meanwhile been kept in harsh conditions at Evin prison in Tehran and Qarchak Women's Prison, south of the city. Reports from inside Qarchak suggest that the facilities are inhumane, with a lack of medicine, food and even safe drinking water or clean air. Ms Mohammadi lost 10kg (22lbs) in the first three months of her detention, her husband wrote on his Instagram page.
Both women have also struggled to access legal support. The first lawyer appointed to represent the pair said in October that he was unable to communicate with them or access the legal documents surrounding their arrests. Less than a month later, he was himself arrested. The journalists' families have struggled with the pain of not knowing what is going to happen to them.
"I'm asked, 'What do the authorities tell you?' I'm not even sure which institution or person to contact," Ms Hamedi's husband, Mohammad Hossein Ajorlou, said in an interview with Sharq.
He too has found it difficult to get information about what his wife is accused of and what is likely to happen to her.
At the end of October, Iran's ministry of intelligence and the intelligence agency of the Revolutionary Guards issued a statement accusing Ms Hamedi and Ms Mohammadi of being trained by the US Central Intelligence Agency to foment unrest in Iran.
Their newspapers denied the allegations and insisted they had just been doing their jobs.
Last week, after they had both spent more than 200 days in custody, the Iranian judiciary announced that Ms Hamedi and Ms Mohammadi had been indicted and their cases referred to a court.
On Monday, Ms Hamedi's husband wrote on Twitter that she and Ms Mohammadi had been transferred back to Evin prison from Qarchak, apparently in preparation for their trial.